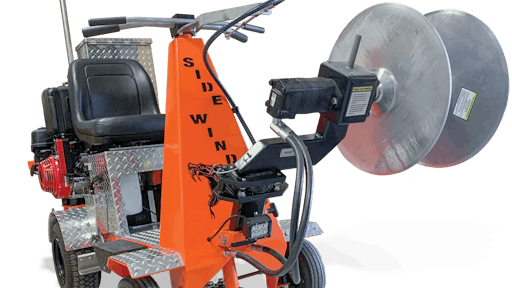 With industry focus on safety, ease of use and efficiency, the SIDE WINDER™ Tape Remover reduces traffic disruptions and requires less people on the street vs. manual tape removal methods.
The SIDE WINDER™ requires less labor to remove tape vs. manually removing tape which reduces workers fatigue, increases productivity and can lead to fewer job related injuries due to tape removal
Patented EZ FLIP™ Swivel Arm pivots from side to side in seconds which requires fewer steps from tape removal to disposal
Removal process creates neatly wrapped tape rolls vs. piles of tape. Up to 440 linear feet of 6-in. tape, OR 650 linear feet of 4-in., can be wound on a core.
Tape waste rolls save space on support vehicles.
Easy onsite loading of tape waste rolls make disposal efficient.
Companies in this article
Request More Information
Fill out the form below to request more information about
SIDE WINDER Tape Remover