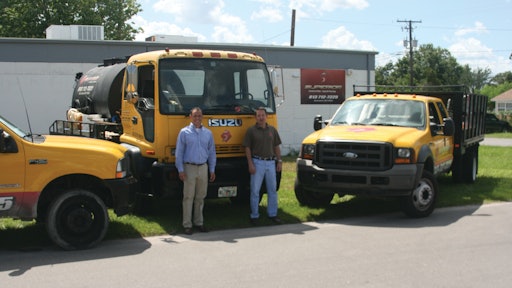 In this industry, it is starting to become clear that diversification of services is a key component to a robust and successful business. Superior Seal & Paving (Superior Florida), based in Tampa, knows this to be true because they offer their customers contracting, sealcoating, paving and even building inspections, throughout the state of Florida.
But that hasn't always been the case. When Scott Hood and Mike Strouse started business together, they were focused solely on commercial building construction contracting. As with most companies, when the economy dwindled in 2008, the need for their services began to suffer as well.
"Around that time I was approached by a large paving company from out of state who wanted me to run their operations in the state of Florida," Hood says. "I declined their offer, but it prompted Mike and me to evaluate our business model."
The duo dove into research on the business, and even consulted some asphalt pavement professionals they knew around the country. With this newly acquired knowledge under their belt, they identified sealcoating and paving as opportunities to expand their Superior Florida contracting business into what is now known as Superior Seal & Paving.
They started by hiring a few more key employees in supervisory and management roles. These select new hires were experts in the asphalt industry who could help them grow these two new aspects of their business. Although finding qualified people to fill these field roles was an initial challenge, Superior moved forward with their first major paving account – Wendy's restaurants. The company invested in an asphalt paver, a vibratory steel drum roller, a 1250-gallon sealcoat truck, a small dump truck, a 1-ton dump truck and a 5-ton dump trailer – and they were up and running.
Next, they harvested their existing client list and began cross-selling their new sealcoating and paving business to them. "Our background in business allowed us to be more proficient and appeal to all different types of clients," says Hood.
"We went straight to our existing customer base on the contracting side and started networking there since we already had those established relationships," adds Eric Donaldson, director of sales and marketing. "We simply moved into the sealcoating and striping and paving with those customers to start. After that we began networking with associations more closely related to paving."
The company began working with Florida apartment associations in the Tampa and greater Orlando areas to gain more commercial business. They found the more cross-selling they did, the better the response.
"Our customers are comfortable using one source," adds Donaldson. "We found that our existing customers were looking for someone with whom they already had a standing relationship that could provide the level of service they were used to getting in that area, now in the asphalt arena. They were more than willing to give us the opportunity to take on that scope of work knowing that we had provided them with quality service on the contracting side."
"We value our detailed attention to quality in our work and in the planning of our jobs," Hood says. "Communication is very important to us. We excel in our quick decision making skills, and setting and exceeding suitable expectations for our clients. We know that each job is unique and we are eager to work with our customers."
Today, Superior employs 40 people – 10 in the office, 5 in sales and 25 out in the field. They primarily serve commercial property management companies, multi-family residences, municipalities and businesses in the food industry, keeping very busy with the different facets of their business.
With 70% of their business coming from sealcoating and paving, Superior Seal & Paving plans to continue growth on the contracting side, which will hopefully lead to more paving business. "Change is constant," Hood says. "Our business is always growing and adjusting as we see fit."
One major adjustment Superior has made is the implementation of new technology. "Our sales representatives will be utilizing iPads and we are working with software that allows us to update jobs from the field onto a Sharp Interactive board in the office," Hood says.
"This 'Smart Board' allows estimators on a jobsite to send information directly to the office for pricing and proposal generation," says Donaldson. "This gives us the ability to turn a customer's request into a written proposal in a very short time."