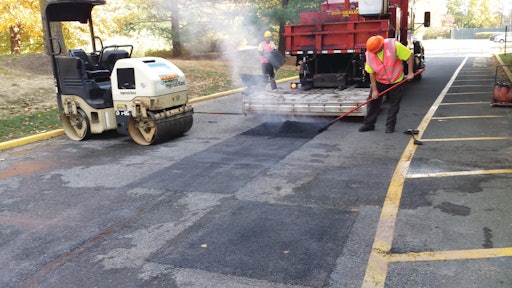 You've heard about contractors who have taken the leap and purchased an infrared unit for their pavement maintenance business, but you're still on the fence about buying one yourself. If you're searching for a way to differentiate your company from the competition, an infrared unit might be the way to do it. Infrared units add extra services to your company, bringing in additional revenue, with most likely less effort on your part and the members of your crew.
If you're still not sure if infrared services are right for your business, hear from contractors who took the plunge and bought an infrared unit to try. As you'll read – they didn't give it back, but in fact ended up expanding the service by purchasing additional units.
Steve McLeod, owner of Asphalt Seal & Repair in DePere, WI purchased his first infrared unit in 1984, a PowerRay unit, which is now Raytech. "I was so impressed when I saw the unit," says McLeod. "We bought one on the spot and became the first company in Wisconsin, from Michigan over to the west, that had an infrared unit."
"It changed my business overnight," says McLeod. "If you're a small sealcoating company, you hate patching. It's a facet of the business that takes so much time. Here you have this beautifully sealed lot, but a good chunk of it is in shock. We would have to saw cut and take out patches, then fill with asphalt or sub it. When you start subbing work, you're on their schedule."
Zach Russell, owner of Central Oregon Asphalt Sealing in LaPine, OR agrees. Russell's company purchase a K&M infrared unit in 2011 and before that, they would sub out any repairs that had to be made to a paving company.
"There was a need in my company to do my own asphalt repairs," says Russell. "We sublet out too much work. I was losing too many bids for asphalt maintenance due to the cost of subs."
Russell purchased an additional infrared unit to keep up with the increasing work load of his infrared business. Repairs are 15 percent of Russell's business, but due to the addition of his infrared unit, he's been able to land other projects that they can then follow up with crack seal and seal coating.
"Customers like working with just one company for multiple needs," adds Russell. "The equipment has had a huge impact on my business. With the "green" technology of infrared, it has been a huge influence on customers in our area. I have been able to win most asphalt maintenance projects that include any repairs because of this addition to my company."
"Before, I would walk away from jobs that required too much patching," adds McLeod. "We bought two infrared units within the first year and could go in there and patch right on the spot before sealing and crack filling. It opened a whole new venue up for us. I've had two to four Raytech units in my arsenal since we bought the first one. Today a good third of my business today is infrared work, I have three machines that work night and day and a backup."
New service, new customers
As with any expansion, you'll be able to reach a broader base of customers with a wider range of services. That's something contractors say infrared did for their business.
"Local paving companies know I have this technology and they hire us frequently," says Russell. "We have been able to create great working relationships with the paving companies and also find ourselves working for the local municipalities more because we have the infrared technology."
Russell also says he pushes that it is "green" technology the equipment offers to obtain new customers. "The surface is restored to an 'as before' condition with seamless, welded edges. No joints for water to see through because it's bonded to the existing pavement around it."
Tom Eosso, vice president of Eosso Brothers paving in New Jersey agrees. After attending the National Pavement Expo in 1995 and seeing infrared machines in action, his company purchased a unit. They now own a KASI truck mounted unit and have plans to purchase another unit this year to have two machines running every day.
"We do so much paving, that infrared helps us to be more efficient at it," says Eosso. "We may leave a puddle or make a small mistake that the owners don't like and an infrared machine is like an 'asphalt eraser' to fix it. We can make a patch and no one will know we did it."
Eosso and his team are also called in to fix the mistakes other paving companies may have made on jobs.
Jon Hargett of Pavement Restorations, Inc. in Milan, TN, doesn't know a business without an infrared unit in his arsenal and wouldn't have it any other way.
"I started my business with infrared and it has been our signature service," says Hargett. "It is what gets us in the door anywhere we go. After running a division of a large asphalt producer in Tennessee for 11 years, I felt like the maintenance end of asphalt would be the future of a good business in the construction industry. I had no idea how right my vision would be. I started by purchasing a truck unit so I could move from one municipality to another easily with a production unit."
Hargett and his company of approximately 60 employees use Heat Design Equipment and had their 6th HDE truck unit built in 2013, which was displayed at the National Pavement Expo in Fort Lauderdale last month.
"We perform a tremendous amount of other repairs because of the infrared start to each customer," says Hargett. "We have also built an extensive infrared applied thermoplastic business as a result of the infrared technology for asphalt repairs."
Dave Dworsky from Dr. Pave, also does not operate his business without the use of infrared machines. In fact, 100% of their business is completing infrared work with the use of Heatwurx machines. 
"We were utilizing traditional technology, however the failure rates were to in excess," says Dworsky. "The opportunities that opened up to our company were overwhelming with infrared."
Dworsky says that adding electric infrared technology to a contractors list of services is more than just an accommodation, it is to the contractors benefit to offer this service. "The repairs are permanent, seamless and cost effective." 
Infrared the right way
McLeod has been in the paving and patching business for 43 years and travels the county giving speeches and teaching companies how to properly create an infrared patch because he believes in the patching technique so much.
"Most of the people that start in the business are so excited about the machine they don't do it right," says McLeod. "Sure it looks pretty, but once it starts to dry out and age, it falls apart because it wasn't done properly. The patch has to look good, but it also has to hold up. I have patches five to seven years old that still hold up. You have to put fresh material in, that's the trick. And if the base is bad, you have to do something else"
Eosso has been a speaker at the National Pavement Expo and brought his knowledge to the show again in 2014, speaking about infrared.
"One of the reasons I chose to speak for infrared is because the importance of training and doing great work," says Eosso. "Because like all our services (paving, sealing etc) if done improperly it gives a bad name to the industry. I believe in infrared so much, I want to help the industry get recognized as the most effective source of pavement repairs."
Hargett agrees adding that infrared can completely change your business if it's done correctly. "It is something you have to commit quality and time to train your employees properly to make this a successful part of your asphalt business," he says. "If it's done right it can be a great addition to your asphalt services. We have to be careful where we take the technology because we're generally hired to work anywhere we show the process."
"Contractors need to understand that infrared will not fix every problem," adds Russell. "Get the equipment out and experiment with it to understand its benefits. This equipment can be an incredible weapon in your business if you understand what it can do. I have cut the costs of labor hours, equipment time and material costs because of the infrared process."
"If you're a paving company, owning an infrared machine is a no brainer," says Eosso. "Pound for pound it is the most profitable business that I have running."
"I've been doing this forever," McLeod finishes. "Infrared just adds to your business. Saw cutting and removing is not efficient. I tell guys all the time that if they're going to stay in the business, they need to buy one."
Dworsky agrees. "Once you have witnessed the efficiency of the repairs utilizing electric infrared repair technology, you understand the benefit and timeliness of electric infrared."