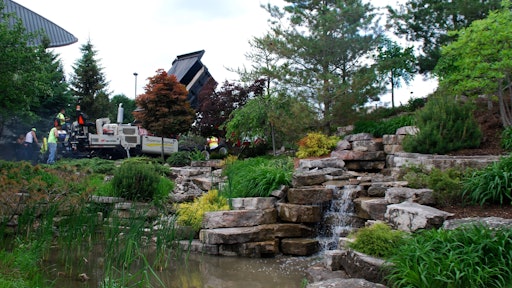 You normally wouldn't connect a serene sculpture garden with intense asphalt paving, but when Frederik Meijer Gardens & Sculpture Park in Grand Rapids, MI sought to upgrade their 158 acre campus, they called in Superior Asphalt to do the work.
As one of the nation's most significant sculpture and botanic experiences, Meijer Gardens includes Michigan's largest tropical conservatory; five indoor theme gardens; outdoor gardens, nature trails and a boardwalk.
Last year when the Gardens began constructing an addition to their museum, a world class Japanese garden, they called Superior to resurface all of their existing parking lots.
They reached out to Superior again this year to expand their parking lots and resurface all of the pathways throughout the sculpture gardens and around the Japanese garden. The paths, most with 12 years on them, needed to be structurally and aesthetically upgraded. Meijer also needed the garden to look topnotch for the opening of the Japanese Garden as they entered a whole new level of presentation.
"Due to our history with Superior, we hired them again to top coat one more lot and resurface all of our Tram paths throughout the park in anticipation of the opening of our new Richard and Helen DeVos Japanese Garden," says Ken Wenger, vice president of fixed operations and facilities and Meijer Gardens. "Due to rental and event obligations, we only had four days open to complete the work. May 18-19 for Lot D and May 26-27 for all of the Tram paths so we had a tight schedule."
The parking lot project addressed 160 parking spaces and the two mile long Tram path was an average of 18 feet wide. 
"Our challenge was that we are open 362 days a year and we try to not interrupt our guest's visits at all," Wenger says. "The parking lot was easy in that we have other lots to use, but the Tram path affects our Trams and walking guests. We were able to minimize the interruption in the park to six hours as Superior recognized our mission and did their very best to expedite the work."
Communication is Key
As you can imagine, maneuvering paving equipment around delicate flowers and sculptures would resemble several bulls running around in a small china shop. Superior relied on communication with the staff at Meijer Gardens to ensure that the work they were doing achieved the needs of the museum.
Ken Wenger, Rick Browley Sr. (superintendent of operations) Estimators, Dave Van Putton and John Alonso set up a plan of attack and mapped out the area to be paved. Every detail was worked out prior to paving day.
"Most of the landscaping was done prior to our arrival," says Rick Browley Jr., paving crew chief with Superior says. "Our estimators walked the path with Ken Wenger and pointed out any low branches that might be a problem for the trucks and paver to maneuver. All trimming had to be conducted by the Meijer Garden staff. The paving crew had someone walk ahead to make sure the trucks could maneuver safely and without interruption."
Trucks loaded with asphalt had to slowly back their way down the path one at a time to the paver. The truck would have to exit the path completely before another could back its way up to the paver.
The paving crew utilized one Blaw-Knox Ingersoll Rand 5510 Paver on the job.
"The equipment used addressed the entire width of the path in one pass," Wenger says. "No seams appeared and the final product looks great."
Superior also used Caterpillar tandem vibratory rollers to complete compaction. The 3/5 ton rollers were chosen for their lighter operating weight. "We did not want too heavy of a roller because the base underneath the pathway was unpredictable," Browley says. "Too much compaction on this job was not ideal."
Aesthetic Mix Selection
A standard 13a and 36a modified mix was used for the parking lot area. The mix that was selected for the pathway however, had to be a bit different.
"The pathway mix was not only selected for aesthetics, but to enhance the overall walking experience of the patrons," Nate Voriganti, lab supervisor and quality control manager at Superior says.
Superior chose to use their 5E1 mix on this job. "This is one of our finer looking mixes," Voriganti says. The mix used has 15% recycled asphalt pavement (RAP). The mix is considered a fine, sandy mix with 3% air voids.
"5E1 creates a smooth surface and remains the rich looking black color for a longer period of time," Voriganti adds.
Superior Asphalt was able to design and create the best mix possible at their Caledonia Plant, which opened in 2010. This plant represents the first new asphalt manufacturing facility to be constructed in Michigan, on a newly permitted site, in 24 years.
"The addition of our hot mix asphalt (HMA) manufacturing facilities has allowed us to be in complete control over the quality of asphalt materials we supply to our paving crews and ultimately our customers," Jeff Kresnak, owner of Superior says. "Our ability to pave driveway to highway, pathway to roadway, pothole to parking lot, makes us a unique paving company."
Through constant communication, and respect for the job at hand, the completion of this project went smoothly and without delay.
"Our communication was timely and efficient addressing weather and schedule," Wenger says. "They listened to our needs and made it happen. We continue to be impressed with the work ethic and sense of urgency displayed by Superior. Part of it is the nature of the industry but I know of only a handful of companies that can accomplish one full years' worth of work in only half a year.
"We have received numerous compliments about how nice the property looks. Patrons are appreciating a much smoother surface to walk on while enjoying the beautiful gardens."