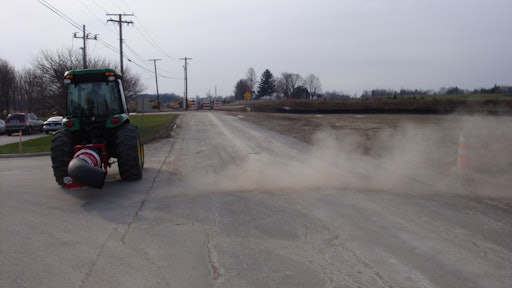 Whether you're paving an asphalt overlay, sealcoating a parking lot or applying pavement markings to any pavement surface, one of the keys to success is a clean surface on which to work. On small jobs walk-behind or backpack blowers can work, in some cases attachment brooms can do the job, and sometimes even large mechanical or vacuum truck-mounted sweepers can be used.
But often there's a middle ground between smaller, less-powerful units and large equipment. In recent years that middle ground has been dominated by large high-powered blowers that can be attached and pulled across to clean even the largest of pavements.
Bigger Blowers Mean Bigger Power
Prior to sealcoating, all surfaces must be dry and free of dust and debris to make sure the sealcoat adheres as designed. The small walk-behind and backpack blowers work very well for the small driveway projects. When attempting to sealcoat large parking lots, the walk-behind and backpack blowers become labor intensive, add to the overall cost of the project and create worker fatigue. The larger blower units available today have up to 10-15 times the power of backpack blowers and 3-5 times the power of most walk-behind blowers. Walking is eliminated and, especially on highways, safety concerns are reduced dramatically.
Back pack blowers average around 850 -1000 CFM (Cubic Feet per Minute). Walk behind blowers range from 1500 – 3500 CFM and the larger towable or attachment blowers range from 5000 – 18,000 CFM. Be cautious about CFM output ratings because certain companies will use that figure as a sales tool and not effectiveness. Always ask yourself the question … how many CFM's does it take to move debris off of a parking lot. Every application is different. Always demonstrate a piece of equipment prior to a purchase. If a company will not provide a demonstration, find a company that will.
Attach to What You Own
The large, tow-behind blower units are being pulled around the site by garden tractors, four-wheelers, utility vehicles, pick-up trucks or even mounted to line driver units. Some models have a directional shoot that allows the exhaust nozzle to be positioned 360° in any direction and offer special nozzle options that will maximize the effectiveness of the blower unit. The most popular blower unit used on larger sealcoat or paving jobs is hydraulically powered. Every large paving, sealcoat or highway project has some skid steer-type vehicle on site which use a number of different power attachments. Most of these large, powerful blower units can be attached to these skid steers.
Prior to paving or sealcoating, a blower unit can be attached in less than a couple of minutes and the surface can be cleaned in a much more productive manner. If a hydraulic unit isn't available, a 3-point hitch tractor model will accomplish the same task. Rotary brooms have their place with surface preparation but are slow and expensive to maintain.
Airports Need Bigger Blowers
Because of a steady stream of incoming and outgoing flights, maintenance on airports is time critical. However, FOD (foreign object debris) cannot be left behind on runways or taxiways. Blowing instead of using rotary brushes for the most part accomplishes both requirements. In some cases cleanup time is reduced to less than half the time.
Grinding off old painted lines on runways and re-striping also requires a quick turnaround process. Using, for example, a line driver, line driver attachment and a powerful blower unit that is designed to easily adapt to the line driver significantly reduces the amount of equipment required on site. Certain blower units can easily be converted over to a mister which can be used with the curing process of concrete.
Planning the best technique for the paving or pavement maintenance job is so critical. There are tools like the powerful blower units readily available to help this process.
Paul Syracuse is General Manager of Buffalo Turbine, LLC (Est. in 1945), Springville, NY, a manufacturer of Turbine blowers and misters in the construction, paving, seal coating, dust and odor control, golf courses, race tracks and other industries. Visit www.buffaloturbine.com or contact Paul at paul.syracuse@buffaloturbine.com; phone (716) 592-2700.
[possible caption]
High-powered blowers that can be attached to a variety of smaller transports can effectively prepare pavement for paving, sealcoating or striping. Rumble strip grinding, race track and airport surface maintenance all have uses for powerful blower units.