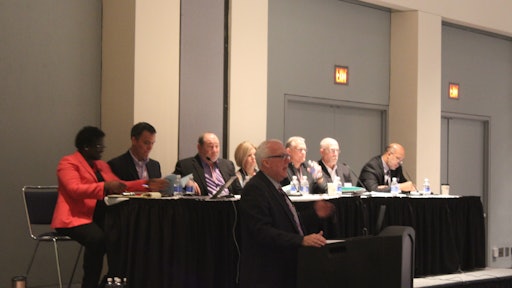 Having a steady stream of work is important to your business. This is why paving and pavement maintenance contractors love to get in good with property management firms. These companies can range from homeowners associations to huge retail management firms whose properties can span all across the country depending on how large the company is. This means lots of work and lots of repeat business. 
However, getting in good with these companies can be difficult.
"Some firms enjoy lifetime relationships with contractors, they are easier," says Larry Thomas chapter executive director with the Community Associations Institute (CAI), New Jersey Chapter.
It's not impossible to get your foot in the door and a panel of industry experts helped prove that to contractors. "Working Successfully with Property Managers" was an interactive engagement session held at National Pavement Expo 2016. Hosted by the North American Power Sweeping Association (NAPSA), the panelists hoped to provide insight to contractors about how to better market to these businesses.
Establish the Relationship
First things first. You have to get the decision makers to take a meeting with you. If you're a contractor just trying to get in to the business, this can be the hardest part about trying to obtain work from property management companies. Most of the time, they hire one contractor and if they're happy, they are not going to be out searching for other companies to work with. However, that's not to say it's impossible if you're good at networking.
"Network within the organizations, make contact with the engineers, be visible, meet people to get your foot in the door," Thomas says. 
Joining CAI or other local business associations, local chambers, etc and attending networking, community or educational events is one good way to be visible in the community for these property managers, 
"The best way to get your business in front of me would be to have a mutual acquaintance introduce you," Thomas says. Or if not,  approach me and introduce yourself at community or networking events. Try to arrange an introduction from one of my colleagues. LinkedIn is a great resource for this."
Thomas says that it's a good idea to try and see who is attending any function and pre-plan who you'd like to meet, then follow up the next day with an email.
Do Your Homework
Once you get a meeting, it is crucial to be prepared when you get in front of the decision makers. You know they've checked on you, make sure you're ready for their questions. 
"Before anyone talks to contractors, we check references, they check you out. Be ready for that," Thomas says. 
Thomas says any contractor they hire would need to be large enough and have the proper equipment and manpower to do the job. Have your proposal as complete as possible with insurance certificates, references, etc. 
"A new trend I've seen is to increase the warranty," Thomas says. "It was always a one year, now some contractors are giving a two year warranty. Make a big deal out of this in the proposal."
Thomas recommends bringing in references from jobs that are similar to the one you're bidding. "I want to see references of similar communities that I can relate to," Thomas says. "If I'm a 2,000 unit HOA and you give me references for a 40 unit apartment, I take that lightly.  On the other hand, if you have similar size jobs, I would consider that valuable also.
"Show them projects you've done in the community, have your insurance ready and send in a personality that is able to interact with the board well," Thomas says.
Thomas says that knowing the community or area you're trying to get in to will also make you stand out from other proposals. 
"Visit the site before the meeting and discuss problems and areas that you see need work," Thomas says. "Mention streets, tell them you already looked at it, mention where you'll be setting up cones and directing traffic.
"It's not always about price," Thomas says. "Sure that's a consideration, but in the 55 and over communities, they are financially sound. They want more than a low bid. In the end, they are going to choose who impressed the board the most."
Bringing in cookies or doughnuts for the meeting doesn't hurt either, he adds. 
Have a Plan
Thomas says the easiest way for contractors to lose business is being not having a plan to get the work done when it needs to be. 
"Poor workmanship and planning will lose anyone a job," Thomas says. "It's vital that careful planning be done to minimize traffic delays. Discuss your plan and schedule with the manager and board and lay out a schedule and timeframe for the work."
Most communities have a mass notification system (email, robocall, webpage), where they will alert the residents of the schedule and accommodations for the project. Be sure to discuss this with the manager and provide him with frequent updates and project information that he can pass on to the residents.
"There is always a small tolerance for delays, but when you show up with half a crew or insufficient equipment you've probably done your last job for that association or management company," Thomas says. "Bad news travels fast. "
Thomas recommends to always  be sure to mention "weather permitting" when scheduling a job. 
"This is acceptable, but if you get three days of rain, the association would expect you to be there on the fourth day," Thomas says. "You might have to push back other jobs you had scheduled for that time to a later date to get things done for the association."
Gaining new business is never easy and there are additional hurdles to jump through when dealing with these companies. Winning the work however can be huge for your business, so don't be discouraged if you get a few "no's"
Don't be afraid to call property managers and ask them why they did not get the bid. They can tell you where you missed the boat so you can be better prepared for the next time you get the opportunity to bid the job. This may even make you stand out from the competition so they call you for the next job. Persistence can pay off.