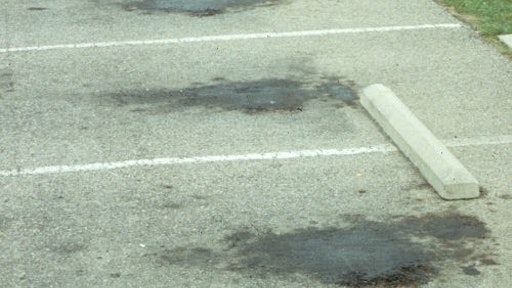 There are basically three stages of deterioration as a result of an oil spots on an asphalt pavement. Due to the severity of the stain and damage caused by the oil, some treatment options may not be available for your customers to consider. Left untreated however, these stains can lead to further softening of the asphalt section and, in cases of older asphalt, extensive deterioration. Know what the stages are and how to treat the damage at each level.
Stage One: No Damage, Clean & Seal
When your customers are first considering a sealcoat application after paving, contractors should be on the lookout for oil stains before proceeding.
"The very best way to protect an asphalt parking lot from oil damage is to sealcoat the entire area within 12 months of paving," Jeff Cayton, regional vice president at Neyra Industries says. "That first sealer treatment, if done in a timely manner, is the best way to protect from oil and chemical spills and will greatly improve the life cycle of that pavement."
When oil is first introduced to an asphalt pavement it will start out as just a stain. At this point, oil has not yet penetrated the surface of the asphalt.
"An oil stain is a dark mark that happens when oil drips on a parking lot," Bill Maclean with The Brewer Company says. "There is no damage from a stain because the parking lot has either been sealed or the surface is very old and oxidized so there's a stain, but no damage. An oil spot is heavier than that and within six months to a year, theses spots cause the asphalt to become soft and encounter damage."
When oil stains are noticed, they should be addressed as soon as possible by scrubbing with a detergent and flushed thoroughly with water. This will protect the asphalt pavement and the sealer from degrading. 
"If the pavement is already degraded from oil penetration, the only true fix is to remove the contaminated asphalt and replace with virgin hot mix asphalt," Cayton says. "As we all have experienced, many property managers do not want to spend the amount of money required to properly fix oil degraded asphalt, which usually leads to oil spot priming and sealcoating." 
Oil primers allow the sealcoat to bond to the oil stained surface again. You may want to test a small area to ensure that the material adhering properly before continuing the remainder of the sealcoating project.
"As long as nothing is loose, as long as the asphalt binder hasn't been destroyed under the oil spot, it helps hold things together again and prevents additional damage," Maclean says. "It also will help the pavement sealer stick to the surface since it obviously won't stick to oil."
Cost impact: Minimal. It should be considered an additional preparation for your sealcoating application. 
Stage Two: Minimal Damage Showing Exposed Surface, Repair Needed
When the oil spot on the pavement has started to create minimal surface damage to the top layer of the asphalt surface, the pavement now is in stage two of deterioration.
"This can happen fairly rapidly," Maclean says. "Something that was just 1/8-in. is now all of a sudden after one winter ¾-in. deep and needs to be repaired."
At this point, the pavement may be experiencing raveling, which is a loss of aggregates, and the pavement is exposed or possibly forming a small depression.
"If the asphalt has not been sealed, the oil will start to dissolve the asphalt binder in the pavement leading to pitting," Cayton says. "When pitting occurs, the problem is compounded by allowing water to wash other oil and chemicals into the pitted area, further deteriorating the pavement.
While not recommended by manufacturers, contractors will sometimes burn off the excess oil with a torch, apply an emulsion and resurface the location with hot mix asphalt. In the northeast and Canada, many paving contractors are now using infrared heater to repair this type of damage.
Cost impact: Medium. This type of repair will usually require an asphalt patch crew to complete before sealcoating.
Stage Three: Severe Damage, Saw Cut Damage & Replace Asphalt
At this point, there is extensive damage and deterioration to the pavement. The oil stained area is now exhibiting softening of the pavement section. Your customer really only has two options to consider.
"A cold patch will never do an adequate job," Maclean says. "If the spot has caused enough damage that it's into the surface of the asphalt, where stones are loose and coming out of the surface because the binder is dissolved, then they need to be saw cut and patched."
A saw cut removes the affected area to the full depth of the paving section and the contractor then replaces the asphalt material. This method would allow you to remove all the affected paving area and ensure that the oil spot is gone forever. 
Cost impact: High. However, it may be cost effective if performed in conjunction with other asphalt site repairs.
Second, if available, you may consider using a small cold planer grinder to mill away the top 1.5 to 2 inches of existing material to remove the oil damage. After the damaged area is removed, clean the affected area, apply a tack coat and resurface with hot mix asphalt.
Cost impact: Higher than normal but this method is very effective in removing the oil affected area and is much less expensive than removal and replacement.
Whichever method your customer chooses, it important for your customers to know that oil spots left untreated will continue to erode and damage their asphalt paving surface, potentially becoming a liability.
"There's no other way to address it," Maclean says. "Once the asphalt surface is damaged, you can't really shovel something in there and hope it's going to last."
Help customers protect their investments by encouraging them to make these repairs in a timely manner and sealcoat as often as needed.