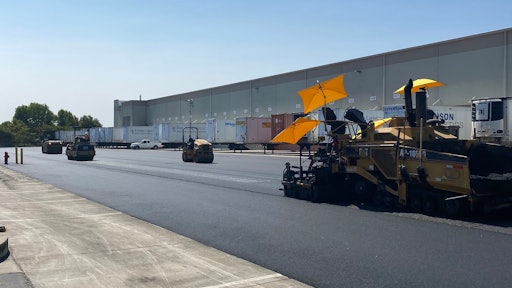 The coronavirus pandemic has caused distribution centers like Home Depot to be busier than they have ever been in 2020. Home Depot's supply chain relies on distribution centers remaining functional, so though Kansas Asphalt Inc. (KAI) was contracted to complete a 2-in. mill and pave on their 90,000 square foot lot at their distribution center in Lathrop, CA, they had to work with extremely tight time constraints as to not disrupt operations and to keep engineers happy.
The company had two crews working 32-hours non-stop on this complex job, winning them the Pavement Maintenance & Reconstruction magazine Paving: Parking Lot Award for 2020.
KAI initially bid the job in February with work to begin in March but due to COVID-19 concerns, work was pushed until late July in the California heat.
"It was 90 degrees out at 10 o'clock at night when we began milling the pavement up," Andrew Jeffries, chief operations officer at KAI says. "Our crews mobilized our equipment in that morning and we were able to get in to start work on that Friday night after the workers inside the distribution center finished their shift. We had two crews working non-stop from Friday evening until Saturday afternoon and our equipment was demobilized and moved out by 2:30 Sunday afternoon."
High Profile Project
No stranger to adversity, KAI, which is a national Woman Owned Business, certified through the NWBOC, has five offices in California, Texas, Iowa, Kansas City and Cincinnati, OH. Jeffries went in to this project knowing it would be challenging for their California team.
Jeffries said this was not the typical mill and fill job their crew was used to, but called it a very high profile project since the Home Depot team was watching to make sure mistakes were not made and the tight deadlines were met.
"We found out that the contractor who was hired to complete the first half of the job in 2019, the front of the distribution center, left a catastrophe," Jeffries said. "They took two months to complete the work which caused the facility to be hampered for a while during peak distribution so the engineer wanted to make sure everything was done right this time, hence the tight deadline and additional testing that was done for our portion of the lot."
Throughout the project, the KAI crew was being watched very carefully by the engineers and the Home Depot team as they paved the back side of the lot. Their work was also being tracked by three independent testers who conducted volumetrics and thickness measurements throughout the paving process.
"Because the microscope was on us, everything was double the mills, double the pavers and double the rollers in case there were any breakdowns we knew we were double covered," Jeffries says. "We definitely wanted to make sure we over-ironed the project. We brought two mills, three pavers and five rollers just in case anything were to go wrong with our main equipment."
Logistics Prove Challenging
In order to meet the strict 32-hour deadline for project completion, the KAI crew planned out every detail in advance and was sure to stick to the plan as much as possible. Friday night, KAI worked to mill up 120,000 square feet of pavement but found that additional full depth milling was needed in some areas.
"There were a few soft spots that the engineer found that were really alligatored and we went down to the to the base rock on them in a couple of areas," Jeffries says. "The crew also encountered 18,000 square feet of soft clay subgrade, which required an additional 12-in. of excavation that was replaced with 6-in. of recycled asphalt and 6-in. of asphalt to stabilize the lot."
The crew used a Wirtgen 207 Fi and a Wirtgen W 200 to complete the milling portion of the project. 20 trucks were on hand to remove 1900 tons of material from the lot. Milling was completed and the lot was swept clean by 4:30 AM Saturday morning when the second crew could come in and complete the paving work.
Ten trucks delivered 1,875 tons of mix that the crew put down in two lifts. KAI used a Caterpillar AP 1055 to complete the paving and had three Caterpillar rollers and two BOMAG rollers on hand for compaction. The crew finished paving by 4:30 PM Saturday afternoon.
Since the weather was so hot that day, KAI crews left the job Saturday night to let the pavement cool before returning to the jobsite Sunday morning to finishing the striping work.
On top of the tight timeline and subgrade issues, the crew also had to ensure they were staying safe and compliant with COVID-19 guidelines. KAI's safety team brought in temporary sanitization stations and separate portable bathroom facilities. Production slowed slightly as the crew members had their temperatures taken twice a day, and all truck drivers were checked as well upon entering the jobsite.
Jeffries also had to drive from the company's headquarters in Kansas City to California as the company had a no-fly policy at the time.
"The project had us all running pretty ragged," Jeffries concludes. "But overall, I think it turned excellent. I was pretty happy with the project."
Companies in this article