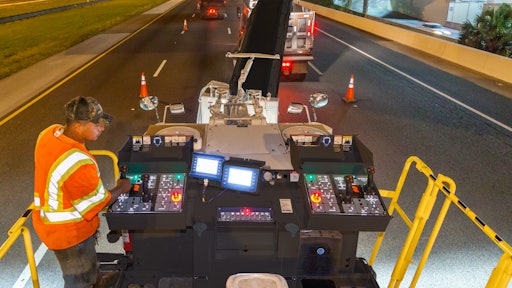 Astec
New milling machine technology allows you to achieve tighter tolerances, maintain high production rates and avoid placing new demands on the milling crew. "The newer generation of grade controls, cutter drum technology and new operating systems have made obtaining higher quality, while also gaining productivity, easier than in the past," says Tom Chastain, milling product manager, Wirtgen America.
The process of setting up the cut and monitoring the machine has also been simplified. "Onboard diagnostics, simple grade control setup and automated calibration procedures drastically reduce the responsibilities of the operator compared to older generations of equipment," says Kyle Hammon, technical sales manager, Astec.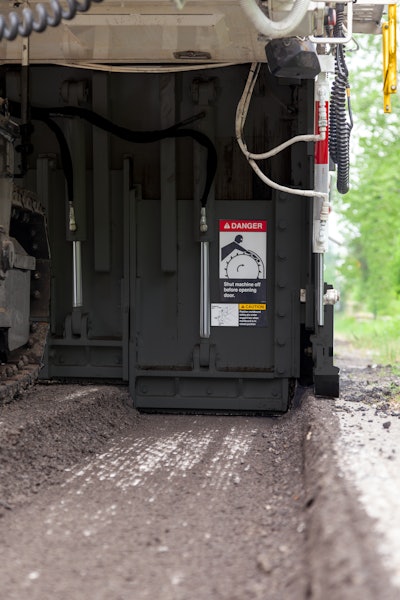 The objective is to maintain quality milling patterns while maximizing production quantities and protecting the machine and crews. This is where the latest technology comes into play. Certain models of newer milling machines have operating systems that allow the operator to choose between milling modes. This allows the operator to control the pattern.
"You can tell the machine what cutter drum line spacing you have and what pattern quality you want to achieve," says Chastain. The settings even drill down to what cutting tools you are using. "The machine calculates this information and dictates the machine speed, cutter drum rpm and even water quantity. This allows the operator to maintain their line and convey material while the machine is doing the rest."
Load Control Maximizes Production
To optimize production and surface quality, milling machines must be able to detect the changing loads and react accordingly. "Engine load control and traction control systems are in place to keep the machine running at a constant pace and prevent sudden changes in work speed that can result in flaws in the milled surface," says Hammon.
"Active load management systems like Caterpillar's load control allow operators to push machines to their max capability without the risk of stalling out the machine," says Jameson Smieja, global sales consultant, Caterpillar. "This can significantly increase the productivity of the machine by taking the guesswork out of how hard the operator can push it."
Caterpillar also offers a cruise control feature. "Cruise control helps operators maintain a consistent pattern throughout an entire project by allowing them to store and resume a targeted milling speed with the press of a single button."
Features such as load control can ensure the most efficient use of available engine power. "Most cold planers allow for operators to select what engine and rotor speed they want to cut at. So, in applications where speed is not the top priority or trucks are limited, the operator can select lower engine and rotor speeds to reduce fuel consumption," Smieja explains. "Other features such as idle control allow the machine to reduce to low idle when stopped and only increase engine speed by as much as needed when certain functions are activated."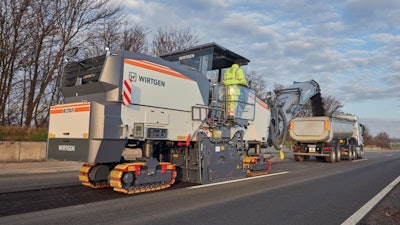 Wirtgen has focused on improving operating costs. "The latest version of machines has gone toward being more economical on fuel, water and cutting tool consumption, along with [reduced] noise levels," says Chastain. "Having operating systems that can inform the machine of what we are trying to achieve, along with new dual shift transmissions, allows the machine to perform at optimum while also monitoring consumables."
Cutting Tools Evolve
Cutting tool holders and teeth have evolved, as well. "Newer cutting technology allows us to feel more confident in our milling performance and smoothness," says Chastain. "Newer carbide tooling, and now PCD or diamond cutting tools, allow us to mill for longer periods with less wear. This means we don't stop as often and we maintain that quality pattern longer. These latest innovations in cutting technology, along with greater machine performance, allow us to achieve quality and material output."
The popularity of diamond cutting bits continues to grow. According to Caterpillar, these bits have been shown to last up to 80 times longer than carbide bits, which significantly reduces downtime.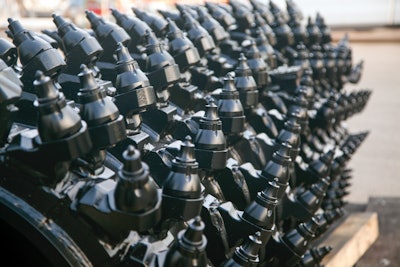 "This is especially true in tough applications where carbide bits must be replaced numerous times throughout the day," says Smieja. "In addition, diamond bits tend to stay sharp throughout their entire life, which allows machines to produce a consistent milled pattern and maintain higher cutting efficiency, which increases productivity and can provide up to 15% fuel savings."
Rotor design is critical to ensuring the desired results. "Numerous rotor designs are available with varying degrees of cutting tooth spacing to enable operators to achieve the required pattern texture of the final milled surface, while at the same time removing the maximum amount of material possible," says Smieja.
Grade control increases production
By hitting the target grade the first time and eliminating rework, milling machines equipped with the latest grade control technologies promise impressive productivity gains that can quickly recoup the cost of the initial investment.
"Today's milling machines can be very accurate and produce smooth profiles thanks to modern grade control systems," says Smieja. "For example, Cat cold planers come standard with Cat GRADE with Grade and Slope capability, which provides the versatility and flexibility to be set up for any number of applications. Whether the goal is targeted depth removal, milling for improved smoothness or milling to an exact design profile, Cat GRADE can be set up and adjusted to achieve optimal results in nearly every application."
Grade controls have improved to make achieving consistent depths and/or slope easier. "Simplified yet state-of-the-art technology gives the operating crew quick, accurate response while also making their job a little less stressful," says Chastain.
"We are seeing more 3D come into the milling industry," he adds. "These systems work quite well if the setup is done correctly." Averaging systems utilize sonic senors to average the depth of cut over the length of the machine, or longer.
Complex jobs favor 3D grade control. "3D grade control systems allow the machine to mill with a higher level of accuracy compared to standard 2D systems," says Hammon. "On more complex projects where varying depths and cross slopes are required, 3D systems will make these changes automatically.
"The 3D systems do require a digital model created from roadway data collected prior to the milling operation," he notes. "Building and implementing the digital model into the milling machine requires significantly more work in advance, as well as additional equipment, compared to a traditional 2D operation."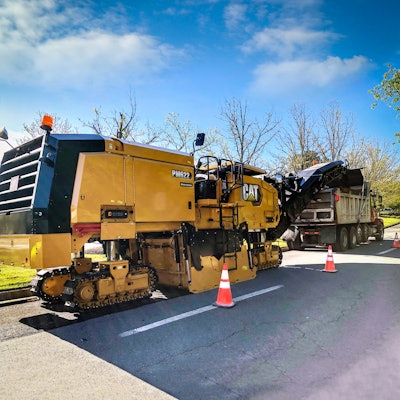 Plus, not every job is a candidate for 3D milling. "While 3D milling provides the best accuracy relative to a design specification, the technology required to achieve that accuracy requires a significant investment, as well as additional jobsite management that is only warranted for special applications," says Smieja.
"Jobsites with good sightlines, manageable distances and minimal interference with 3D control stations (such as airports) are good candidates to benefit from 3D grade controls, which can help meet tight specifications," he states. "However, 2D grade controls, with or without stringlines, are still an efficient and effective way to meet numerous milling job specifications today without additional hardware."
3D System Crushes Accuracy
Orange Crush LLC is a Chicago-based general contractor that performs a range of projects including asphalt and concrete roadwork and excavation. It paves roadways and subdivisions as well as commercial properties.
"We have access to six asphalt plants in the Chicagoland area," says Sumie Abdishi, general superintendent. "We have five grinding crews and seven grinders (milling machines)."
Orange Crush chose to mount a Trimble 3D total control system on its newest Roadtec RX 700 milling machine with the help of SITECH Midway. Though relatively new to 3D milling, the contractor does have extensive 3D paving experience.
"We outfitted our pavers first because we were almost made to on the Tollway [projects]," says Abdishi. But he believes the best approach is to start with the milling machines. "I'm a firm believer in going from the ground up. I think you are much better off 3D milling and then just laminating what you have milled."
The 3D total station solution provides tighter control on everything from yield to accuracy. This really proved beneficial on a recent Norfolk Southern rail yard project in Englewood, IL. Orange Crush had to maintain a tight grade and the 3D total station technology eliminated the need to constantly paint numbers ahead of the mill as well as continually recheck the work.
"We still had a guy behind the mill with a rover and there was a little bit of extra cost there, but it was better than having to go back because we missed a grade by two or three tenths," Abdishi comments.
The system's accuracy has proven spot on. "It gets the grade on the money the first time," says Abdishi. "You increase your production in that application by 30%, especially when you have a variable depth mill and you are being held to a certain elevation and grade at each location."
The technology does require a substantial investment, but the return can be pretty rapid. Orange Crush estimates it recouped almost half of its technology investment on the Norfolk Southern project alone. "I would say by this time next year, we will have the system paid for," Abdishi predicts.
Jobsite setup typically takes Orange Crush about two hours. "You have to figure two hours in the morning the first time you go out to do your measure-up, and for calibration every time you move the machine from one job to another," says Abdishi. "You have to get the machine there a couple hours ahead of time before you get trucks there."
Operator training was not a difficult challenge for the contractor. "It wasn't as big a challenge as I thought it was going to be," Abdishi recalls. "I think it was a bigger learning curve for the paving guys than it was for the grinding crews."
The person in charge of surveying/machine control guidance is responsible for setting up every job. "He'll go out and set control on each job and then work with SITECH to measure up the machine the first time," says Abdishi. Getting this person up to speed was the most vital part of the training. "The actual crews took to it right away."
Due to the positive experience, Orange Crush plans to expand its 3D milling capabilities by adding a Trimble system to a recently acquired Wirtgen 220A. "It's just piece of mind to know that when you have a project, you have something that is going to hold you to that stringent grade control," says Abdishi. "That is the biggest thing for me."
Simpler Operation and Setup
Increased automation and simplified controls mean a crew isn't constantly having to push buttons, reducing the learning curve. "By making the operating controls and grade controls user friendly, beginner operators take to newer machines easier than they would a 30-year-old machine that took great skills and patience to master," says Chastain.
In addition, manufacturers offer unique features that can ease and speed machine setup. "Sensors integrated into the machine allow for features such as Caterpillar's 'return to zero' and 'auto cut transition' to simplify setup," says Smieja.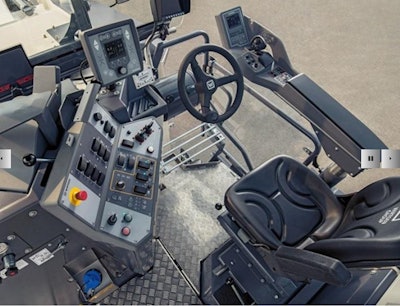 Return to zero quickly brings the machine back to initial "scratch height" so it's ready to plunge into the next cut, Smieja explains. Auto cut transition allows operators to program in a predetermined transition in depth and slope over a given distance and the machine automatically creates the desired profile.
"Other features such as high-quality cameras with cut edge guidance lines make it easier for the operator to get the machine properly aligned into position at the start of each new cut," Smieja adds.
Minimizing the time spent on setup can add to the bottom line. "Setting up a milling machine to start has become easier with the latest technology," says Chastain. "The milling crew can set up the machine for operation in just a few minutes."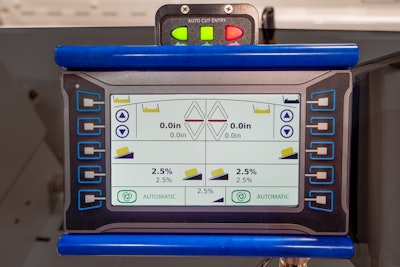 Technology enhances safety, as well. "The most recent features to be implemented to Astec CMS milling machines pertain to safety," says Hammon. "The rear object detection system is in place to stop the milling machine if a person or larger object is detected behind the machine while in reverse. Once the person is out of the detection zone, the operator can resume the machine's path in reverse."
Yet, even with these advances, milling remains one of those applications where operator skill is difficult to replace. "I personally feel that milling will always need the human factor," says Chastain. "Operators can feel when things are going right. They can hear when things are not right. Making operation of these machines safer and easier goes a long way."
Keeping Mills on the Move
Preventing downtime keeps a milling project on track. This is where telematics technology becomes a game changer.
"Telematics are a powerful tool for reducing downtime and collecting performance data in real time," says Hammon. "Production data, fuel burn and idle time are a few examples of information that can be obtained remotely when using a telematics system."
Astec offers The Guardian Telematics System. "The Guardian Telematics System allows two-way communication between the machine and the end user or approved service technician," says Hammon. "This provides an enhanced level of serviceability and data collection on each machine."
When a problem with a milling machine does crop up, it needs to be identified and remedied as quickly as possible. "New milling machines are trying to make not only operation but the diagnostics and troubleshooting of these machines simpler," says Chastain. "There is nothing worse than having 20 trucks in front of the milling machine, and a paver behind you, and the milling machine goes down."
Wirtgen has developed systems to proactively notify users of potential issues. "These new machines will inform an operator when something isn't on, isn't functioning or was simply turned off by mistake," says Chastain. "This hopefully cuts down on the number of holes [that have been] put in the roads over years past."
Wirtgen has also built redundancy into its milling machines to reduce downtime. "There are built-in backups for those times that we do have a failure so the milling machine can continue its operation without sacrificing quality or production," says Chastain.
Companies in this article