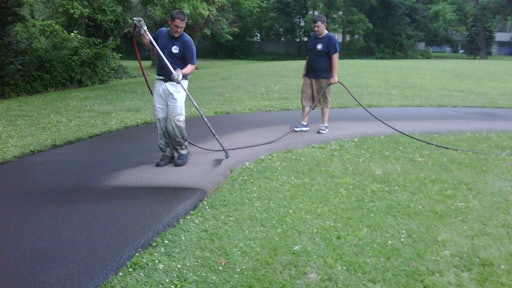 Twenty years ago, Chuck Hartz filled his pickup truck up with 50 gallon drums of sealant and started sealing driveways and parking lots in the Cincinnati area. After seeing success and a growing customer base he invested in sealcoating equipment and a crew that would help the company grow even more without as much physical toll. 
In 2002, Chuck's brother John joined the company and together they have built Hartz Sealcoating. A business that has grown from residential work in a few small communities to almost half the Cincinnati area, and the entire Cincinnati area and beyond for commercial customers. 
"Our residential customers account for 40-50% of our work and have led to growth in work for small businesses, large commercial accounts and for commercial property managers," John Hartz says. 
"Word of mouth has been our main avenue for growth, a foundation that has established our reputation which we continue to build upon and reinforce with every customer. We've also grown through our website, Angie's List, the Christian Blue Pages, and in the past we had relied heavily on direct mail, though less and less more recently," he says. 
Honesty Earns Business
Building a business reputation in a large city is never easy. In an industry often known for broken promises, careless work, and fly-by-night companies, Hartz Sealcoating has always tried to be different. 
"If we're going to be honest, we need to admit that in many ways the paving industry has a not-so-great reputation based on years of un-met customer expectations," Hartz says. "Hartz Sealcoating has decided to meet the challenge of changing that reputation head on."
By beginning that change, Hartz also hopes to overcome what he says is the the single biggest challenge that seems ubiquitous across all industries: finding good employees. 
"We feel that by treating people well, it will cause good people to flock to us--this will solve any need for more employees and subsequently make more satisfied customers that will have our name on their lips," Hartz says. "The big secret we will reveal to our competitors that we hope will help change our industry is this: We aren't competing for work! We're competing for employees! Start treating people well--with respect, honesty and love--and growth and success will be banging down your door!"
Hartz Sealcoating is also doing what every company should do for their customers: providing them education on what they are buying.
"Our employees, customers, vendors, partners and competitors all know that we act out of our concern for people and their individual needs and circumstances. Thanks to guidance from Cincinnati-based At Work On Purpose, and Transformational Leadership, we work to be a light to our customers that sheds truth on their asphalt situation and gives them honest information so that they can spend their money most wisely--even if we don't end up benefiting financially."
The company also provides potential customers with a list of their repeat clients to further reinforce that they are a business that isn't going anywhere. 
"We, as a company, have pre-agreed to certain ways that we want to treat each other and made it a priority with our employees. We do our best to establish relationships in which they know they can count on us for more than industry-related things."
In an industry where we continually see contractors diversifying to stay competitive, Hartz says future growth of the company will continue to come from asphalt maintenance. "We have no plans or desire to begin paving or extending ourselves beyond our core competencies," he says. "We have been methodical and controlled with our grow and plan to continue that strategy. The Good Lord willing we will continue to enjoy the adventure and lots of success!"