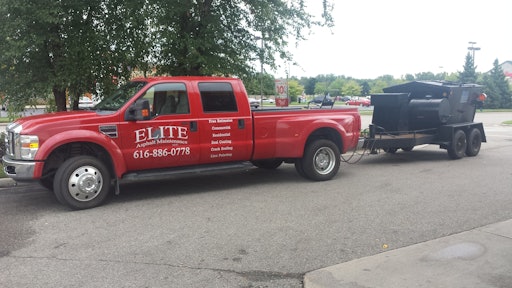 Elite Asphalt Maintenance didn't start on top right away. Owner Dan Vander Wal II started in the industry in 2003 working for a local company in his hometown of Holland, MI. After being there for four years Vander Wal took another job out of state in Pennsylvania, worked there for a season and then returned to Michigan wanting to start his own company.
"I started saving money and started to buy piece by piece the equipment I would need to start my own business," Vander Wal says. "I started my company in 2011 with a truck and tote system. I reached out to another company who was still selling work but was no longer in the business of doing the work. I eventually bought him out in 2013 and have been growing ever since."
Today, the company has two seal rigs, one is a 550-gal truck mount unit with hydraulic agitation and a husky 1590 pump. The second is a SealMaster TR 550 Trailer Unit with hydraulic agitation. The company also has a have a 4-ton hot box and a 2-ton dump box that they use for patching. Also in their fleet is a 100-gal propane oil jacketed melter used for crack sealing, a 30-gal direct fire rubber melter used for residential area and a Graco 3900 striping machine.
Vander Wal, along with three employees, complete seal coating, crack sealing and parking lot striping for all of Western Michigan. 
"We do jobs of all sizes from big store parking lots to driveways," Vander Wal says. "We serve West Michigan along the lakeshore, and our clientele has been steadily growing over the years. We have traveled across the state for a few jobs because of the specific sealer we use."
Going Green
Elite Asphalt Maintenance prides themselves on ensuring their customers know the benefits of a strong pavement maintenance program and backs up their eco-friendly sealcoating with a two-year warranty.
"Sometimes people are misled into believing seal coating is only for beautification purposes," Vander Wal says. "Professional grade seal coating not only extends the life of your asphalt investment, it makes the surface more resistant to deterioration from gasoline, oil and chemicals. We offer a two-year warranty for our services where most companies, if they even offer a warranty, only guarantee their work for one year."
And since Michigan has known coal tar bans in counties around the state, Vander Wal has chosen to only use Safe-Seal Asphalt Emulsion on their jobs.
"Safe-Seal gives you the benefits of sealing and protecting your pavement, but without the noxious odors," Vander Wal says. "We are one of the few companies in Michigan using an eco-friendly sealer that is odorless and does not harm the environment. I want to have this product at the places that I visit with my family and friends."
Getting Involved
Along with supporting the communities' pavement maintenance needs, Elite Asphalt is heavily involved in community service.
"We have supported the local little league teams for the past four years and plan to continue to do so," Vander Wal says. "Being involved in our community is important, not only for our business to grow but to have a positive impact on our community. We enjoy supporting the local rec teams, it is important for children to be able to play in sports and be healthy."
And his own children are the reason Vander Wal strives to continually grow his business.
"I started this company to better my family of six," Vander Wal says. "My wife Ashley and I have four boys. She takes care of the office end of the business along with marketing and going out and looking at prospective work. We hope one day when our boys get older, they want to take over the company and continue to grow it."