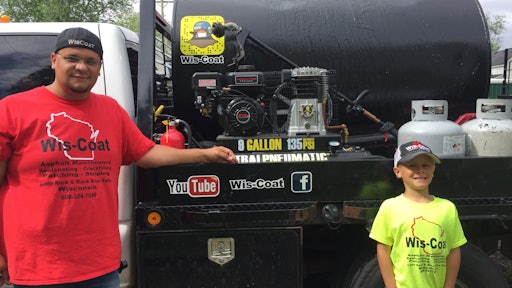 I really wish I had all the money back that I spent on "traditional" advertising and marketing throughout the first 10 years of my business. Not because it was a ton of money -- even though to a young man starting out in the sealcoating business…it was -- but because I feel like I just threw all that money out the window.
The countless newspaper ads, phone book ads, radio ads and various forms of community advertising never really generated enough work to support my family for a month in rural Wisconsin, let alone the six-month season here when everybody in the asphalt maintenance industry really needs hustle to fit as much work in as possible while the weather allows. "Just get us through the next six months of equipment maintenance and paperwork," I always thought. I know some guys pick up seasonal or part-time work to get through the year, and props to you guys who do this to "get it done" and "make it through." But my goal is to generate enough income during the season to get me through the winter until the next season starts.
Trying to Sell My Value
When I did get a call from my marketing, it would usually be from an older customer who, no matter how much I tried to separate myself from the "other guys" by talking until I was blue in the face, always said the last guy was cheaper.
It wasn't until I started to get my chops and courage that I began to ask those customers, "Where is that guy now"? Asking that made me feel better, but it really never seemed to matter to the customer anyway.
It seemed the only time I ever got somebody to really want me to do the job was when they had seen me doing another driveway and realized that I actually cared about my work and was different than anybody who had serviced their driveway or parking lot before. That, or when the following year they asked their neighbor who had sealcoated their pavement the year before because it still looked awesome!
Only then, in those instances, was I really able to bid what I considered to be my value, instead of bidding the cheapest price. But it still wasn't enough to only do asphalt maintenance and make it work all year in Wisconsin.
All that changed when I let customers inside my business through social media.
Easier Than You Think
Wis-Coat, my asphalt maintenance company, is based in a county with a population of only 17,000 people. We service this market with a crew of two – me and one other person – using four trucks and a second office two hours away, plus we do some work in Iowa. Our work is split almost equally between commercial and residential customers, and about 80% of our work is sealcoating and crack filling. The remainder is patch work and striping. Each year for the last five years, we have grown between 10% and 20%.
How have I made it work and grow? The answer is simple: Social media. Facebook, YouTube, Snapchat and Instagram, and how we can link them together and to our Website. Twitter and LinkedIn play a role (but that's another article).
Now, before you turn the page or scan the pages looking for spray tip ads or deals on push blowers because you think you won't understand anything I am going to say next…STOP! It's just not as intimidating as you think. I'm not a tech genius, (in fact, I don't know how I am going to develop a Power Point for my presentation at National Pavement Expo in Cleveland!) but I do know that I can take a picture and make a simple Facebook post on my personal and business page, and in the U.S. Sealcoaters group on Facebook. And I know how to send people there to check it out -- people that have never even heard of Pavement Magazine before.
What kind of people? People who know me. People at businesses I frequent. Parents of children that my children play sports with. People who work at places that need asphalt maintenance: business owners, organizations, property managers, other contractors who are looking for their subcontractor "sealcoat guy," old friends, friends of friends and so on and so on and so on.
Then, one (or more) of these people will hit the "share" button on my Facebook post, and people that I have never had contact with will see it, then somebody that they know sees it and "shares" it because they like it and so on and so on and so on. All this happens for the cost of…a slight moment of time.
Transparency Sells
The magic of platforms like Facebook is that they give you a chance to be transparent and show your work to a customer before a customer even meets you. Simple. And after a prospect calls to request an estimate, it's easy to direct them to Facebook where they can look you up to check out some of your work.
Or maybe they type in "sealcoating near me" on Google and your page pops up. So they pull out their smartphone, type in your business name, click and BOOM! Your website pops up and your Facebook page pops up.
They click your Facebook page because they know it goes more in depth and because they know people can honestly comment on there. And when they get to your page they can find before/after photos of a terrible-looking driveway that now looks amazing and gives the house amazing curb appeal.
That pothole that was in the middle of it? Yeah, we fixed that. Those wide transverse cracks that had the trees growing out of them? Filled and sealed. And by the way, this picture was taken two days ago, but we serviced it two years ago. Seeing all that the customer all of the sudden knows they are dealing with an actual, legitimate business that seems to know what they are doing.
So, they dig a little deeper and discover you have done a ton of great jobs. They even find links to some of your YouTube videos of parking lot transformations. Some of the parking lot jobs were big commercial lots that they had noticed (or that they've visited in town) and some were even for people they knew!
The bonus comes when they scroll through the comments and read all the positive things that people are saying about your business and your work -- and you haven't even made it to the jobsite yet to shake hands and introduce yourself.
Then maybe the customer decides "I'll add them on Snapchat to see what their business does daily."
See where I'm going here? The opportunity social media provides so we can offer our own "two cents" about ourselves quickly adds up to paper money. And for those of you still scared or intimidated about getting on social media, you should know that the "Big Fish" customers often prefer to use social media outlets to search for and contact businesses and business owners. Social media marketing works. It's fast, easy, you can add links to your messages, it saves time -- and as all us sealcoaters know, "time is money."
I think the key is the word transparent, which I mentioned earlier. Transparency is powerful. When you're transparent you're connecting your customers directly with your business and letting them in behind the scenes. Transparency is powerful. It gave me the power to make a positive change in my business and life. I also believe that being transparent can yield the power to change the perception of sealcoaters and the pavement maintenance industry in general by giving customers and people outside our industry an opportunity to see our industry as the honest people we are and who take pride in what they do.
Marvin Joles III is owner of Wis-Coat LLC, Lone Rock, WI. It should come as no surprise that you can reach him or get to know him and Wis-Coat via a variety of social media including Facebook (Marvin Joles III or Wis-Coat LLC), on the YouTube Channel (WisCoat), on Snapchat (Wis-Coat). Also reach him and learn more about the U.S. Sealcoaters group on Facebook. "I would really like to get to know you and say hey, so hit me up," Joles says and you can also do that on Twitter at #SealTheDeal.