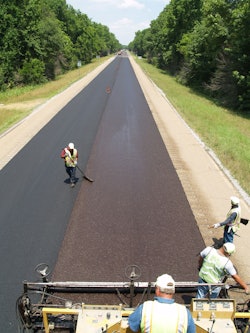 Annapolis, MD – The pavement preservation processes promoted by the International Slurry Surfacing Association (ISSA), including slurry and micro surfacing, chip sealing and crack treatment, provide significant environmental benefits. These processes use fewer natural resources, consume less energy and reduce overall greenhouse gas emissions when compared to performing mill and fill alone or a full rehabilitation.
An increasing number of national policies and sustainable roadway programs are raising federal, state and local Department of Transportation (DOT) officials' awareness and encouraging them to specify more sustainable construction and maintenance methods for roadways. In addition to the environmental benefits, these pavement preservation processes address agencies' economical need to stretch their budgets by extending the life of roads by up to seven years or more.
Pavement preservation methods such as slurry and micro surfacing, chip sealing and crack treatment consume fewer natural resources (e.g., aggregate, binder, etc.) than traditional pavement reactive maintenance and repair methods. According to a recent BASF study, verified by NSF International, mill and fill alone uses about two and a half times as much aggregate and more than twice as much asphalt binder than micro surfacing in order to produce the same customer benefit over a 40-year life cycle. In addition to conserving natural resources, pavement preservation methods contribute less waste because they do not remove old asphalt, but instead treat existing pavement to effectively extend its life. 
Reduced energy consumption is another sustainable benefit of pavement preservation. By using cooler application methods, these processes decrease waste and greenhouse gas emissions associated with traditional pavement reactive maintenance and repair methods that use a hotter application process that takes longer to apply. Because these processes require less aggregate, additional emissions, energy needs and dust from crushing and screening are reduced.
The amount of greenhouse gas (GHG) emissions caused by pavement preservation is significantly less than that of traditional pavement reactive maintenance and repair methods. For example, GHG emissions associated with micro surfacing were found to be 45 percent less than the alternative mill and fill, which requires over twice the amount of material to be shipped to and from the job site. Also, since roads that have been treated with slurry and micro surfacing, chip sealing and crack treatment are drivable within a short period of time after the treatment has been laid, traffic delays are reduced along with their associated GHG emissions.
There are several programs and rating systems driving the need for more sustainable road construction and maintenance practices. The U.S. Green Building Council's Leadership in Energy and Environmental Design (LEED®) program was established as a sustainable rating system for buildings and has provided the benchmark for several similar programs for roads.
The Illinois Department of Transportation has created the Illinois Livable and Sustainable Transportation (I-LAST™) Rating System, based on the LEED program, to establish a simple and efficient method of evaluating transportation projects with respect to livability, sustainability and effect on the natural environment. Road projects seeking I-LAST certification can receive points for specifying the use of various pavement preservation processes, including micro surfacing and chip sealing. Several similar programs have been established in other states.
To learn more about the green aspects of pavement preservation, visit slurry.org and select "Education", then "Green."