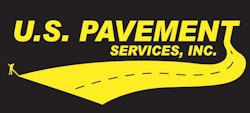 U.S. Pavement Services is sponsoring company contractor and NASCAR racer Clay Greenfield as he competes in the NASCAR World Camping Truck Series at Talladega SuperSpeedway in Alabama on October 18th. 
This is Clay's third appearance at Talladega. A veteran racer, Greenfield was a top finisher at Daytona in 2012. In addition to racing, Mr. Greenfield owns an asphalt company in Nashville, TN and is a member of U.S. Pavement's national network of contractors. His vehicle and his racing firesuit carry the 800 PAVEMENT logo.
 "Supporting one of our own is what our network of contractors is all about," said U.S. Pavement Services CEO Mike Musto. "Whether referring business to a network member, or helping them to win at Talladega, we're invested in every contractor we work with." 
"U.S. Pavement's sponsorship is what gets me on the track," said Greenfield. "They're more than a sponsor, they're a great partner in racing and in business." 
Musto, who initiated the company's Pledge to Hire Veterans program has invited three combat veterans and members of the Wounded Warrior Program to join him in the pit at Talladega. U.S. Pavement is asking every company in the U.S. with more than 25 employees to pledge to hire at least one veteran in 2015. 
"We've always supported the Wounded Warrior Program, but in 2012 we created the Pledge to Hire Veterans Program to reduce the number of unemployed veterans in our country," said Musto. I am honored to have three veterans with me in the pit at Talladega to cheer Clay on."
 The NASCAR Camping World Truck Series has the 3rd largest viewing audience in motorsports with more than 75 million viewers yearly. The race will be televised live on FOX on October 18th at 1:00 PM ET.