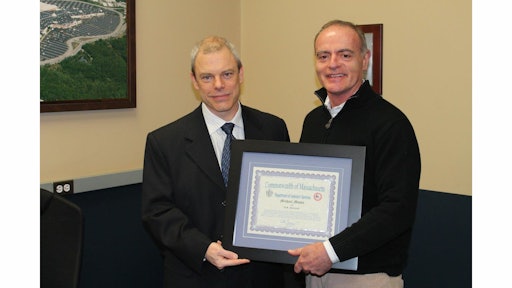 U.S. Pavement Services CEO Mike Musto received an award today from the Massachusetts Department of Veterans' Services for his company's Pledge to Hire Veterans initiative, and his role as a sponsor of various veteran events. 
Coleman Nee, Secretary of the Department of Veteran's Services signed the award which was presented at a ceremony at the company's offices in Woburn.
"U.S. Pavement has demonstrated a deep commitment to our country's veterans through their Pledge to Hire Veterans program. They clearly value the contribution veterans make in the workplace, and serve as a model for other businesses and organizations to emulate," said Nee 
"This award by the Department of Veterans Services is an honor," said U.S. Pavement CEO Mike Musto. "Veterans have done so much for our country.  They deserve to be recognized, employed and held in the highest regard." 
Musto, who initiated the company's Pledge to Hire Veterans, is challenging other medium to large  businesses to hire at least one veteran in 2015.
The City of Woburn, where U.S. Pavement's corporate offices are located, also recognized Musto for his contribution. 
"The City of Woburn applauds your proactive role as a facilitator of jobs, tax credits and other economic opportunities for those men and women who have served our Country," said Mayor Scott D. Galvin. 
"Veterans are a well-trained, dedicated, mature pool of potential employees. They have protected each and every one of us with their service – hiring them is a no-brainer," said Musto.