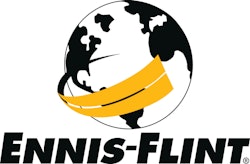 Ennis-Flint announced the appointment of Michael Murren as Chief Financial Officer for Ennis-Flint. His role will include managing all of the financial aspects of Ennis-Flint's organization and will be based out of the Thomasville, NC headquarters. Mr. Murren joins the organization most recently from Caraustar Industries and brings nearly 30 years of extensive experience in the financial arena with companies including Cetero Research, Diamond Innovations, Hill-Rom Holdings, and General Electric.
Matt Soule, who previously held the role of CFO, will be assuming his new role of President, Americas with the primary focus of managing the day-to-day activities of the North American operations. Building upon his comprehensive financial knowledge, Mr. Soule will also play a key role in strategic planning and development as Ennis-Flint continues global market expansion of offering world-class products and services to the traffic safety industry.
Both Michael Murren and Matt Soule will report directly to Steve Vetter, CEO.