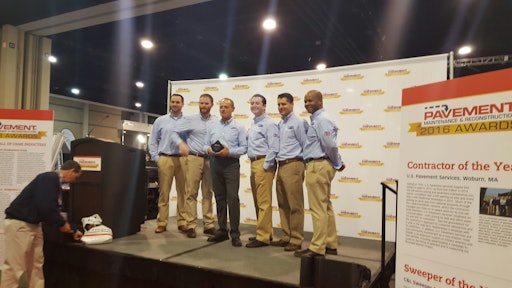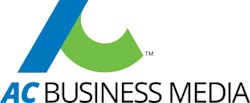 National Pavement Expo and Pavement Maintenance & Reconstruction Magazine have established nine industry awards to recognize individuals and companies who have enhanced the paving and pavement maintenance industry through their professionalism, dedication to education, pursuit of excellence, and development of equipment, tools or materials.  
The Pavement staff, in conjunction with the Pavement Advisory Board, evaluated the nominations and is pleased to present the 2016 award winners. Pavement's February issue will profile these industry award winners.
Please join us in congratulating these industry leaders! 
Contractor of the Year: 
U.S. Pavement Services, Woburn, MA 
Started in 1985, U.S. Pavement Services topped $45 million in sales in 2015, up from $36 million in 2014.  The full-service paving and pavement maintenance contractor completed over 3,500 parking lot jobs and more than 2,000 residential driveways in 2015.  Much of the parking lot work was from national accounts through the 1-800-PAVEMENT network, which the contractor manages and relies on to award work for its 220 network members. U.S. Pavement Services' emphasis on communication – both among its field and office workers and with its customers – lays the groundwork for the contractor's approach to customer satisfaction and is vital to the long-term relationships it develops with its customers.  In addition, U.S. Pavement Services pursues community involvement as a core mission, most notably in its extensive support of military veterans and their families, including spearheading a campaign focused on the hiring of veterans and in supporting the Wounded Warrior Project. 
Click here to read full article.
Sweeper of the Year: 
C&L Sweeper Services, Jackson, NJ 
This family-owned business has been in operation since 1971 serving customers throughout the state of New Jersey. Led by owner Gabe Vitale and vice president Loring Dunton, the company believes in relationships, spending considerable time building solid relationships with both their customers and their employees. Realizing the need to diversify to thrive, along with an opportunity to capitalize on those relationships, the company now completes parking lot & street sweeping, total pavement maintenance-asphalt repair, line striping, crack filling, sealcoating, power washing, parking deck scrubbing, street sign installation, paving & milling and more. 
Their core values heavily reflect a commitment to building the employee culture as well with an overarching theme being that work should be something you enjoy. This relationship not only benefits the employees, but the company firmly believes that happy employees are easier to manage. Providing team members with proper training, incentives and team building opportunities allows C&L Services the ability to be successful on each jobsite.  
 Click here to read full article. 
Seal & Stripe: Small Job
Exterior Maintenance Service, Nashville, TN
When Exterior Maintenance Service was asked to bid a sealcoating & striping job at The Gideon's International Headquarters in Nashville, TN, the contractor knew the schedule would be tight with all work needing to be done in seven days when 80% of employees were at a convention. What the equipment heavy and productivity-focused contractor didn't know was that Mother Nature was going to raise the level of difficulty, raining the entire week prior to starting and the first few days on the job. So EMS crews stepped up, pressure washing all sidewalks and curbs in the rain. After Mother Nature dried the 100,000-sq.-ft. pavement, EMS crews worked two days sealing 5,000 linear feet of cracks, three days spray applying two coats of refined coal tar sealer, then striped the lot over the final two weekend days, in plenty of time for reopening when all employees returned for work Monday morning.
Click here to read full article. 
Runners-Up:
ACI Asphalt Contractors Inc., Maple Grove, MN
D & G Sealcoating & Striping Inc., Estero, FL  
Seal & Stripe: Large Job
Roads & Runways Striping, Inc. Daytona Beach, FL
Roads & Runways Striping, Inc. completed approximately 70,000 sq. ft. of striping in a tight two-week timeframe on a $11 million LHD Runway Project at the Marine Corps Air Station (MCAS) in Beaufort, SC. Working under a tight deadline and among approximately 50 other contractors, the company placed over 650 gallons of paint for a variety of markings from 2 in. to 48 in wide, including various lengths and color combinations. The company was precise to within 1/4 in. for all markings.
Click here to read full article.
Runner Up:
Finley Asphalt & Sealing, Bristow, VA
Paving: Parking Lot
Paving Associates, Staten Island, NY
The primary goal of Paving Associates award-winning job was to make safety alterations in an area of the South Hills Mall in Poughkeepsie, NJ, reducing an existing 22% fall to an Americans with Disabilities Act-compliant 5% fall with a 2% cross-slope – all without adjusting any curbs, light poles or any other structures. Paving Associates milled in place and compacted 40,000 sq. ft. asphalt 6 in. deep, then installed 1,500 tons of stone on half the lot to raise some areas as much as 3 ft. in as many as three stone lifts to 12 in. Each lift was compacted and Paving Associates graded the aggregate to existing pavement 200 feet away to create the 5% slope. Crews then placed 2 in. of binder over the reconstructed half of the lot, milled 2 in. of pavement on the other half of the lot, then placed an overlay over 75,000 sq. ft. to marry the two halves together. After meeting all specification requirements striping was completed and the parking lot was opened on schedule.
Click here to read full article.
Runners Up:
ACI Asphalt & Concrete Inc., Maple Grove, MN
AJ Asphalt, Columbus, OH
Paving: Non-Parking Lot
Finley Asphalt & Sealing, Manassas, VA
The Congressional School of Virginia hired Finley Asphalt to construct their new multi-use court over an old baseball field. Finely was tasked not only with preparing the site for the new pavement structure, but also with installing porous pavement to eliminate the need for additional storm water management systems. The company had to schedule work around 800 students attending summer camp while they installed a unique drainage system under the court and cover with 7 in. of 3-in. stone and a 2-in. layer of 3Ž4-in. stone over top.
Click here to read full article. 
Runner Up:
Pennsy Supply, Pittson, PA
Good Neighbor Award
Cincinnati Asphalt, Cincinnati, OH
An ailing military veteran fell victim to a paving scam when he was charged over $6,000 for a paving job where just 1Ž2 in. of uncompacted mix was placed on his driveway. Cincinnati Asphalt saw the story on the local news and decided to make it right for the homeowner, at no charge. The crew removed the existing mix and placed 45 tons of surface asphalt to do the job correctly. In comparison, Cincinnati Asphalt figured only about eight tons of material was placed when the original work was completed.
Click here to read full article.
Runners Up:
Birmingham Sealcoat, Lake Orion, MI
MK Seal Coat Maintenance, Parsonsburg, MD  
2016 Hall of Fame Inductees 
Scott Cerosky, Fairmont Specialty, Crum & Forster Enterprise
 Insurance issues are never far from contractors' top concerns, but career-long efforts by Scott Cerosky have certainly moved those concerns lower on the worry list. Working in insurance since 1981, Cerosky in the late 1980s performed the nationwide due diligence to develop the actuarial data – the lifeblood of the insurance industry – that enabled proper classification of first street and parking lot sweepers and more recently sealcoaters and striping contractors. His efforts demonstrated the unique nature of each type of pavement maintenance work, the insurance needs particular to each work type, and proved that pavement maintenance work is vastly different from the types of work it had been lumped in with before. This resulted in more accurate insurance classifications and better protection. The programs Cerosky spearheaded saved contractors money by assigning rates appropriate to the kind of work they do. In addition, by giving insurance companies a more accurate view of the pavement maintenance segments, Cerosky's efforts opened the door for increased competition among agencies for the contractor dollar. 
Brad Humphrey, Pinnacle Development Company
Brad Humphrey, president of Pinnacle Development Group, has been a fixture in the paving & pavement maintenance industry since 1988, providing insights on managing a contracting business and outlining the steps to follow to put those insights into action. With an emphasis on leadership, coaching, team management, job quality and other difficult-to-measure company essentials, Humphrey has been integral to Pavement Maintenance & Reconstruction's and National Pavement Expo's effort to help contractors upgrade their people-related skills and management efforts. Humphrey and then-partner Jeff Stokes produced the first NPE educational conference in 1988 in Las Vegas. He contributes Tailgate Talk, a regular column in Pavement Maintenance & Reconstruction, and NPE 2016 represents his 29th consecutive year during which time he has presented more than 200 sessions at NPE-related events. With NPE as a launching pad Humphrey has become an international consultant and speaker not only to the construction industry but to numerous Fortune 500 manufacturing firms as well. He is also a co-founder with son, Colby, of The Center for Competitive Intelligence & Development, a research-and-marketing focused organization for the construction industry.
Alan Rose, Rose Paving Co., Bridgeview, IL
Founder of Rose Paving Co., a 200-person paving and pavement maintenance contractor serving the commercial/industrial market, Alan Rose enjoys a reputation as an early proponent of the benefits of a uniform brand. As a result, Rose Paving was the first contractor to develop national recognition, which was accomplished by the extensive marketing required to support a brand both locally and nationally. Rose embraced traditional marketing methods from the simple – Rose Paving employees are evident at NPE in their red shirts – to planned and well-funded advertising campaigns that included extensive direct-mail efforts, telemarketing, print ads, billboards, educational conferences and open houses. The development of the Rose Paving brand lead to Rose's recognition that one contractor can serve regional and national accounts and resulted in the formation of the Rose Paving Alliance Network, a structured group of vetted contractors throughout the country and the industry's first organized effort to sell and service national accounts.  Rose Paving's national efforts have lead the contractor to establish regional locations in Atlanta, Denver, Los Angeles, and Tampa. In addition to consulting with Pavement Maintenance & Reconstruction as an Advisory Board member since 1997, Rose also is a regular presenter at National Pavement Expo, particularly in the areas of sales and marketing. In October 2015 he sold his majority shares in Rose Paving.
 Jeff Stokes, Next Level Contractor System
President of Next Level Contractor System, Jeff Stokes has been a supporter of contractor education in the paving and pavement maintenance industry since 1988 when he and then-partner Brad Humphrey developed the first educational program for National Pavement Expo. Owner in the 1980s of Midwest Asphalt, a full-service pavement maintenance company, Stokes knows intimately the day-to-day issues contractors face both on the job and in the office. Since 1988 he has brought his operational insights to contractors via National Pavement Expo and Pavement Maintenance & Reconstruction. Other than a brief hiatus when he put his insights to work for Arbor Masters Tree & Landscaping in the private market, Stokes has been a consultant and NPE fixture focusing on the "nuts and bolts" of running a contracting business. From job costing and pricing to crew efficiency, sales, office organization and employee motivation and management, Stokes has presented more than 150 sessions at NPE-related events, helping the industry understand "Best Management Practices" to use and helping contractors implement them. 
Wes Van Velsor, Ray-Tech Infrared
Sometimes recognition comes not from what you create but what you are able to do with what has already been created. That's the case for Wes Van Velsor, president of Ray-Tech Infrared Corp., a manufacturer since 1989 of infrared pavement repair equipment and asphalt hot boxes. Van Velsor will be the first to admit he didn't invent infrared equipment – that nod goes to Tony Heller. Van Velsor, however, was the first to recognize the potential of infrared units to the contractor market, and he took on that challenge. Buying (with two others) the Power Ray Company from Heller in 1985, Van Velsor eventually bought out his partners and worked to create a niche for the equipment among contractors. Van Velsor hit the road offering infrared demonstrations where he could, and once he had several orders under his belt he'd head back to New Hampshire and build the units. "I just fell in love with the equipment and I still enjoy working with it," he says today. "The thing just sells itself if people can see it at work." In fact he was the first infrared exhibitor at National Pavement Expo and his efforts have not only added a new technology to the contractor fleet but have enabled contractors to extend their season, generate more revenue and create aesthetically pleasing repairs for image-conscious property owners and managers throughout the country. 
Bob Woltering, Clairmont Corporation, Nashville, TN
More than 30 years ago, Bob Woltering, owner of Clairmont Corp. and with some relationships in the parking lot sweeping business, attended an equipment show run by the late Harold Neal, Neal Mfg. That got him thinking. From that event Woltering, who died in May 2003, created a broader industry event that has undergone several ownership and name changes and is today National Pavement Expo, the paving and pavement maintenance industry's only focused annual event. But before that Woltering, an entrepreneur if there ever was one, had ventured into the publishing industry with International Sweeper/Parking Area Maintenance. Printed on newsprint, that sweeper-focused publication came out every other month and it wasn't long before Woltering filled up those "off" months with Pavement Maintenance and Management, what he termed "The International Journal of the Asphalt Aftermarket." Time has shown he sure was on to something. Those publications co-existed until 1990 when they were bought by The Aberdeen Group, which folded them together to create what is today Pavement Maintenance & Reconstruction, the industry's foremost trade publication and the official publication of National Pavement Expo.   
Click here to read more about the 2016 Pavement Hall of Fame Inductees
Alan Curtis Industry Service Award
Scott Cerosky, Fairmont Specialty, Crum & Forster Enterprise
Click here to read full article.