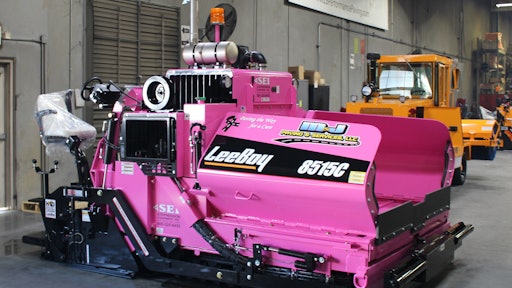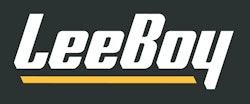 VT LeeBoy is helping pave the way for a cancer cure. Executives from VT LeeBoy, based in Lincolnton, NC, unveiled the pink paver and presented a $100,000 check to representatives from the American Cancer Society during the National Pavement Expo (NPE) in Charlotte, NC on January 27.
In 2015, the total amount raised in the Lincolnton community from their Relay For Life activities was $96,565.61. This year, LeeBoy's donation of $100,000, directed to the Relay For Life in Lincolnton, will make a huge impact. 
Nadine Malpass, Senior Director of Community Engagement for the American Cancer Society, credits LeeBoy for bucking the trend of declining donations. "Everyone wants to have a LeeBoy on their team," she says. "We hope their success with the pink paver is going to inspire other companies to get involved. The fight against cancer is on-going and this type of commitment gives hope to all those whose lives have been impacted by cancer."
Kelly Majeskie, President, The LeeBoy Group, says the pink paver galvanized support among the 300 employees in the Lincolnton facility. For Majeskie, $100,000 isn't even the most impressive number related to the fundraising. "What surprises me and what I'm most pleased about is the number of people and companies who got involved in the project," he says. 
Sandy Greene, who works in Customer Service, motivated by her sister's diagnosis of breast cancer, organized the first LeeBoy Relay For Life team in 2010. A team of 25 (mostly family members) raised about $2,500 that first year. That year the event went from 6 p.m. to 6 a.m., and according to Greene, it was a dark and stormy night. "The grills were turned over and tents were flying everywhere and we stuck it out as long as we could!" she recalls.
Over the years, the Relay For Life project gained momentum at LeeBoy. By 2015, the fundraising total was $10,000. This year's Team Captain, Amber LeGette, Accounts Payable, set an ambitious goal of $50,000 for 2016.
Tamara Helderman, Human Resources Generalist for LeeBoy, was the one who first thought of the idea to build a pink paver in 2015. While looking at a custom-painted green asphalt paver for a customer during a trip to the shop floor, she thought that a breast-cancer-pink paver would help raise awareness and funds. 
"I didn't really expect it to take off like it has," says Helderman. "Everybody from every department has pitched in. When you can get everybody excited about a cause and support it, it speaks volumes about the family-like atmosphere here at LeeBoy." 
The enthusiasm for the project spread throughout LeeBoy's supply chain. Dozens of suppliers donated to the cause. One CFO even wrote a personal cheque for $5,000. 
The largest single donation was made by a dealer, Stephenson Equipment, Inc., in Harrisburg, PA. When LeeBoy approached Dennis Heller, President and CEO of Stephenson Equipment, about purchasing the pink paver, he jumped at the chance. Heller's wife, Laurie, was diagnosed with breast cancer in July 2014, but because of early diagnosis and a double mastectomy, she is now cancer-free.
Heller has since sold the pink paver to M&J Paving & Services, LLC in Mifflintown, PA, where it will be put into service, paving roads while attracting attention and raising awareness. "This paver will be around for years and this story will encourage others to donate to fight this dreaded disease," he says.