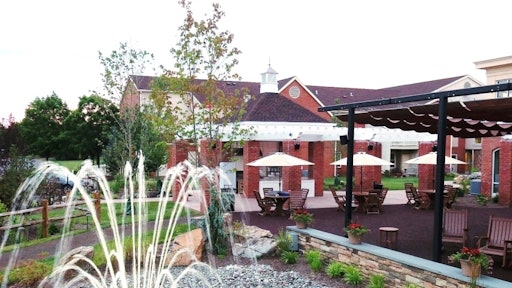 Meadowood Senior Living (Worcester, PA) selected Design for Generations, LLC (Medford, NJ) and Eric's Nursery and Garden Center (Mt. Laurel, NJ) to design and develop a new multi-purpose garden courtyard. They created a resort-style outdoor space that is striking in its beauty and engaging in its varied features and amenities. To meet local requirements for onsite stormwater retention, the courtyard includes 8,100 square feet of permeable pavement, installed with Porous Pave XL.
Made in the US, Porous Pave XL is a highly porous and durable paving material made with 50 percent recycled rubber chips and 50 percent aggregate mixed with a liquid binder.
"Meadowood has always been known for the exceptional beauty of our retirement community campus. In 2009, it was recognized by the Philadelphia Horticultural Society for its stunning natural beauty," Shannon Grieb, vice president of marketing, Meadowood Senior Living says. "The old courtyard, however, was just a pass-through area, not an inviting destination in the heart of our park-like campus."
"The project was required to capture and hold or permeate all water run off on the site," says Christopher Kendzierski, LLA, commercial and residential landscape division manager, Eric's Nursery and Garden Center, the project's landscape design-build contractor. "That is why it includes two rain gardens and the permeable pavement."
"We had a long list of requirements in selecting a permeable paving material," Jack Carman, FASLA, RLA, landscape architect, Design for Generations says. "Porosity, non-slip and safe for seniors, attractive with colors to complement the garden plan, less reflective glare than concrete, and a somewhat more forgiving surface comfortable for walking, outdoor fitness classes, and outside physical therapy sessions."
The project's building committee made site visits to evaluate Porous Pave. They visited Chanticleer, a public garden near Philadelphia, which completed its first Porous Pave installation in 2013. "The rainy day we went to Chanticleer was a terrible day to visit a public garden. But the rain gave us the chance to see the material's permeability. There were no puddles on the permeable pavement paths," said Jim Mangol, senior director of fitness and wellness, Meadowood Senior Living. "We brought along a wheelchair, a walker and a folding chair to test them out. We came away convinced that Porous Pave was a good choice."
The new garden courtyard features a lap pool with a pool area that can be opened to the outdoors, a variety of seating areas and patios, permeable pavement walkways with a bridge along a stream with a waterfall, a spray jet fountain, kinetic sculptures, a fire pit and an outdoor kitchen.