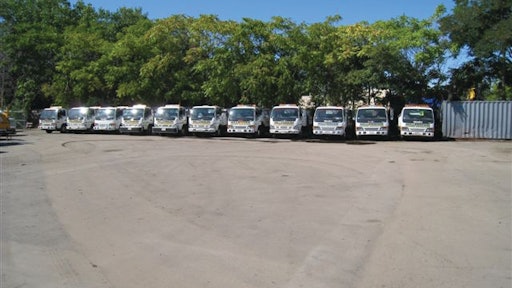 Two of the biggest buzz words you may be hearing right now are diversification and green. The pavement maintenance industry is no different. Millennium Maintenance & Power Sweeping, Medford, MA, is one company that has put both of those buzz words into action.
Millennium started 10 years ago as a power sweeping company, says Owner and President Dave Ross. But it didn't take long for him to realize that the company needed to offer more than just sweeping services. Today, the company offers total facilities maintenance, Ross says. Services include striping, sealcoating, crack sealing, pothole repair, snow plowing, and even lawn maintenance. But sweeping has remained the company's "bread and butter."
In fact, Ross says sweeping comprises 50% of the company's business. Millennium's sweeping services include parking lot, construction, industrial, and parking garage sweeping with retail shopping centers being the main customer.
However, the diversification and addition of maintenance services has helped the company stay busy even when the economy is down - Millennium typically does about $5 million of work each year. It has also helped Ross stay ahead of his competition that do not offer as many services as Millennium and are therefore limited in what they can do. "I found that my customers like to use one vendor," Ross says. "We're able to bundle services together, offer a good price, cut down on all their paper work, and it's really starting to come about."
After 10 years in business, Millennium has grown to a company with 70 employees and 25 sweeping trucks. Ross's sweeping fleet consists of both mechanical broom and regenerative air sweepers from Elgin and Nite-Hawk. Millennium uses the mechanical broom sweepers for heavier sweeping jobs and the regenerative air sweepers for the lighter ones.
For parking garage sweeping, Ross uses a smaller, combination broom and vacuum sweeper. Garage sweeping has a lot more space and size restrictions, so this smaller unit allows the sweeper to get around easily and into spaces full-sized sweepers could not.
Going green
Last year, Ross decided he wanted to certify his company as a green business. "For me it offers a satisfaction that we're doing our part. But being certified also opens up a lot of other opportunities. Especially any local, state, or federal jobs that are coming up where you have to be green certified in order to participate in the bidding process." Certifying an entire company as green means every aspect of the business follows green principles to help the whole business run more efficiently, Ross adds. This can include practices as small as changing to energy saving light bulbs to larger options like running fuel efficient vehicles.
For Millennium's sweeping division, the biggest green practice Ross has incorporated is recycling. Millennium had been recycling swept up materials before the Green Movement really took off, Ross says, and it's always been something he has preferred to do. But when his disposal costs started to skyrocket he knew he had to capitalize on his recycling program. Once you remove all the recyclable materials there's often very little that needs to be disposed of, Ross says.
"Spend a little bit of time recycling and you could actually turn a profit on some of these materials," he adds. At one point in time, companies were purchasing cardboard that Millennium had recycled.
Now, everything his sweeping crews sweep up goes through a recycling process. All of the materials get sorted through a screening process. Large materials such as plastic, cardboard, glass, etc. get caught in the screen and then sorted by hand. Smaller, non-recyclable debris and sand go through the filter and are then taken to a landfill where it is used as a cap for the landfill, Ross says. "About 5% of the debris swept up is taken to the landfill," Ross adds. The other 95% is recycled and sold for extra profit.
Ross has also updated his sweeping fleet to ensure the company is operating as efficiently as possible. For example, he now uses Nite-Hawk sweepers that run on Bio-Diesel or are hydraulically driven. He also runs some new dustless Elgin sweepers that require no water and prevent dust from escaping into the air. "In some point over the next couple of years we'd like to have every sweeper in the fleet as an environmentally friendly sweeper," Ross says.
Certification process
The key to the certification process is research, Ross says. There are many companies offering green certifications, and the prices run the gamut. There are so many options for contractors to choose from including whether they want to certify the business, a particular practice, or all of its employees, Ross says. But no matter what certification you pick, a contractor needs to remember it is something that is earned.
If a certification or the cost seems too good to be true it probably is, Ross says. He suggests that contractors looking to become green certified stick to programs that have nationally recognized certificates.
After researching, Ross decided to earn his certification through the Green Business League. The program consists of multiple online tutorials and tests. Ross is still in the process of certifying his entire business, but he says the Green Business League certification generally will take between three and six months. Some certification programs will offer contractors the option of having a consultant come assess the property and suggest ways to make the business and its operations green.
But once a certification is awarded, the process does not stop there, Ross says. These green practices and processes need to be passed on to all the employees. And don't expect the changes to go smoothly right away. Ross says frustration is common. "Change is hard. Some of the policies we're putting in place take some training. But it's helped improve moral because we all have something we're striving for," he says.
Once Millennium achieves its certification, Ross plans to roll out a big marketing campaign. He believes the certification will open up networking opportunities and maybe even new jobs. He sees green certification as a way to get a leg up on competition.
But he sees a value to the customer as well. Not only can he offer them an environmentally friendly and efficient service, but he can also be a source for customers who are looking to incorporate green practices into their own businesses. Since he knows what it takes, he can offer his experiences and ideas to clients who want to do the same. Ross expects that Millennium Maintenance & Power Sweeping's green certification will be a win-win for everyone.