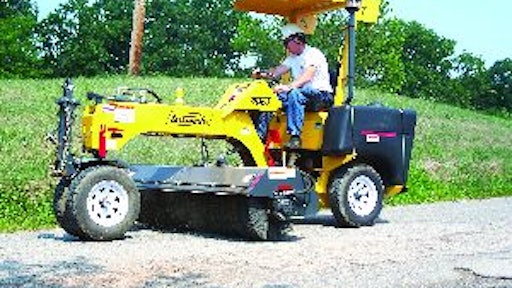 Today's sweepers are designed to loosen and capture particles and dust and excel at leaving a clean path as they pass. There are many different ways to sweep. The types of sweepers typically found in the rental industry include sweeping attachments, walk-behind sweepers, ride-on sweepers and scrubbers, and towable sweepers. Below are the basics for each type of sweeper to help you decide which unit is best for your rental inventory.
Sweeper attachments
Where can sweeping attachments be used? "Sweeper attachments can be used for just about any medium to large cleanup task," says Jim Koch, product manager for Sweepster/Harley Attachments. "For example, pavement resurfacing and sealcoating require the surfaces to be clean of debris before overlaying the surface."
Koch lists these other examples: jobsite and access road cleanup for residential and commercial builders; parking lot cleanup at industrial and governmental buildings; cleanup during and after underground utility jobs; removing of aggregate from turf areas after winter snow removal; snow removal ? sweepers reduce damage to surfaces and reduce deicer usage; cleanup after climatic events; and cleanup after festivals and fairs.
Who uses sweeping attachments? In addition to building, paving and sealcoating contractors, governmental agencies, hospitals and schools, companies with buildings and facilities to maintain, landscapers and lawn care companies, as well as homeowners all use sweeping attachments.
Sweeper attachments are available for virtually every type of carrier ? from skid steers to wheel loaders to telehandlers and more ? so applications are endless.
Why is a sweeping attachment better than a walk-behind sweeper or a dedicated sweeper?
"A sweeper attachment uses a piece of equipment already on the jobsite, like a skid steer or tractor," says Koch. "They're less expensive to rent and more maneuverable in smaller areas. Sweeper attachments are available in a wide variety of sizes and types to match the attachment to the particular job, and are less expensive to maintain and operate. They're also easier to transport to the jobsite."
Koch notes that because sweeper attachments are partnered with larger carriers, they can cover more ground than a walk-behind unit. Some sweeper attachments can also collect the debris as well as just sweeping it aside.
"They can be equipped with larger collection hoppers and when mounted on a loader, the debris can be dumped directly into a truck or trash container for removal from the site," Koch explains. "If collection hoppers are available for walk-behind units, they are small and dumped onto the ground by hand."
Walk-behind sweepers
Where are walk-behind sweepers typically found? Just about anywhere debris can be found, says Larry Seymour with
BCS America.
"For example, before recoating flat industrial roofs, the surface needs to be swept," he explains. "A walk-behind sweeper can replace a dozen fellows with push brooms. Maintenance people use the sweepers to remove snow from pedestrian walkways and for general cleanup. If snowplows have pushed gravel onto lawns, a sweeper will quickly return the gravel to the driveway. Homeowners can dethatch lawns with a walk-behind because, while efficiently dethatching, it also windrows the thatch for easy pickup and disposal."
Like its cousin the sweeper attachment, the list of those who use walk-behind sweepers is similar: pavement contractors, schools and hospitals, snow removal contractors and landscapers, says Mark Roberts with York Mordern Corp.
Roberts says walk-behind sweepers are ideal in small, tight areas. For homeowners and other customers not comfortable with operating or transporting larger equipment, the walk-behind would be best for them, Roberts says.
Seymour concurs, adding, "The walk-behind is the logical choice to sweep narrow sidewalks, be lifted onto roofs, and dethatch soft springtime lawns."
That same advantage can be seen as a disadvantage in that a walk-behind can't cover as much ground as an attachment or a dedicated unit. "Walk-behind sweepers definitely have a limited sweeping path," says Roberts.
Ride-on sweepers and scrubbers
There are two types of ride-on cleaning equipment, ride-on sweepers and scrubbers. Like sweeper attachments and walk-behind sweepers, these ride-on units can be used for various construction site clean-up applications. Unlike other sweepers, however, ride-on sweepers and scrubbers are designed for use both indoors and out, with dust control systems that contain dust down to 0.5 microns.
Ride-on sweepers and scrubbers can pick-up everything from fine grains of sand to light debris on almost any terrain or floor surface, indoors and out, says Bill Ruhr with Tennant Co.
"For example," he explains, "when a construction crew is finished building a warehouse, they can use a rider sweeper to finish the final cleanup before move-in."
Ruhr says the indoor sweeping is possible because of the dust containment systems on the equipment. Indoor sweeping requires dust control for air quality reasons, and Tennant's S30 ride-on sweeper features the SweepSmart System that controls dust down to 0.5 microns ? meaning the dust won't escape into the environment.
Why is a ride-on sweeper/scrubber better than an attachment? Ruhr notes that while some attachments have debris collection systems, a dedicated machine designed for the purpose and function of moving debris has advantages over an attachment.
"If the quality of the sweeping job in important and dust containment is critical, a fully integrated unit will deliver a more satisfactory job than an attachment," he explains. "Also, a cleaner facility or area will result, given the likelihood of the unit actually being used versus it getting lost in a corner somewhere."
The downside to a rider sweeper/scrubber? "Probably the expenditure," says Ruhr. "You're spending money for a dedicated machine, whereas with an attachment and carrier combination, the carrier can be used for other tasks.
While Ruhr says the initial investment might cost more, the end result is what counts.
"It may appear to cost more on the surface, but it will be a better utilization of the asset," he says. "Which ultimately will result in lower overall costs and wear and tear on the carrier asset."

Towable street sweepers
Where are towable street sweepers used? "There are many applications for towable sweepers," says Bud Martin, sales manager
with Terramite Corp. "Most are used for parking lot maintenance, road repair cleanup, construction sites, park paths and roads, dethatching, leaf control, recycling operations and processing plants to name a few, however the list is extensive."
Used by contractors (including asphalt, utility, sweeping, general, road, golf course and curb and gutter varieties), municipalities and utility companies, towable sweepers can be used by any professional needing to clean maintain, and restore work areas, says Martin.
"Towable street sweepers are used by a greater number of contractors than ever before," he says. "There has been increasing regulation to keep jobsites clean and not allow any construction debris from entering our roadways or water drainage systems. Fines are being handed out every day, so there is a growing need for site maintenance and the towable street sweeper."
Why choose a towable sweeper over an attachment/carrier combination? "The greatest advantage is its unique mobility in being easily transported to jobsites," says Martin."There is no trailer necessary which means only one person is required. It's more user friendly, provides easy and safe entry, and has better visibility. A dedicated machine means no extra set-up time or extra items to maintain. In general, it's much simpler and hassle free."
As you can see, there are as many sweepers available to your rental business as there are situations that require debris cleanup. Research your customer base and market to determine which type of sweeper is best for your rental business.