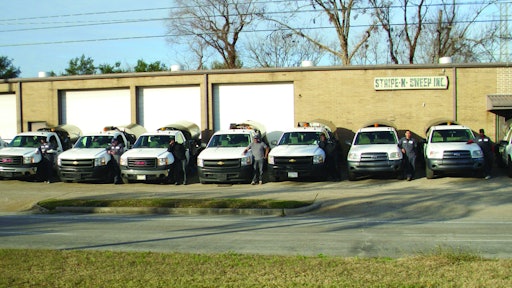 There aren't many sweeping companies that can say they've grown over the last three years – but Stripe-N-Sweep of Houston can say it.
Currently in the midst of their 25th year in business, Les Armstrong, president, and wife Diane Armstrong, secretary/treasurer, say the recent growth – not common in these tough economic times – is the result of years of hard work, promises kept, and smart management.
"You have to work hard and keep plugging day in and day out, and that's what we do. You have to keep working," Diane says. "We believe in growing slowly, keeping everything simple, doing things that we understand, and not getting in over our own heads. And we don't carry a lot of debt. We've always thought just watch the pennies and the dollars will take care of themselves."
Les and Diane say Stripe-N-Sweep's approach to business over the last quarter century is what's enabled them to grow in an economic climate where other contractors are stagnant -- or worse, out of business.
"Marketing is the hardest thing, finding new customers and getting our foot in the door," Diane says. "We rely a lot on word of mouth, so you have to make sure you have a good reputation and have good relationships with the people you're doing business with because they do change jobs. Word of mouth does work and it's probably the best way -- but it's not fast.  But we decided we wanted to grow our business slowly, not like some companies that get really big and then soon they aren't in business anymore."
"When times are hard the weaker companies go under and that opens up work," Les says. "We also found that some customers who we didn't sweep all their properties wanted to consolidate, get one vendor and better pricing so we've really had growth for three years."
But those property managers wouldn't have considered turning to Stripe-N-Sweep as their sole sweeper if the work and the relationship with the contractor hadn't been good.
"The personal contact we have with our customers and quality of work we do absolutely played a part in our growth," Les says. "Word-of-mouth referrals are a big part of our success and growth, especially among property management companies. Because they know we do good work they often give our name out to other property managers and over time it just mushroomed."
It mushroomed to the point where the 17-person company today runs nine Masco sweepers (one Tennant sweeper for garage sweeping) and sweeps roughly 700 parking lots a week. Les says 95% of the work the company does is sweeping with the remaining 5% subcontracted out for striping, asphalt or concrete repair, and power washing. Many of Stripe-N-Sweep's customers are property management firms that represent more than 20 properties, with the focus being retail and office building parking lots.
"We don't target a certain type of customer. Anybody that will pay us to sweep, we'll sweep," Diane says.
Sweeping is Easier with a Truck
The company started in 1985 when Les, who had done some work for another sweeping contractor, left to start his own company. An aircraft mechanic by trade, he had shifted to auto mechanics when Eastern and Braniff airlines went bankrupt.
At the previous sweeping company he worked as a sweeper operator for two weeks before he was promoted to supervisor, and soon after he was promoted to sweeper sales. "It was his past experience as a restaurant manager that helped him know how to manage people, and that company recognized that right away," Diane says.
But after about a year Les decided to run his own sweeping business. "I decided I can do this myself, so I went and borrowed $1000 and bought a Billy Goat blower and a backpack blower to clean with." At the time he was also working part-time at a local grocery store "which helped pay for gas for sales calls."
His first job was cleaning the parking lot of a small office building twice a month, for which he received $60 a month. "Gradually I built up accounts and when I had enough to afford a sweeper payment on a truck – it took about six months – I bought my first sweeper, an Econo Sweeper from Masco."
Armstrong says he bought only the sweeping unit from Masco because, with his mechanic's skills he was capable of installing the unit on his 1985 Chevy half-ton truck by himself."I bought the truck separate and the sweeper separate and I mounted it myself," he says.
And sweeping with a truck made all the difference in the world.
"Sweeping was much easier and that gave me more time to go out and make sales calls," he says. "I made a lot of cold calls, did a lot of knocking on doors, and I think I was able to break through because I guaranteed them a clean parking lot because I was going to be the one doing the sweeping – nobody else," he says.
"That approach worked very well because people realized that if they asked me to do something it got taken care of and they didn't have to worry about it," he says. "If they had something extra to be done we'd do it and then we'd make a follow-up phone call to let them know that it had been taken care of. That's something they really appreciated and that approach got us a lot of work."
Around that time Diane was raising the couple's children and pitching in at the company when she could. Around the holidays she dressed up her two young sons and visited customers' offices bringing small gifts. "People loved that," she says. "We brought small gifts to the customers at random times of the year, spread it around a little so it was unexpected, to show our appreciation for the work they gave us. And they loved seeing the boys."
The business was growing slowly and by the fall of 1989 Stripe-N-Sweep could afford another Masco sweeper. "That's when I started hiring people," Les says.  And that started a regular pattern that continues to today: good work lead to more customers and growth, which lead to the purchase of another sweeper, which lead to more customers and growth etc.
"Because we did quality work and were reliable our name got around and we grew enough that we were able to add one or in some cases two sweepers a year," he says. The company added sweepers in 1990, 1991, 1992, 1993 and 1994 until they reach the current total of nine.
"Then we started rotating old trucks for new trucks, replacing them to help maintain productivity and job quality as the units wore down," he says.
Armstrong says he had used Masco sweepers with his first sweeping company he had worked at and given his mechanic's background the equipment was a good fit for Stripe-N-Sweep. "With my mechanics background they are a good fit for our company because I can do the maintenance," he says. "Plus many of the parts are available locally. I don't have to send out to get something I need."
Stripe-N-Sweep's Management Team
"One of the best things about our company is everybody has his or her own unique niche and everybody knows what they're doing within that niche and it all brings the company together as a whole," Diane says.
Up until about three years ago Les did the selling and equipment maintenance and Diane pitched in doing bookkeeping from home. But three years ago Diane joined full force, taking on all sales, allowing Les to focus on maintenance. Daughter Becky Rocha runs the office, handling a variety of inside work including web design and updating, and she designed the company's new logos as well.
"She's a real asset to the company and does a great job handling all the things we don't know how to do," Diane says.
Stripe-N-Sweep doesn't have a day crew because all sweeping work is done starting at 10:00 at night and runs until between 6:00 and 8:00 a.m. Supervisor Theo Walker, who has been with the company more than 10 years, helps if trucks don't start, picks up a route if an operator doesn't come in, but most importantly keeps a close eye on the operators and their work, and the 13 drivers handle all the properties, one driver to a truck.
Les says Walker or his assistant Lewis Perkins spend each night driving from property to property randomly checking parking lots and operators on the job. "He drives randomly because if he uses a pattern the guys figure it out, so he can be more effective if he checks in on them unannounced," Les says.  "He is along the same mindset I am about what the customer wants and expects and he has a very, very high work ethic and standards and he works extremely hard to make sure the customer is taken care of."
Les says a supervisor such as Walker is essential to the success of the company because the work ethic of many employees is different than what it was years ago.
"People were more responsible and accountable for what they did than they are today," Les says. "Not that they're bad people today but I just think that the work ethic has changed," a feeling that Diane echoes.
"We seem to spend a lot more time and money these days keeping people accountable for doing what we're paying them to do and that's disappointing," she says.
GPS for Accountability and Marketing
Partly to help encourage operator accountability but also to help with marketing Stripe-N-Sweep invested 10 years ago in a Global Positioning System (GPS), which it installed on all sweepers. Les says that while the company does use it to make sure operators don't go off route, it's most important use is to give the customer more confidence that the work is done as promised.
The Telogis GPS Stripe-N-Sweep uses not only shows the time a sweeper truck pulled onto and off of a parking lot, it will place a dot on a satellite map of the property every minute indicating where the sweeper is and it will track the operator's speed.
"Because we're working at night and customers don't see us, they're never really sure if we're there," Les says. "So if we get any questions we can show them a printout of what time we were there and show them a satellite photo of proof that we were where we were supposed to be."
Diane says the contractor has some customers who want that GPS report attached to their invoice every month. "And we gladly provide that for them. It's a big selling point," she says.
Les says operators first thought the GPS was going to be a tool to fire them. "But as I explained to them many times it is a multi-purpose tool to help us keep track of where the vehicle is at night. It helps in case the vehicle is stolen, which thankfully has never happened, and it can helps us figure out if a driver on a particular area is going the most direct route from one center to another center. We can show a driver on a map that another route is shorter. It's a good training tool," he says.
Les says that in its original package the GPS plan had a door censor, which Armstrong wasn't interested in, so he asked if they could move the censor to the ignition switch on the sweeping unit so they could tell when the sweeper is running and they were able to do that.
"That's been especially useful for the gas excise tax refund," Diane says. "It helps track usage of rear engine on the truck."
Employee Leasing: "One of the best things we've done"
Another step Stripe-N-Sweep took to improve and ease overall management, keep costs down, and improve cash flow was turning to employee leasing, which Diane says the contractor learned about at a National Pavement Expo show.
"Employee leasing is truly one of the best things we've done for our business over the years," Diane says. "That gave us a way to get us out from under some of the work and helped put us on the path we're on."
She says the company contracted with its first employee leasing firm in the early 1990s and the current firm, Employers Resource, has helped in numerous areas, including workers' comp insurance.
"Before we hired Employers Resource the company had very high workers compensation premiums that rose significantly each year. But once we went with Employers Resource it really dropped the rate we were paying for workers comp," she says. "Now we write one check a month and that's it, they handle everything else."
 She says the employee leasing company also has a Human Resources department so many HR questions are often referred to them or at least the department can offer guidance.
"It's very, very helpful and I'd highly recommend it for a small business of any kind," Diane says.
Training helps accountability, teamwork
Both Les and Diane say they begin the process of developing accountability and responsibility at the hiring stage, which begins with the standard application, background check, and an interview if nothing turns up in the early stages. If the prospect passes the interview he is sent for a drug test and a two week training program starts.
"They learn how to handle a backpack blower and how to blow sidewalks and curb lines, and they're taught how to sweep a parking lot as quickly and efficiently as allowed," Les says. "We teach them to sweep in a pattern as quickly as they can without speeding, say 10-12 mph. Once they are finished with the two weeks of training they are put on the route they are trained on and the supervisor checks them out pretty consistently for a while."
Les says operators are permitted to determine their own sweeping pattern "as long as it's not wasteful," and this is another instance where Stripe-N-Sweep's use of GPS can come into play. "GPS helps here because we can see the pattern they are using to sweep the lot and sometimes we can suggest a change that will help them sweep it quicker," Les says.
He says one of Stripe-N-Sweep's goals is to get the entire company working as a team. "We want them all to work hard individually, to work hard as a team, and as a team that works hard to support each other," Les says. "If we didn't have that kind of team effort then we'd have people working against each other."
He says they have been successful developing a team atmosphere "by making them accountable to themselves and to each other." "A good example is what can happen on a driver's night off. If a driver is off and he hasn't done a good job on a certain parking lot, the replacement driver pulls on that lot and finds it wasn't swept properly before -- so now he has more work to do and his job is harder. None of the drivers want that so they all do their job," Les says.
"We tell them 'They're your customers just as much as they are my customers because you're the ones out there doing the work and making them happy.'"
"That's right," Diane says. "We may own the company and we are the boss and we have to be the boss sometimes, but we're all a team working for the same goals."
 END
 [CAPTIONS]
Les Armstrong says the GPS helps keep drivers accountable for their time and gives the customers feedback that Stripe-N-Sweep was at their property at a certain time and that it swept the parking lot. Cost for the GPS is built into Stripe-N-Sweep pricing, and Diane Armstrong says "After you've bought the units for each truck the monthly service is not expensive."