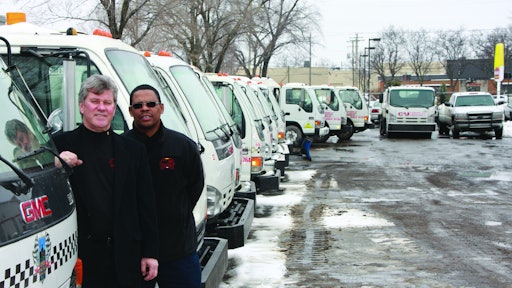 C&J Parking Lot Sweeping has been in the industry since 1978, but Raymond Confer, owner and president, did not start his business with sweeping. Initially, he owned other businesses and didn't consider sweeping until he was approached by a customer. The customer told Confer that if he got a sweeper he would get the job. With a strong desire to offer customers any service they request, Confer purchased his first sweeper. The company, located in Warren, MI, has continued strong 33 years after the purchase of its first sweeper truck.
Confer's initial desire to give customers any service they ask for has continued to be a large part of how business is completed. The focus on services geared to customer needs continues to set C & J Sweeping apart from its competitors.
"We want to become a one-stop shop with the services we provide and be able to do them 100 percent the way it needs to be done," says Roderic Moore, vice president. Moore, who has been with the company for 10 years, says that one of the most important steps C & J Sweeping takes to provide great customer service is to let customers know when something on the property needs attention. "We try to look out for them and be their eyes and ears on their property. If they have potholes or a light out we let them know before someone trips and falls," Moore says.
Moore says C&J uses a variety of sweepers from night trucks to vacuum trucks. They also use large air sweepers for construction cleanups and asphalt milling. With 40 sweepers, they service property managers, strip malls and anything with asphalt or concrete pavement in the Tri-County area of metro Detroit. The company uses sweepers from several manufactures including Schwarze, Nite-Hawk, Huskee, Elgen and Stweart-Amos.
Sweeping makes up 80% of the business with the other 20% a combination of cleaning and repairing catch basins and line jetting, power washing, parking lot striping, pothole and concrete repair.
Some of C & J Sweeping's larger customers are Ford Motor Company and General Motors. "Those are some pretty big jobs, and to us they aren't challenging because we've done that type of work for so long," Moore says. "We know how to staff the job and manage it." They can put 10 trucks on a factory job varying from large brooms to smaller air trucks.
Moore says the recent economic situation has put a greater emphasis on customer service at C & J Sweeping. In some situations adjustments to the amount of sweeping completed for customers have been made, Moore says. "We still have our core customers, and I think it's because they know they are going to get the best service out of us and that we're going to be working with them."
Moore says C&J's goal is to be better than they were the day before. As for the future, they plan to continue focusing on their current customers. "We don't want to expand out of our area," he says. "We want to maintain the customers we have and do a great job."