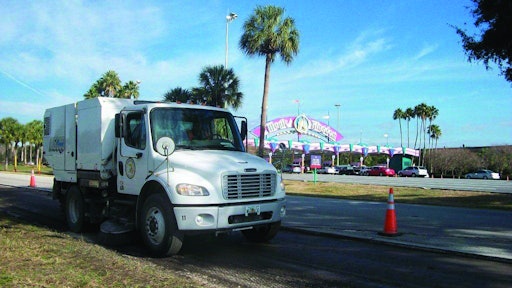 A good reputation is often a key component to a successful business. Central Sweeping Services, Orlando, FL, continues to prosper because of its reputation for quality and reliable services. Doug Swatkowski, owner and president, gives his late father all of the credit.
Ray Swatkowski moved from Florida in the late 1960's. After owning a waste management company in Wisconsin, Ray Swatkowski purchased Millers Parking Lot Maintenance, a sweeping company with one unit in 1967. Some of his clients were Walt Disney, where he swept the underground, and Kennedy Space Center. "My dad started in the parking lot business and did construction sweeping, too," Doug Swatkowski says. "Around '85 we ventured into large street sweeping, and it really boomed from there. Then in the early '90s we really hit it off in the large street sweeper — that's the bulk of our business today."
Toward the end of his career, Ray Swatkowski wanted to stop offering parking lot maintenance services and focus on large sweeping projects; however, parking lot maintenance services continue to be a significant asset to Central Sweeping.
Doug Swatkowski started working with his father in the late 1980's, and in 1997 he made a deal with his father to purchase Central Sweeping. Central Sweeping has found continued success through the years.
Currently, Central Sweeping has 44 employees with nearly 75% of the employees having been with the company for 8 to 10 years. The service area consists of the entire state of Florida for main interstate and primary road maintenance while staying local for parking lot maintenance. Central Sweeping has 25 large and small sweepers with several specialized support equipment. Roughly 80% of the units are Schwarze with the other 20% a combination of Eglin, Tymco, and Wayne units.
Quality work, customer service, and reliability
With over 40 years of service, the reputation of quality work continues to play a significant role in the day to day operations of Central Sweeping. Brian Oxtal, director of operations, spends his morning organizing upcoming jobs. He relies on the Internet and Central Sweeping's reputation to get new parking lot jobs and monitors every day what street jobs he will bid and what he won't bid. "The day to day operations of the construction industry is mainly reputation and word of mouth," Oxtal says. "It's a consistent thing; every day I know what time certain people are calling."
One way that Doug Swatkowski ensures quality work is by using a GPS tracking system. "We use a GPS system that monitors the trucks when they are sweeping, their speed, their location," Doug Swatkowski says. "It's live so you can see where they are at from my phone. We get an alert if they go over 70 mph on the interstate work. It's a great tool for us." By monitoring the work of his crew with the GPS, Doug Swatkowski is able to inform clients when their lot was swept. The GPS system is also valuable in accident situations to help determine the location and speed of a sweeper at the time of an accident.
Quality of work is accompanied with a reputation for great customer service. "We've been awarded jobs this last year that I have never seen happen before," Oxtal says. "On one contract we were the third bidder and ended up getting the contract. Then, for a major university we were seventh from the lowest bidder and we still got that contract."
The reliability of Central Sweeping is known not only to its clients but also to its competitors. "There are companies that we have to bail out," Oxtal says. "They'll do a project and something goes wrong. They don't have the backup equipment or the support so we will go and bail them out for the contractor. We want to have a healthy relationship and help our industry succeed."
If a problem arises a night mechanic and night supervisor are available to take a fill in unit to the site or make repairs to a broken unit. "We've rarely hold a job up," Oxtal says. "We have companies that call us and say 'we need sweepers.' They know if they call us they are going to get what they need. Our thing is we never say no, we always find a way."
Central Sweeping offers such quality service that the company has several of the first clients since Ray Swatkowski began offering parking lot maintenance services. One client, the Bells Factory Outlet Mall, the city of Orlando, and several theme parks have used Central Sweeping's services since 1987.
Associations add credibility
Central Sweeping is a member of several associations. It is the only certified sweeper in Florida in the North American Power Sweeping Association. The company is also a member of National Asphalt Pavement Association and Florida Transportation Builders' Association.
Being a member of the different organizations has helped Central Sweeping get the bid 5% of the time.
Finding success through diversity
While other contractors struggled to stay afloat in the current economy, Central Sweeping found success through diversity. By offering services such as power sweeping of parking lots and roadways, milling and rumble strips, heavy construction clean up, and complete property maintenance Doug Swatkowski was able to watch his business grow.
"We have been growing since the economy down turned," Doug Swatkowski says. "We took care of a lot of subdivisions when the housing market was booming, and that downturn is what hit us hard." Doug Swatkowski has been buying new equipment and tries to update every few years. He has also purchased a four acre property for a new facility. Along with the start up of Central Sweeping & Milling Services in 2009, Swatkowski has purchased three milling machines with cleanup crews.
Central Sweeping has found a niche business of milling with clean up, providing the contractor with one source to work more efficiently and cutting cost. "Being the middleman in our business is not a good thing," Swatkowski says. "The challenges in front and in back of you are on a consistant basis."
By offering both services, Central Sweeping has seen several benefits. "It has helped get some jobs. If you get the milling job you have the sweeping job," Doug Swatkowski says. The dependability that Doug Swatkowski expects from his crew is essential when completing construction jobs. "Some of the larger construction jobs have a 20 man paving crew and 50 dump trucks," he says. "When a piece of the puzzle breaks down you have other guys waiting. Dependability is huge."
Central Sweeping has also seen an increase in government jobs. "We've gotten municipalities because of the government cutbacks," Doug Swatkowski says. "Road maintenance is the main industry that hasn't cut back."
The future of Central Sweeping is clear, Doug Swatkowski will continue down the same path of great customer service in the parking lot maintenance arena. Another addition to services Doug Swatkowski considers for the future is completing more asphalt maintenance services such as paving and sealcoating.
Another area Swatkowski hopes to do is complete heavy equipment fabrication repair of specialized municipal equipment such as street sweepers. He also plans to become a dealer for fine municipal equipment, and he is looking into expand the property and job management areas ultimately reaching a global market.