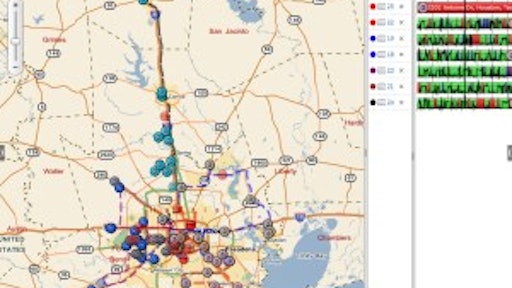 Houston's Stripe-N-Sweep generates 95% of sales from sweeping 700 parking lots a week. As an article in the February issue of Pavement Maintenance & Reconstruction explains, the contractor has been able to grow each of the last three years – despite the tough economy.
Now in their 25th year in business, the company is owned and operated by husband-and-wife team Les Armstrong, president, and Diane Armstrong, secretary/treasurer.
"One of the best things about our company is everybody has his or her own unique niche and everybody knows what they're doing within that niche and it all brings the company together as a whole," says Diane Armstrong,says.
Up until about three years ago Les did the selling and equipment maintenance and Diane pitched in doing bookkeeping from home. But three years ago Diane joined full force, taking on all sales, allowing Les to focus on maintenance. Daughter Becky Rocha runs the office, handling a variety of inside work including web design and updating, and she designed the company's new logos as well.
"She's a real asset to the company and does a great job handling all the things we don't know how to do," Diane says.
Stripe-N-Sweep doesn't have a day crew because all sweeping work is done starting at 10:00 at night and runs until between 6:00 and 8:00 a.m. Supervisor Theo Walker, who has been with the company more than 10 years, helps if trucks don't start, picks up a route if an operator doesn't come in, but most importantly keeps a close eye on the operators and their work, and the 13 drivers handle all the properties, one driver to a truck.
Les says Walker or his assistant Lewis Perkins spend each night driving from property to property randomly checking parking lots and operators on the job. "He drives randomly because if he uses a pattern the guys figure it out, so he can be more effective if he checks in on them unannounced," Les says. "He is along the same mindset I am about what the customer wants and expects and he has a very, very high work ethic and standards and he works extremely hard to make sure the customer is taken care of."
Les says a supervisor such as Walker is essential to the success of the company because the work ethic of many employees is different than what it was years ago.
Training helps accountability, teamwork
Both Les and Diane say they begin the process of developing accountability and responsibility at the hiring stage, which begins with the standard application, background check, and an interview if nothing turns up in the early stages. If the prospect passes the interview he is sent for a drug test and a two week training program starts.
"They learn how to handle a backpack blower and how to blow sidewalks and curb lines, and they're taught how to sweep a parking lot as quickly and efficiently as allowed," Les says. "We teach them to sweep in a pattern as quickly as they can without speeding, say 10-12 mph. Once they are finished with the two weeks of training they are put on the route they are trained on and the supervisor checks them out pretty consistently for a while."
Les says operators are permitted to determine their own sweeping pattern "as long as it's not wasteful," and this is another instance where Stripe-N-Sweep's use of GPS can come into play. "GPS helps here because we can see the pattern they are using to sweep the lot and sometimes we can suggest a change that will help them sweep it quicker," Les says. He says one of Stripe-N-Sweep's goals is to get the entire company working as a team. "We want them all to work hard individually, to work hard as a team, and as a team that works hard to support each other," Les says. "If we didn't have that kind of team effort then we'd have people working against each other."
He says they have been successful developing a team atmosphere "by making them accountable to themselves and to each other." "A good example is what can happen on a driver's night off. If a driver is off and he hasn't done a good job on a certain parking lot, the replacement driver pulls on that lot and finds it wasn't swept properly before -- so now he has more work to do and his job is harder. None of the drivers want that so they all do their job," Les says.
"We tell them 'They're your customers just as much as they are my customers because you're the ones out there doing the work and making them happy.'"
"That's right," Diane says. "We may own the company and we are the boss and we have to be the boss sometimes, but we're all a team working for the same goals."
"People were more responsible and accountable for what they did than they are today," Les says. "Not that they're bad people today but I just think that the work ethic has changed," a feeling that Diane echoes.
"We seem to spend a lot more time and money these days keeping people accountable for doing what we're paying them to do and that's disappointing," she says.