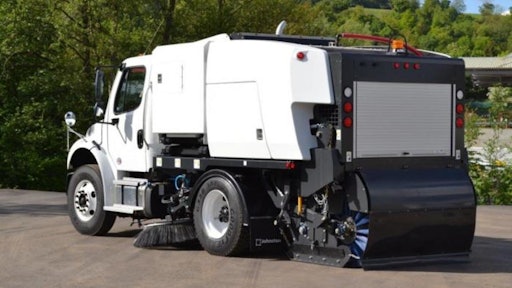 Supplied by United Rotary Brush Corp.
Replacing brooms as they wear out is, with tires, the most-common maintenance task contract sweepers handle. Primary replacement options are one-piece tube brooms, flat or convoluted wafers, and strip brooms, and all have their specific applications, reasons for use, and advantages and disadvantages.
Interviews with three United Rotary Brush Corp. broom specialists -- Harry Vegter, director of engineering; salesman Perry Stenzel; and Tom Staab, contracts & product compliance -- offered insights into which replacement brooms contractors should consider and why one type might be considered over another.
"The different styles of brooms are something not many people give much thought to," Vegter says. "If the sweeper comes with a tube broom they usually replace it with a tube broom and never give much thought to replacing that tube with a different type of broom.
Staab says that as a rule, sweepers in the construction market primarily use wafers, while the municipal market uses tubes and strips. "The type of broom is often tied to the machine, tied to the application, and tied to the broom that was initially sold with the machine," Staab says. "Most contractors put on what they take off."
But he says contractors should consider other types of replacement brooms because they can offer advantages. "When our salesmen are in the field talking with contractors about their sweeping requirements they can help them decide what style broom works best," Staab says. "We're not just in the business of selling brooms. We want to make them aware of what's available to help them meet their needs."
Wire and Polypropylene Wafers
Vegter says the most-commonly used replacement brooms are wafers, available in both flat and convoluted styles. Flat wafers come with spacers that create a 1-in. space between each wafer on the broom core. Convoluted wavers create their own space due to their convoluted shape. Typically there are 7 convoluted wafers or flat wafers per foot. Wafers are available in either polypropylene or wire bristles (filaments) and are available in diameters to fit a variety of sweeping equipment.
Vegter says construction companies, sweeping contractors and paving contractors replace existing brooms with wafers to customize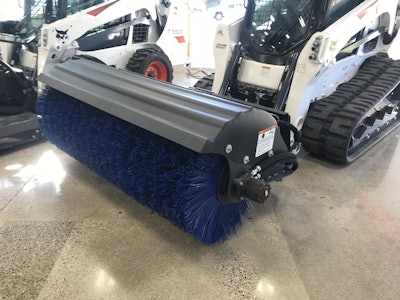 their broom. "They can make dense heavy-duty brooms with smaller or fewer spaces, and they can also mix wire and polypropylene," he says.
Stenzel says wafers are common in construction sweeping partly because there are more options of mixing poly and wire. "Polypropylene does more sweeping than wire does," he says. "Wire is the cutting action and poly is the flick." He says the type of broom and bristle often depends on what the contractor is sweeping. Airport runways, for example, require a wire broom to cut the rubber left on the runway from airplane tires.
Stenzel says the most common wafer configuration on a broom is to alternate wire wafers with polypropylene wafers. "Sometimes you see two wire and two poly because that will give you more wire throughout the broom and make for a more aggressive broom," he says. "For general purposes, though, most contractors use either a combination of poly and wire or all poly."
Staab says that depending on how you position the convoluted wafers an operator can make a broom more or less dense. He says convoluted wafers "are shipped stacked like Pringles potato chips. They're nested together when shipped and you just locate every other wafer from a 12 o'clock to a 6 o'clock position on the wafer core in order to create a space between each wafer. Or you can make the broom denser by decreasing the space between the wafers by reducing the distance of the two clock positions."
Wafers offer greater versatility to contractors with a variety of sweeping equipment in their fleets. "Strip and tube brooms have to be made specific to the length of the broom core on a specific piece of equipment," says Stenzel.
He says wafers also are not sensitive to makes or models of sweeper. "Some municipal machines have a 10-in. core and 36-in. diameter broom. Tube brooms are built to a particular width of sweeper. If you use a tube broom you're stuck with buying a specific broom, a 66-in. for Pelican, for example, or a 60-in. broom for an Eagle. You have to buy separate tube brooms for each unit. But if you use wafers you can just keep them in stock and replace the broom as needed. It saves a lot of storage space and money."
Altering Density with Wafers
"A wafer broom is really no different from a tube broom, but the advantage is that with wafers you can alter the density of the broom," Vegter says. "Some contractors see a lot of success by altering the broom to their own density, wider spaces or no spaces."
He says that contractors involved in construction sweeping face problems such as clay and mud baked onto the pavement. "Some of those contractors want a heavy-duty broom," Vegter says. "They might need wire to break up the debris and the poly for the sweeping."
Vegter says some contractors want a more dense broom because they can get more hours out of a more dense broom. "If you make it denser it doesn't wear as quickly, and some people say a denser broom just works better," he says. This is not always the case because in other applications a lighter broom can flick debris much better than a denser broom."
A dense broom can be effective for certain applications, but to obtain the best result contractors need to be careful how dense a broom they are using. "You have to have space between the wafers for it to be effective," Staab says. "If you don't have that space to get the flicking action it won't sweep efficiently. It depends on the application as to how dense you make it."
He says that if a broom is too dense it can result in problems for the equipment. "Machines are designed to use a certain weight and density of broom. With a more dense broom the sweeper equipment might not be designed to power that broom and might actually wear out sweeper drive components because there's so much more friction"
In addition to making brooms denser, some contractors like to "double up" on the broom ends, increasing the density on the ends. "This eliminates trailing for those machines that tend to trail," Vegter says. He says conveyor-style sweepers with rear-mounted brooms often experience trailing on tight turns.
"Some contractors really dense up the ends of the brooms so they don't trail," Vegter says, adding that some tube brooms also are tight wrapped on the ends to obtain the same effect as adding wafers to reduce trailing.
Replacement Strip Brooms
Unlike wafers, replacement strip brooms are available only with polypropylene bristles. Strip brooms are shipped in pairs (36 pair measuring 48-in. long, for example, to use on a 96-in.-wide broom). "They are shipped in pairs because they are much easier to handle," Stenzel says. "Handling one long 96-in. strip is like handling a wet noodle."
With strip brooms a mandrel slides on over the equipment wafer core and the strips slide into slots in the mandrel. Many contractors say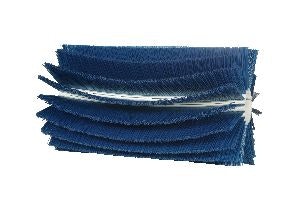 strips are easier to replace than wafers or tube brooms, as Stenzel says 18 rows of strips can be replaced in 20 minutes.
"When changing tube brooms, you have to remove the entire tube broom from the sweeper," Staab says. "But with strip brooms you just drop the end plate, slide the used strips out and replace them with new strips."
Vegter says that while strip brooms can be used on a variety of applications, they have become the broom of choice for contractors sweeping up pavement millings.
"Some contractors, especially those who do milling, seem to like strips because they pick up millings very well - there's a pedaling effect," Vegter says. "Because of the spaces in between, the strips seem to flick debris better onto the conveyor. We've had a lot of success with strip brooms with milling sweepers and also with sweepers who do fall sweeping where there are a lot of leaves."
Staab says another strip broom advantage is that they tend to load a hopper more evenly than other types of brooms.
"The channels that the strips slide into are crescent-shaped, so both ends of each strip section are lower than the center and when the broom rotates the outer edges of the strips sweep the pavement first. As they spin, the debris moves toward the center of the broom before it is transferred on to the sweeper elevator belt," Staab says.
"As a tube broom loads a hopper, for example, the tube broom flicks debris onto the elevator and up into the hopper and it usually fills the hopper from one side or the other. This can create an unbalanced hopper which can result in coning of the broom. That doesn't happen with strips because strips move material from the outside edges toward the center of the elevator so the hopper is loaded from the center resulting in a more evenly distributed load."
Strip brooms will streak or trail when the unit turns, and strips lack a wire option for more aggressive sweeping, so some contractors consider their use to be limited.
"Everybody has their own preferences as to what type of broom they like and what they like to use on a particular job, and a lot of people like strip brooms," Stenzel says.
"The decision on what type of broom to use needs to be based on what you're comfortable with and what operation you're used to. With strip and tube brooms you can adjust the down pressure and it takes a little more finesse to get them to sweep for you the way that you want. If you put too much down pressure on a strip broom, for example, the machine will really bounce and vibrate so you have to adjust it.
"A big part is operator preference and what the operator likes and what the customer is comfortable with," Stenzel says. "It can often come down to what they like the best and what works best for them. In the end they all end up sweeping and getting the job done."
Tube Brooms
Tube brooms are one-piece brooms available in either all polypropylene or a poly/wire mix. Where wafers are manufactured in a variety of diameters and can fit any sweeper, tube brooms are manufactured for specific models of sweepers and can't be used on other models.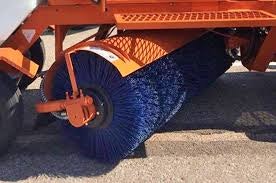 Tube brooms are also more difficult to store and ship and are more costly to ship.
And where wafers and strip brooms can be replaced in the field, tube brooms are usually changed in the shop.
"Our contractor Tube brooms are one piece and are between 89 to 96 in. long and they're heavy," Stenzel says. "An all-poly 8-ft. broom weighs 300 lbs. and a poly/wire weighs 385 lbs., so it's just easier to change them out in the shop."
But Staab says replacing tube brooms is quicker than stacking wafers. "Once you have the tube broom lined up you just slide it on and you're done," Staab says. "So it is much quicker than loading wafers."
Staab says tube brooms and wafer brooms are not as stiff as strip brooms. "If you put your hand on a tube or wafer broom and push the filament back there is less resistance than doing the same thing with a strip broom because the filaments in a strip broom are packed together in a channel so they are a lot stiffer, a lot more resistant. So if you need a really aggressive broom that really gets in there and digs you would look at a strip broom."
Companies in this article