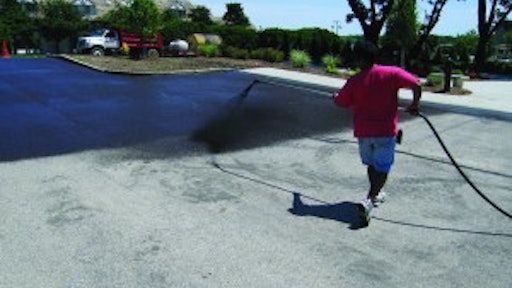 Diversification has been essential to the growth of Speck USA. Since being featured as a contract sweeper in 1999 Pavement Maintenance & Reconstruction, the Des Moines, IA, company has gone through many changes, including Matt Mausser purchasing Speck in 2004. Previous owner Mark Fargo has remained with the company working in the field while Mausser has taken over the business development side.
Since then, Mausser says the company has tripled its revenue and grown from 24 to 55 employees. The company's service offering has also grown. Speck USA now offers its customers parking lot maintenance including sweeping, power washing, striping, and sealcoating; asphalt construction and repair; concrete construction and repair; and decorative asphalt and concrete.
"Not every parking lot is asphalt, and not every parking lot is concrete. In order to position ourselves as the single service contact for our customers we need to serve across both spectrums," Mausser says.
The asphalt side of the business is still going strong. Mausser says 30% of the asphalt work is in repair and paving, 35% is sealcoating, and another 35% is crackfilling. In fact, Speck has one full time crew dedicated specifically to crackfilling. With a larger service offering, Speck is able to offer its customers more options. "We can offer less expensive alternatives, so a lot of our bidding has turned into an a la carte verses an all or none philosophy," Mausser says. "And it has kept our customers happy."
The company has also grown its sales force, adding four full-time sales associates, and Mausser says he plans to continue growing the sales force as the company grows. Mausser says business was up 30% in 2007 and 2008, down less than 5% in 2009, and 2010 is up 12% over 2009. But Mausser's focus has not been solely on growing the company. He continues to invest in his employees with training and education. The company also invests in new equipment, often making major equipment purchases in either the spring or fall of each year. "If you stop making capital purchases and don't continue to improve your assets then you'll have a tremendous capital expenditure in the future," he says.
Since purchasing the company, Mausser has also implemented new systems to help run the business more efficiently. "Our financial systems were in pretty good order, so I focused more in sales, marketing, and in the operational side of our business," Mausser says.
Mausser and his team worked to improve pre-inspection of vehicles and equipment, job sheet clarity, and other organizational opportunities to help employees better run the business and communicate. One system focused on pre-inspection of equipment. Mausser made sure employees were checking lubrication levels and other aspects before taking a piece of equipment to a job, which helped cut down on damage to vehicles and equipment.
Another system Mausser implemented was sales tracking. "We know exactly what our sales people are selling and whether the jobs are profitable or not," he says. "That's tracked through to our crew leaders who then know if the job is profitable or not." Not only is Speck able to see if jobs are profitable, but the new tracking system has also helped tie the sales and operation fields together and created more accountability between the two, Mausser adds.
It has been 11 years since Speck was first featured in Pavement and six years since Mausser took the helm. Mausser has been very excited and proud of the progress the company has made, and he looks forward to the future growth and progress of Speck USA.