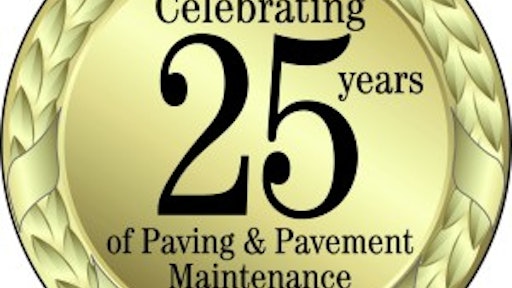 After Jacketta Sweeping Service was featured in Pavement Maintenance & Reconstruction in 1997, it wasn't long before the company encountered its next big hurdle. In December of 1999, owner Neil Jacketta passed away unexpectedly. His wife Bonnie took over the business before daughter Debbie purchased it. Debbie Jacketta now serves as president.
"When my dad died I realized at the time that we hadn't prepared for that. We thought we had, but we really hadn't," Jacketta says. "There were a couple of years of turmoil just figuring out where we were and what we needed to do and going through the purchase. There was a lot going on."
In the 13 years since being featured in Pavement, Jacketta Sweeping has grown steadily, Jacketta says. They currently have 15 employees which will increase to about 20 for summer. But business has changed. "Back then we were strictly sweeping," Jacketta says. "Now we do mostly sweeping but also some striping, power washing, and scrubbing." She has also doubled her sweeper fleet. "The equipment has been upgraded as well," she says. "We used to buy used equipment but we've been able to buy new sweepers the last few years. The equipment has changed a lot."
Jacketta Sweeping's customer base has also evolved. Government regulations for clean water helped Jacketta bring in new home builder and general contractor customers. "That was big for us," she says. "Home builders, and a lot of general builders never swept. If they did it was at the end of the job to make it look good. But they had to start sweeping on a regular basis." These regulations helped Jacketta Sweeping increase its city business as well.
Although the business was well established when Jacketta took over, she found she had to implement more management tools as the company grew. Perhaps the biggest was creating a new employee manual. "That was really overwhelming," Jacketta says.
"As you start hiring you realize you need to have a lot more policies in place as to what's expected of them, how you're going to hire them, corrective actions you're going to take, discipline, and all of that."
The company did have a basic manual to start with, but it needed to be customized for Jacketta Sweeping. So Jacketta asked a lawyer to help her create it. She has updated Jacketta Sweeping's manual twice, sitting down with her lawyer to review it and make sure everything was still legal and the company was covered. "And every time I do that I find more things that I need to clarify," Jacketta adds.
Trade shows and associations are great places for tips on creating employee manuals, Jacketta says. She also suggests talking to other contractors. When she was asking for help and advice she found other contractors were very willing to talk and share tips. And some even gave her copies of materials such as checklists. And always have a lawyer double check everything before finalizing your manual, Jacketta adds.
Like many companies who have been in business since 1968 - the year Jacketta's parents started Jacketta Sweeping - marketing has changed quite a bit. Back in 1997, Jacketta says most of the marketing dollars were invested in Yellow Page advertising. Jacketta recalls one year where a mistake led to the company being left out of the Yellow Pages. "That did affect our business that year," she says. Aside from the Yellow Pages, Jacketta says the company would mail out postcards once or twice a year.
Now, the Yellow Pages is not as big, she says. In 2004, Jacketta Sweeping hired an outside source to help create a company website. The Internet has been a huge marketing tool for the company. "We ask new customers where they heard about us, and 90% of the time people found us on the Internet," Jacketta says.
One thing has remained the same over all these years. Jacketta is still a firm believer in joining industry associations. "There's a lot of information out there and a lot of people out there willing to help you," she says. "The North American Power Sweeping Association has been a great association for me, and I would encourage everybody to get involved."