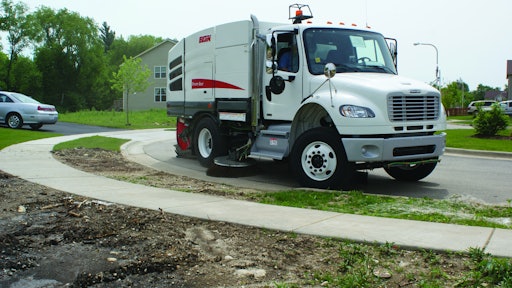 With construction site cleanup regulations becoming more stringent, sweeping contractors may find doors of opportunity opened to expand their business. When looking to make the step up from parking lot sweeping to construction site sweeping there are several considerations to be made from when to purchase a new unit to what features that unit must have.
Cleanup happens on a variety of construction sites including new construction, road building, demolition, and rebuilding areas picking up materials from mud to spillage of large and small gravel. Due to the various sizes and structure of materials picked up, some units will be more efficient than others. Because every job and every market is different, it is up to contractors to sift through their current information to determine if upgrading their units is appropriate.
Construction Sites vs Parking Lots
There has been a consistent growth in construction site sweeping for the past several years, an area previously where there wasn't much business. As laws continue to be put into action monitoring storm regulations, it is increasingly important for construction firms to manage the material on their site. With several types of debris being tracked out onto the roads, it is necessary for proper clean up to be taken. "Storm Water Phase III mandates that no construction site be allowed to exist if it is tracking material out onto the road," says Brian Giles, Elgin sweeper product manager."The fines are high, and if you don't do it they will come take your discharge permit away — shutting down your site."
As a result, many construction firms look to outsourcing as a cost-effective way to manage their waste and avoid fines. "Sometimes it just doesn't pay to purchase and/or keep a sweeper (and operator) on site when it is only needed periodically," says John Paraschak, Stewart-Amos. "Construction site cleaning can easily be added to most sweeping schedules and provides a nice chunk of supplemental revenue."
Determining what unit to use on each site depends solely on the job. "You have to look at what is being swept." says Tom Rokas, inside sales Tymco. "Sometimes construction sites are so bad that they don't need a sweeper, they need a front end loader. Sometimes you see going from parking lot sweeping to construction site sweeping presents a different set of challenges."
One main challenge that Paraschak sees is that construction sites are far dirtier and contain higher concentrations of all types of debris. "This includes heavy fine dust, rock, stone, gravel, mud, sand, and all types of construction material," he says. "Some of this is ground into the surface and forms a crust that can prove difficult to remove. By comparison, the typical parking lot contains lighter and less concentrated debris that is scattered about or collects in corners and along curbs. This type of debris is much easier to remove."
Contractors can complete construction site cleanups with their smaller units, but they may face a variety of challenges. "A parking lot sweeper could do the job, the problem is that because of the size of it the power isn't going to be there, and it may get frustrating for the operator to tackle a big job with a parking lot sweeper," Rokas says. "There are alternatives, such as medium size sweepers, that would be a better choice for construction cleanup. A medium size sweeper may give you equal maneuverability and larger hopper capacity."
Giles points out that because parking lot sweepers can't pick up all of the material on a construction site, they will have to jump out and pick up the chunks and throw it in the back tearing up the machine. He also notes that contractors who use small units will have an issue getting rid of the material.
Available Models
Tymco offers three different models — Model 435, Model 500x, and Model 600. The Model 435 has a 72-inch lift for the hopper with a 32-inch diameter gutter broom. The Model 500x has a useable hopper capacity of 4 cubic yards and a variable dump height from 2 feet to 11 feet. The Model 600 comes with a pick-up head and optional Broom Assist Head.
Stewart-Amos Company offers several units including the Starfire S-4, a mechanical broom street sweeper that incorporates a tight turning radius and 16-inch to 10 foot dump. The Galaxy R-4 and R-6 are regenerative air street sweepers that use a blast-oriface style sweeping head to loosen compacted debris. They have stainless steel hoppers, the same tight turning radius and stainless steel screens easily cleaned from outside the hopper. The Galaxy R-4 that has a 70-inch high-dump/4.65 cubic yard hopper. The Galaxy R-6 has a large 6+ cubic foot hopper/38-inch dump.
There are three available units by Elgin can be used for construction sweeping. The Road Wizard is a mechanical sweeper that picks up heavy gravel and has a large hopper. The Broom Bear's technology has similar sweeping technology as the Road Wizard, but it uses one engine. Unlike the Broom Bear and Wizard, the Eagle has a belt conveyor that can handle debris such as hubcaps and 2x4s.
Features to Consider
When looking at purchasing a unit capable of handling large construction site cleanups, there are several features contractors should take into consideration.
One major factor is location of the facility to jobs. Contractors would benefit from having extra space in the unit. "Sometimes these jobs are away from your facility," Rokas says. "The sweeper should have a large area for tools and extra water capacity to keep the dust down." He also suggests having a vertical steel gutter broom.
Another feature to help make a construction sweeper more efficient is the style of brooms. "It should have big side brooms so that they can scrape up the mud," Giles says. "What's important in a construction application is the bigger the side brooms the better. It's the metal brooms on the side that dig that stuff off of the surface." Giles also believes that having a high dump is another essential to construction sweeping in order to have high efficiency.
Paraschak suggests that contractors look for a unit that is highly maneuverable and capable of traveling at highway speeds between jobsites. As for the type of sweeper, both mechanical and regenerative air units work. "Mechanical broom sweepers work best at tackling just about any type of construction debris found on a site," he says. "Most regenerative air units do a good job provided they are equipped with a 'blast orifice' style pick-up head."
Between using their current units or choosing to purchase a larger unit, contractors have several available options when approaching construction sweeping. In the end, contractors must make a decision based on their current situation. Rokas believes that if contractors are finding that construction sweeping is becoming more of their business, it might be time to consider purchasing a larger unit. "If it is becoming a hassle of using your parking lot sweeper, and you put it on paper to buy a larger one, by all means do it," he says. "A bigger unit opens up doors, and they have confidence in attacking these particular jobs."