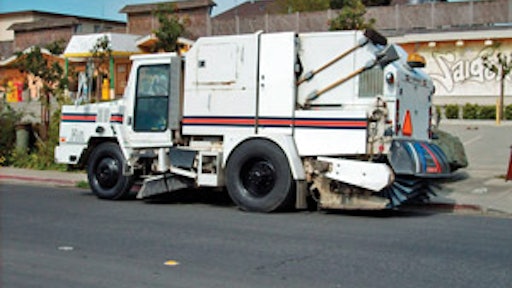 Universal Building Services was founded more than 40 years ago as a two-person, "mom-and-pop" cleaning company operating out of a garage. But the company's commitment to high quality and cost-effective service created an avenue for growth. And it has grown both in size -UBS is now a major regional entity with corporate headquarters in Richmond, CA- and in scope of services. One of those services the company began to offer, or offered more, was sweeping.
"The company got into sweeping because they had customers who needed to keep their parking lots clean," explains Bill Godfrey, manager of the UBS Power Sweeping Division. "When I came on board 22 years ago, sweeping was still a secondary service; the primary focus was cleaning."
Today, Godfrey oversees one of the largest sweeping businesses in the Bay area. The UBS Power Sweeping Division maintains an extensive fleet of power sweepers of all sizes and types and works with a full range of municipal, parking lot, warehouse and construction customers. The business is split, roughly half construction and half contract sweeping.
Godfrey admits that the company's dedication to high quality and cost-effective service did not lead to UBS's growth on its own. The willingness to try new approaches and a commitment to measure the results had to accompany that commitment in order to achieve growth, he says.
One opportunity for trying new approaches and measuring results came when United Rotary Brush Corporation came to Godfrey looking for his opinion on its new UnitedPro Strip Brooms. "Nationwide Wire and Brush (which merged with United Rotary Brush in 2002) was our broom provider from the time I started with Universal," Godfrey says. "When they came to me and wanted an opinion on a new strip broom product, I figured we could put it through the paces for them."
Godfrey is quick to point out how important using the right broom for the right job is, and it happened that UBS had just taken on a major project that would allow him to compare the two brooms -the cable-wrap brooms UBS was using for its construction sweeping projects and the UnitedPro Strip Broom. The brooms could be compared side-by-side for eight hours a day, five days a week, over a four month period.
"I knew that we needed something that would give us an apples-to-apples comparison," Godfrey explains. "We track maintenance on vehicles based on overall engine hours, but that includes time traveling from jobsite to jobsite, so you're not giving the broom a fair shake."
So in order to accurately track the number of hours the brooms were in use Godfrey needed a different system.
"We installed an electrical hour meter, powered through the on/off switch to the broom itself to track the number of hours the brooms were in use and give us an accurate reading of durability," he said.
Godfrey says he expected the cable wrap brooms to last 120 to 140 hours; United Rotary's strip broom lasted 30 to 40 hours longer, and he says the drivers liked it better.
"There's a curvature in the broom that furrows the material toward the center of the elevator and loads it into the hopper more evenly," he continues. "And, because it takes material away from the sidewalls, it also creates less of a trailing problem, which our drivers really liked."
After testing the broom, which included comparing the maintenance of the two brooms, Godfrey decided to convert eight of his 14 mobile trucks to the strip brooms, which resulted in another advantage for him: shipping and storage. "Eight tube brooms require roughly four pallets; right now I have 10 strip brooms sitting on one," Godfrey says.