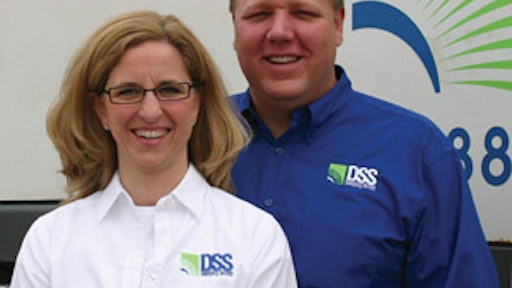 Kevin and Viki Kroeger didn't want a turnaround situation when they bought into the sweeping industry in 1999; they wanted a successful company they could improve. By last year they had doubled the revenue, doubled the number of employees, and significantly increased the profit margin of DSS Sweeping Service, Dayton, OH.
"The company we bought was a good company in good shape, but it had kind of hit a plateau," says Kevin, president. "We installed some standard business systems, including job costing and employee management, that really had an impact."
Today DSS Sweeping Service, a certified woman-owned business with Viki as CEO, employs 16 people and operates five Nite-Hawk sweepers, three Tymco 210s, two Elgin AirCubs, an Elgin Eagle, a Sweeprite unit, and four Athey-Mobile sweepers. In 2006, 71% of sales were from parking lot sweeping, 15% from construction and street sweeping, and 14% from snow removal.
"Systems are important because they help you identify problems and can help permanently solve them," he says. "We try to identify the problem then solve it, not just throw resources at it and hope it goes away."
One of the first problems they tackled was employee management, instituting a system of team leaders.
"Our team leaders are really our front-line guys, and they know what to do," Kroeger says. "If there's a problem they're empowered to do what they have to do to solve it, and 95% of the time it's what I would do. The other 5% we say 'thanks, why don't you try it this way next time?'"
Kroeger meets with each team leader weekly. Steve Small, operations manager, touches base with the team leaders each night and each leader meets with the team every night.
"We have the drivers come in at 9:30 to meet with the team leader so we know if there's a problem before the night starts," he says. "In the past the operators set their own schedule and we wouldn't know we had a problem until the next morning."
DSS Sweeping also began focusing on job costing, which enables them to make sure each job is profitable.
"We look at individual accounts to see which are performing well for us and which aren't. Then we try to figure out what we need to do to make that account perform well for us. Do we need to increase our price? Offer more services? It's all about having data. If you don't have data you can look at accounts until you're blue in the face and not be able to fix it."
DSS Sweeping used to set up routes by hand but now relies on TourSolver for MapPoint software, which enabled DSS to initially increase volume by 28% without adding any equipment or employees.
"Before this we'd just throw resources at a problem and hope that solved it. New job? Just hire more people. But it would be a couple of months before we really knew if we were making a profit," he says. "Now we're showing a profit on routes within a couple of weeks. Now all routes are profitable, and that hasn't always been the case."
He says minor changes, such as changing the night a job is swept, can make the difference between a profitable and unprofitable route.
"If you're driving 25 miles to an account and that's the only account in that area it's hard to make that job profitable. We were able to turn some accounts profitable just by putting them in a place where they fit."
DSS also has tried to change the level of service provided for a customer and, as a last resort, has increased prices on a customer.
"It's hard to turn down revenue, but it's not revenue that drives the business," he says. "It's profit."