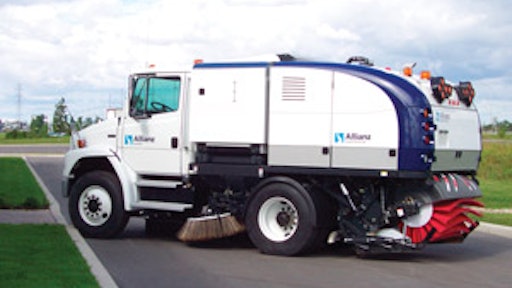 New entrants to the sweeping business might think sweeping material off the pavement is such a basic task that there's little difference among equipment. But veteran contract sweepers and sweeper manufacturers know better. Manufacturers listen to their customers and monitor the market to determine what type of equipment to introduce next or what updates they need to make to keep their customers happy. And as this overview demonstrates, contractors looking to find a sweeper can find the unit they want.
Following is a selection of equipment from 13 manufacturers of sweeping equipment. Considered individually these sweepers demonstrate how a particular manufacturer has worked to develop a sweeper that contractors can put to effective and profitable use. Considered as a group these sweepers demonstrate not only the breadth and depth of the industry's manufacturers but their commitment to developing the equipment their customers need.
Schwarze S233SE sweeper aims at garage sweeping
Introduced at the Schwarze Roundup last October and National Pavement Expo West last November, Schwarze Industries' S233SE is a single-engine, gasoline-powered sweeper mounted on a Chevy C2500 chassis.
Rickey Hyatt, national sales manner, direct sales team for Schwarze Industries, says the S233SE is not the manufacturer's first single-engine machine - it also markets the 333, a low-profile parking lot sweeper - but Schwarze decided they needed to develop a sweeper specifically for the parking garage niche.
"The 333 can be used inside parking garages but it was designed for parking lot sweeping. It's just not short enough to work in some parking garages," Hyatt says. "So we felt we really needed something more cost effective for contractors to use in parking garages."
The S233SE is a recirculating air, high-dump sweeper with a 93-gal. water tank. It's a rear-dump sweeper with a 2-cu.-yd. hopper, and the S233SE features a dumping height of 65.5 in. The unit has an 82-in.-wide sweeping head coupled with a 26-in.-diameter gutter broom for a total sweeping width of 98 in.
But Hyatt says the focus of the unit is its 6-ft., 4-in. height, which enables it to work in just about any parking garage.
"This machine is ideal for picking up paper, litter, and any normal debris found on parking lots or in parking garages," Hyatt says. "A cost-effective way of sweeping garages is what we were looking for and based on the response by the contractors that's exactly what we've got."
Allianz Johnston pursues milling sweeping
Introduced to the market a year ago, Allianz Johnston's MS/MT350 truck-mounted mechanical sweeper is a high-dump machine designed for a market the manufacturer hadn't been serving.
"Typically this sweeper is used by contractors in milling operations," says Pete Federico, vice president of marketing. "We hadn't been serving that niche so we decided to produce a machine that meets that market's demand." Mounted on a commercially available truck chassis with dual steering controls and operating positions, the MS350 is a single-engine mechanical sweeper with a Cat C7 230-hp diesel engine; the MT350 is a twin-engine unit that adds a John Deere 70-hp auxiliary engine. Both sweepers feature a 4.5-cu.-yd. hopper that is lifted hydraulically. An hydraulically operated discharge door automatically opens when the hopper is tilted, and the 41-in. door helps position the debris load into the center of the dump truck. Both units offer variable dumping height to 120 in. (a 138-in. high dump is an option). A 34.5-in.-diameter, 58-in.-long main broom, combine with dual 44-in. gutter brooms (with in-cab down pressure controls) enable the unit to sweep a 10-ft. path. Each gutter broom extends 12 in. It holds 60 gal. of fuel and 375 gal. of water.
Federico says Allianz opted for the high side dump because the intended purpose of the machine was milling operations. "The high side dump is favored by contractors in milling so they can easily unload this load on site rather than going to the dump," he says. "The difference between this and other high-dump sweeper is our system doesn't shift the hopper off to the side to enable it to reach over the dump truck. The lid door is long enough to reach over to the truck. Other hoppers lift the hopper and move the whole hopper toward the truck and then dump."
Elgin Waterless Eagle extends sweeping season

When Elgin's Waterless Eagle hit the market in 2004 the sweeper was expected to be sold almost exclusively to the municipal market. The reality is that 40% of sales have been to the contract sweeper.
"It's a road and construction sweeper, and the waterless aspect offers advantages to contractors," says Brian Giles, sweeper product manager. He says advantages of a waterless sweeping include the operator doesn't have to carry the additional weight of water, and there's no mud buildup beneath the speaker. "It might be dusty underneath but it's not muddy," Giles says. "That makes it easier and faster to clean."
The Eagle's dust control system features a vacuum fan that creates an air stream through the hopper, conveyor, and skirted areas. Inward-rushing air carries airborne dust into the hopper, where it settles out with the rest of the debris. A dry filter element installed between the hopper and the vacuum prevents dust from being pulled from the hopper and blown out the vacuum fan exhaust. Most dust falls into the hopper, with only a small amount getting to the filter. The waterless Eagle also includes special dust skirting on side and main brooms to contain dust beneath the unit.
"Any dust kicked up by the broom, instead of getting kicked out into the atmosphere, or getting sprayed by water to settle back down, gets picked up filtered back."
Like the Eagle, the waterless model has a 4.5-cu.-yd. hopper that can be emptied at any height from 32 to 122 in. An 11-in. right side shift can ease dumping. Main and side brooms combine for a 120-in. sweeping path.
"In addition to dustless sweeping, contractors using the waterless Eagle no longer have to restrict work to temperatures above 32°F," Giles says. "They can sweep any time day or night, and hopefully it will allow sweepers to expand their work into the winter months."
TYMCO introduces side high-dump
Introduced in 2006, Tymco brought its 500X high-dump regenerative air sweeper to market for contractors and municipalities looking for a side high-dump unit that can sweep streets and construction sites.
"Tymco has a forward high-dump sweeper (Model FHD) but our research indicated the market needed a high-dump sweeper that could dump from the side, so that was the reason we chose to introduce the 500X," says Tom Rokas, inside sales for Tymco. "This unit gives contractors the flexibility they need to dump into their dump truck or their roll-off."
Sweeping width on the 500X ranges from 87 in. for the broom-assist pickup head only to 142 in. with both gutter brooms. The 500X has a variable dump height from 24 to 132 in. and reportedly has a 68-second dump cycle. It features a 5.7-cu.-yd. stainless steel hopper and blower housing, and stainless steel discharge chute that enables the operator to project debris into the center of a dump container without need of a hopper side shift. The chute also is designed to float 45 degrees upward, protecting it from major damage should it hit the debris container.
Rokas says unique to the 500X is its "tilt-and-seal" blower housing, which is designed to protect the seal against the body of the hopper.
"When the hopper lifts up in the air the blower housing stays stationary. If that wasn't the case every time the hopper goes up and down it would scrape the seal and weaken it," Rokas says. "The seal on our blower housing tilts away from the hopper before it's raised, then it stays that way until the hopper is lowered when a spring action pops it back into position."
Python Manufacturing: More power, more basics
Python Manufacturing's flagship S3000 high-dump road and construction sweeper is a mechanical broom with high-dump capabilities.
"Sweeping millings is the toughest job you can throw at a sweeper and this machine is designed for that," says Les Hulicsko, president of Python.
The history of the S3000 is a little complicated, but the gist of the story is Hulicsko designed the S3000 precursor, the Husky II, when Hulicsko owned Sweeprite. He sold Sweeprite four years ago, then bought it back last year.
"The basic 3000 was the Husky II," he says. "The new owners had made a lot of changes to it and the changes caused some problems."
When he bought the company back and renamed it Python, he took a look at the S3000 and made some changes, including adding more horsepower to the engine and the hydraulic system with an 80-hp diesel engine, to make the S3000 much more of a "sweeper's sweeper."
The S3000 sweeps a path 138 in. wide with its patent-pending "Eliminator" main broom and two gutter brooms, and its 6-cu.-yd. hopper dumps anywhere from 21 to 147 in. Other features include a 300-gal. patent-pending "water saver" system, a 60-gal. hydraulic tank, and independent adjustment of gutter brooms.
"I went through the whole machine and took it back to the basics," he says. "We have simpler hydraulics all the way through, more hydraulic pressure to the brooms, and a separate pump for every function on the sweeper."
In fact the S3000 has four hydraulic pumps - one for each of four hydraulic motors (one motor for the elevator, one for the main broom, and one for each gutter broom).
"With this hydraulic system you can't stop the machine no matter what dirt you put it into," he says. "You can wear down the brooms but you can't stop them."
Nite-Hawk Sweepers continues to innovate
Of Nite-Hawk Sweepers' two units, the NH200-XLP is the manufacturer's designated (low profile) parking lot sweeper, a vacuum unit designed simply to pick up anything typically found on a parking lot, according to Tracy Day, Nite-Hawk president.
And recent improvements, such as upgrading the hydraulic system, have enhanced the parking lot sweeper's strength. "We took something that was tried and true, notably the hydraulic system, and made it even better without sacrificing any of our strength, performance, durability and efficiency," Day says. "We were able to increase the performance by using the hydraulic fluid more effectively."
Available on a ¾-ton heavy duty Ford or GM chassis, the vacuum NH200-XLP features a 103-in.-wide sweeping path including a 16-in. gutter broom. The 2-cu.-yd. steel hopper (stainless is an option) has a maximum dump height of 62 in., and a slight redesign has found room for a large blower holding toolbox behind the cab. The low 6-ft., 4-in. profile also makes it an option for sweeping parking garages. Plus, the NH200-XLP like its big brother the NH400-DX, offers new warranties: 5 year, 100,000 miles on both the hydraulic components and the chassis.
"We've been building sweepers for more than 25 years and after we boosted our already strong performance by using the hydraulic system from our (NH400-DX) sweeper making this unit the best-performing sweeper we've ever had," Day says.
Victory Sweepers' joystick draws attention
The newest unit to the parking lot sweeping market is Victory Sweepers' Mark II, a dual-engine vacuum sweeper with nine patent-pending features, according to Chris Nelson, sales manager at Victory Sweepers.
Introduced to the industry a year ago, the Mark II can sweep 90 in. wide with the hood only and up to 116 in. wide with dual curb brooms. It features a 4.65-cu.-yd. stainless steel hopper, and a rear dump height of 70 in. The dump system also slides rearward 3 in. to help reduce spilling onto the rear of the one-piece polyethylene rear toolbox that Nelson says can hold five people.
Other features include two 6-in. LED lights inside the toolbox for lighting at night, a two-piece sweeping head that is easier and less costly to replace, a non-adjustable air chamber that makes sure air flow and sweeping performance remain constant as designed (because flaps and not skid plates are adjusted), and a "hoods up" feature that enables the operator to lift the front of the head to suck in any debris the head was "bulldozing" along the pavement.
"The biggest deal, and the feature that's getting the most attention from contractors, is the joystick control in the cab which the operator uses to operate all the hydraulic functions," Nelson says. "It operates just like a video game and it enables the operator to keep his eyes on the road or parking lot at all times."
Stewart-Amos markets non-CDL broom unit
When manufacturers bring a product to market they always have a niche in mind they want to fill. For Stewart-Amos, which introduced its Starfire S-4 sweeper in 2005 but only went into full product last fall, the design criteria were clear.
"We wanted to manufacture a 4-cu.-yd. mechanical broom street sweeper on a non-CDL chassis," says Frank Chulick, president of Stewart-Amos. "We wanted a mid-size street sweeper that is easy to operate, and we wanted it to be easy to maintain."
Non-CDL sweepers must be less than 26,000 lbs. GVW, and the Starfire S-4 is typically mounted on a GMC W5500 HD chassis or an International Harvester CF600 chassis - both of which come in at about 19,500 lbs.
The Starfire S-4 features a 4-cu.-yd. hopper that dumps at variable heights from 16 to 122 in. With dual gutter brooms the Starfire S-4 offers a 114-in.-wide sweeping path, and a 200-gal. water tank provides dust suppression. Also standard is a 7-in. color monitor inside the cab that can be activated when the sweeper is put in reverse.
Chulick says that the sweeper uses four hydraulic motors, and each motor carries the same part number to ease replacement. In addition, all metal parts of the unit are etched with the part number so even if the manual isn't handy the mechanic can see what the part number is. And electric wires are color coded and numbered
MASCO Sweeper offers cost-effective flexibility
Still another unit designed for parking lot sweeping and to offer a contractor some flexibility with his pickup trucks, is MASCO's Model 2200, which slides in the back of most ¾-ton or ½-ton pickups trucks, much like a camper slides into a truck.
"The idea is you can put a sweeper in the back of a customer's truck and Bingo! He's in the sweeping business," says Masco's Mike Dyck. He says that while MASCO has produced the 2200, which also can be removed from the truck if necessary, since 1970, the manufacturer has seen a resurgence in its sales in the last 18 months.
"We think there's more interest in this type of unit because it's less expensive than a lot of the other parking lot sweepers on the market," Dyck says. "Guys are out there sweeping parking lots and they're not getting more money to sweep than they were years ago, but sweeping trucks are more expensive than they ever were and many contractors can't afford to buy those trucks. The 2200 does a great job sweeping parking lots so it's getting more attention."
Dyck says the Model 2200 has undergone a "rebirth," which also likely had an impact on sales. He says in addition to converting to stainless steel 3-cu.-yd. hopper, MASCO added an engine cover on the unit and converted the exhaust system from updraft to downdraft. The high-dump hopper lifts to 5.5 ft., enabling the sweeper to dump into any standard dumpster.
"If property managers aren't going to allow contractors to charge what they need to make a profit and be successful, then contractors have to look to other equipment to get the job done," Dyck says.
Scorpion Sweepers boasts lightweight ease
Designed to fit the niche of the easy to use, easy-to-repair, and lightest weight parking lot sweeper, Scorpion Sweepers offers several versions of its sweeper, including a customized unit and unit that is modified (for conversion to ethanol fuel, for example). But the manufacturer's bread-and-butter sweeper is a low-profile (6 ft., 2-in. height) sweeper that features a lightweight 2.5-cu.-yd. hopper and is attached to an unmodified Chevy Colorado cab and chassis straight from General Motors.
"It's a very basic parking lot sweeper that's easy to handle. It's not a complicated piece of equipment at all," says John Russell, national manager, Scorpion Sweepers.
In addition to a hidden side-mounted storage area, the Scorpion features fold-down areas on each side of the unit offering 36 sq. ft. of storage space for non-sweepable items. An electric-powered side blower is standard, and a rear-mounted sweeper head provides a 76-in. sweeping width.
Russell says the main selling point of the Scorpions is that because of its cab-and-chassis setup it can handle up to 800 lbs. more debris and still stay within the gross vehicle weight requirements of GM's Chevy Colorado. Russell says the lighter weight unit helps extend brake and tire life, and helps on fuel efficiency.
Scorpion's sweeper achieves its lightweight character by relying on a hopper system made of a high-end marine polymer material. "These units have been available for two years and we've monitored them closely," Russell says. "So far we haven't seen any cracks, dings, dents, or breaks in the hopper system."
SK Sweepers upgrades Conventional model
Introduced to the sweeping industry a year ago, SK Sweepers' Conventional single-engine, gasoline-powered Silent Knight sweeper was aimed at contractors doing parking lot sweeping. This year, according to Bob Hammond, SK Sweepers president, a change in GM chassis enables the company's Conventional sweeper to be used sweeping parking garages.
"We decided that we wanted to give our customers a gas option and give them an opportunity to use the sweeper in parking garages, and that's where the initial idea for the Conventional sweeper came from," Hammond says. "The changes coming out this year make it an even better fit for parking garages."
Positioned on a 1-ton GM chassis, SK Sweepers' Conventional machine can sweep a 94-in. width (including a 16-in. diameter gutter broom). Other features are the same as SK Sweepers' flagship model, the Cab-over sweeper (which is a diesel machine mounted on an Isuzu chassis): a 4-cu.-yd. stainless steel hopper, which dumps at the rear at a height of 69 in.; a 33-gal. hydraulic fluid reservoir; and a 28-in., six-blade blower wheel. The Conventional sweeper is 6 ft., 9 in. tall, making it "the shortest machine on the market with a 4-yard hopper," Hammond says. "And the 28-in. blower wheel gives us much more power than the sweepers that are shorter than ours."
He says that other improvements in the Conventional unit are in the cab, which is better looking from the outside, and has more room and is quieter on the inside.
"When GM changed its body style it enabled us to offer some cab enhancements but also gave us the only 4-cu.-yd. hopper on the market that can work inside of most parking garages," Hammond says.
Skavin'jer high-dump sticks to basics
Introduced to sweeping contractors in 1990, Skavin'jer Sweepers' high-dump vacuum unit utilizes a 9200 GVWR Chevrolet truck and is particularly suited to parking lot sweeping, according to Russell Brown, Skavin'jer sales rep.
"It's a very simple unit without a lot of bells and whistles that could potentially break down" Brown says. "It gets a lot of interest from contractors because it is a less-expensive machine than almost all of the other units out there."
With a 2.5-cu.-yd. hopper made of high-yield, primed steel and finished with a chip-resistant polyester coating, the sweeper has a hydraulically powered, adjustable scissor-type lifting mechanism. The hopper features a 30-in. x 50-in. main door and an 18-in. x 37-in. inspection door. The special sweeping/vacuum design with exact air flows helps prevent paper, bags, and other similar materials from blocking the filter, according to Brown. The center-mounted sweeper head, constructed of high-yield steel with adjustable tungsten carbide drag shoes, has a 10-in. suction hose with an 8-in. blast hose, and it can be operated both forward and reverse.
To help keep costs down Brown says Skavin'jer opted for a 25-hp Kohler air-cooled auxiliary engine. "It's just moving a couple of fans and powering some hydraulics so you just don't need that much power from the auxiliary engine," Brown says. "Economically we felt this is a much better setup."
New Challenger to market offers simplicity, versatility
A newcomer to the sweeping equipment market is the Challenger street sweeper, manufactured by Challenger Mfg. in Canada. Mirek Bycznski, Challenger sales manager, says the unit, introduced a year ago, is a compact sweeper installed on a 19,500-lb. GVWR chassis (the sweeper doesn't require a CDL to drive). It features a 4-cu.-yd., high-dump hopper and hydraulics intended to challenge full-size units in street sweeping.
"On the other hand a 16 ft., 7 in. turning radius and exceptional reach of the 42-in.-diameter side broom makes it a perfect parking lot sweeper," Bycznski says.
Standard features include a sealed electrical box, hydraulically controlled broom down pressure, hydraulic manual overdrive, individually adjusted speed on hydraulic motors, and conveyor removal in 20 minutes.
"We use a very simple design - including mechanical, hydraulic, and electrical systems - that makes it very reliable to begin with and easy to trouble-shoot and fix if it breaks down," Byczynski says.