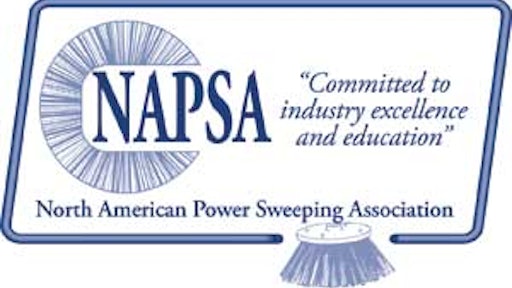 Following a March strategic planning conference, the North American Power Sweeping Association (NAPSA) has embarked on a broad-based program to increase the national sweeping organization's visibility among contractors, municipalities, and national property management associations.
According to Amy Allen, administrative director, the effort began with NAPSA's updated motto and the creation of a new logo, which was introduced to the industry in June.
Since then NAPSA is in the midst of a direct-mail marketing campaign aimed at introducing contractors and sweeping equipment manufacturers and suppliers to the organization and its benefits.
"Already that postcard campaign has borne fruit as we have added a number of new members," Allen says. "In addition we know it's increased awareness of NAPSA because traffic on our web site has increased substantially."
Incoming president Dale McCaskill, Southco Sweeping and Maintenance, Camden, SC, says the next phase of the marketing campaign is to strengthen ties between NAPSA and the various property management groups such as the Institute of Real Estate Management and the International Council of Shopping Centers (ICSC). NAPSA will be exhibiting at ICSC's show next May in Las Vegas.
"Our marketing committee feels that by focusing on the property management organizations we can develop a strong name for NAPSA and strengthen the working relationship between the property management members and the NAPSA members," McCaskill says. "The whole idea is to increase the awareness of NAPSA among property managers so our members can benefit from that relationship."
In addition to its marketing campaign, NAPSA, which now has more than 300 contractor members and more than 40 manufacturer or supplier members, is changing its dues structure for suppliers and manufacturers.
"The purpose of the change is two- fold," McCaskill says. "First we want to be able to provide our manufacturer members with more recognition and make their memberships even more worthwhile. The second reason is we hope to generate more revenue so we can continue to add new contractor benefits and enhance the benefits we already offer so we can do more for the association and the industry."
Beginning in 2007, manufacturers and suppliers can join as a regular member for $1,000 a year or they can select from three sponsorship categories with various additional benefits.
Gold Sponsorship ($5,000) member companies can write a one-page article in each issue of NAPSA's quarterly newsletter, are given 12 free NAPSA memberships to hand out to new members, can have up to 25 employees listed as NAPSA members, and can introduce speakers at NAPSA-sponsored events including National Pavement Expo (NPE) and NPE West.
Silver Sponsorship ($3000) members can write a half-page article twice a year in the NAPSA newsletter, are given six free NAPSA memberships to give out to new members, and can have 10 employees listed as NAPSA members.
Bronze Sponsorship ($1,000) members can write a half-page article about their company once a year in the NAPSA newsletter, and can have five employees listed as NAPSA members.
All levels of sponsorship will include a company logo on the NAPSA home page, a logo on the NAPSA booth, and a logo on all NAPSA stationary.
Allen says NAPSA is also continuing to develop its Certification Program, which has awarded sweeper certification to 27 contractors. The Master Certification program is expected to be introduced at National Pavement Expo, Jan. 31-Feb. 3 in Nashville, and NAPSA also plans to host a special meeting for all certified sweepers at the show.
For more information visit www.napsaonline.com or visit NAPSA's booth at NPE or NPE West.