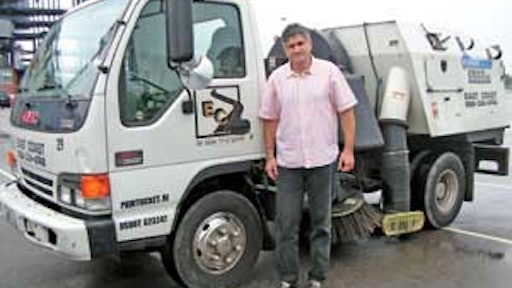 Contracting companies don't always end up the way they start out, and as in the case of East Coast Lot & Pavement Maintenance, that can be a good thing – a very good thing. Because as Uri Ben-Yashar, president and CEO explains, if the company was the same contract sweeping business he acquired in 1993, it would no longer exist.
"I used to tell people I was a sweeping contractor," Ben-Yashar says. "Today when I explain what I do I say 'We provide exterior servicing for large parking lots.' We're a very different business than we were back then."
The small company Ben-Yashar bought in 1993 had two sweeping trucks, 25 sweeping accounts, and generated 100% of sales through sweeping. Even as recently as five years ago East Coast Lot & Pavement Maintenance concentrated on sweeping, with more than 75% of all sales coming from regular route sweeping of parking lots.
Today the company has 45 employees, more than 50 pieces of equipment, operates from four locations, has almost 500 sweeping accounts, and operates 20 routes a night. Sweeping generates 55% of the business, with 20% of sales coming from pavement maintenance (including cracksealing, pavement repair, power washing, and striping), 15% from landscape maintenance, and 10% from snow removal. And it self-performs all its own work in a five-state region.
"We always did a little of the other services from the beginning, but it was very little and it was only when we were asked by the client to do them," Ben-Yashar says. "We pursue that work now."
And sweeping, despite the fact that it still accounts for the lion's share of sales, is now used in a much different way in the business.
"Sweeping is really a loss leader. It's very difficult to break even if you have to rely on sweeping to provide your overhead because there are always people out there who will do the work cheap," he says. "They don't invest in equipment like we do, they don't invest in the business like we do, so they don't have to charge what we have to charge to at the very least cover our costs. So the price declines."
He says East Coast has not been able to raise prices to its original sweeping customers. "It would be okay if I could even charge my customers 1993 prices, but I can't even do that. It's gotten to the point where companies like mine just can't make ends meet by only sweeping. That's why we added these other services. It was a vital step in the survival of my company."
Analyzing the company
To get where they are today Ben-Yashar lead East Coast through a complete evaluation process designed to see what the company was actually doing and where it was, or should be, headed. He says the first step was to track and analyze all their costs so they could determine what their break-even point was in sweeping.
"When I figured out what my break-even point was it was a realization. I was very surprised," he says. "I had been pricing our sweeping business to break even in the sweeping operation and I was very surprised to find out that the break-even point was in the low $40-per-hour area where we had been pricing it in the low $30-per-hour area.
"Once we knew the break-even numbers it was easy to figure out what to charge per hour to sweep a parking lot," he says. "Unfortunately no one is charging that…but people are working and work is getting done."
So as much as East Coast prices its sweeping to be profitable, it also prices it to survive. "It's a survival world for companies like mine," he says.
Once he had established the break-even point and readjusted his per-hour pricing, Ben-Yashar evaluated his accounts and began to weed out the accounts that were actually costing the company significant dollars.
"We went to accounts that we had low dollars on and I just explained to them that we needed to increase our prices. About half agreed and half said 'no thank you'."
He says East Coast didn't have a lot of accounts where it was actually losing money, but it had enough of them.
"Because we aren't talking about a lot of accounts the impact wasn't that big," he says. "But we figured we were better off to minimize our losses, that's for sure. You're better off minimizing your losses by losing the account than maximizing your losses by keeping the account."
Then, once East Coast had determined its break even point and weeded out accounts that were costing them money, it was time for some strategic planning. They looked hard at the market, their costs, their pricing, and made an important decision.
"The only one way to stay in sweeping is to look at it as a loss leader," Ben-Yashar says. "I'm not saying that all our accounts are losing money, they're not. We don't bid them to lose money. But we made a decision to rely on sweeping to help cover our overhead. Once we made that decision we decided the next step was to use the sweeping base to generate additional business that can help us be profitable."
Determining a new direction
This re-examination of the business started in 2001 and East Coast began implementing its decisions in 2004. East Coast brought parking lot striping in-house, now subbing out only the work it can't handle. They began pursuing crack repair, doubled their landscape maintenance, continue to pursue snow removal, in 2005 re-opened their department of power washing, and will add exterior lighting maintenance this year.
"We looked at other kinds of services we could offer, what other ways we could service our day-to-day sweeping customers," he says. "We know they need this work because someone else is already doing it for them."
Ben-Yashar says that because of its sweeping business East Coast has visibility with almost 500 customers "so we were bound to get some work. We lost some because customers already have established relationships with other vendors, but other customers were willing to give us a shot. It's always easier to get in the door with somebody you're working for, where you have an established relationship, than it is to find new business."
He says East Coast now continually sells its ancillary services to its existing customer base, with a goal of growing those support services.
"We're working on improving the visibility of our ancillary services to our sweeping customers," he says. "The profit margins on them are significantly higher than on sweeping."
Ben-Yashar says he undertook this reexamination of the company only because he had to.
"I really had no choice," he says. "If we hadn't taken a step back and done the analysis we did we would not be here today. It's that simple."
Perhaps surprisingly he doesn't take too much credit for what he did.
"Had I done it in 1995 it would have been smart, but in 1995 I didn't think I needed to do anything like this," he says. "I didn't know price per hour, but I didn't think it mattered. At the end of the day we made a profit so I figured everything was okay. We didn't know where it came from but we had a profit and we were happy."
Ben-Yashar says he thinks what happened to East Coast happens – and is happening – to many contractors, sweepers and other types of pavement maintenance companies, too.
"We were able to get by with it because we were a small company and did not have huge overhead, but a big company with overhead will have trouble," he says. "If you really think about the big companies there are few out there making it on litter sweeping. You can do it if you're a small company, but once you reach a certain size, and have certain expenses, it changes the entire profit-and-loss statement. Then you've got some concerns."
Adjusting to change
He says while crew members did have to learn some new skills (he sent two people to work for a week of training with Ken Pritchett, \\\STRIPES/// Parking Lot Service, Denton, TX), the group most affected by the change in direction was the sales staff.
"Traditionally our sales people push sweeping because that's what we did. But we had to let them know we wanted them to push other services," Ben-Yashar says. "Typically they only pushed vertical sales but now we need them to sell horizontally. That means we need them to sell more services to the same customers rather than one service to new customers.
"When we go out and bid the sweeping service for a shopping center, the chances of me getting the bid are slim because I put in a number where I get a 10% to 15% profit if I get the job," he says. "Nine out of 10 times I lose on a one-to-one bid."
Where East Coast does well is on larger chains who are trying to consolidate some of their services.
"Having said that, I still have to compete with the guy from the national end (national service providers) and they bid very low," he says. "So it's a double-edged sword. So I'm working out my relative advantages."
He has repositioned East Coast to fit between the markets he gets most competition from.
"I try to work my relative advantages in between those two markets. My relative advantage is I am a large regional player, a self-performer who can cover five states," he says. "Our customers can talk directly to one person who certainly does the work. That keeps the quality up. They don't have to talk with someone who then has to make a call to talk with a subcontractor."
He says East Coast currently has about a dozen regional accounts ranging from a dozen up to 80 properties.
Customer service
"We're very focused on customer service. The successful company in today's market has to have a big focus on customer service, whether you use customer retention calls, customer appreciate events, newsletters (East Coast recently started one), an interactive website, or other customer-focused activities," he says. "The customer service end of the business has become increasingly important over the years."
Over the years East Coast has developed its own Customer Relations Management (CRM) system that it relies on. The CRM system compiles all the communications that have ever been done with every customer, from phone calls, to lunch meetings, to complaints and presentations.
"When the customer calls me and tells me he talked with our director of operations I can go to the CRM and see what that conversation was all about," Ben-Yashar says. "I can do it right then and resolve any concerns right immediately. That makes the customer happy and it means he doesn't have to call back or wait for a call to get an answer."
"We realized over the years the importance of customer service because ultimately people buy from people. They buy services or product, but because they do have a choice, it's a people business at the end of the day. And the more you realize that and focus on it the more you can be a successful business."