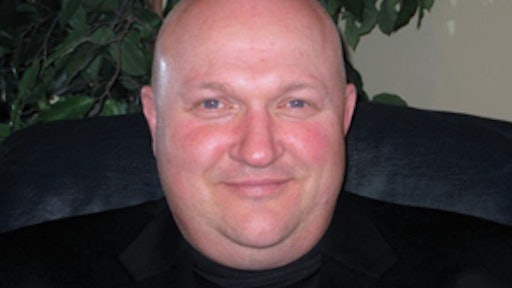 Carl Barton, NAPSA President, President of Aardvark Sweeping Services, started Aardvark 12 years ago with one sweeper and one account. We now operate 33 pieces of sweeper related equipment. I see the industry through the eyes of small, medium and large sweeping contractors' eyes. I hope one day to join the ranks of the Mega Sweeping Companies.
Biggest challenge facing the industry: Respect for parking lot sweeping. Beginning with ourselves, I've heard several large and small sweeping contractors say they can't make any money sweeping parking lots and it is a loss leader used to secure their other services. As an industry we have bought into the mindset that sweeping is a commodity and nobody is willing to pay for good service.
Kevin Kroger, NAPSA Vice-President, President of DSS
What do you want to bring to the NAPSA Board? I would like to help elevate the perception of sweeping in general and get others perspectives on how they operate and do business. There is a huge amount of knowledge that already exists on the board, and I think we can use this knowledge to help the whole industry succeed.
Dale McCaskill, Immediate Past President, President of Southern Companies of SC Inc. Dba Southco
Biggest challenge facing the industry: Raising the business standards of the sweeping industry and promoting to end product users (property managers and commercial property owners) through NAPSA. Getting people involved.
Jim Dodson, Treasurer, Mid-State Industrial Service
Skill set that benefits NAPSA: I have been dealing with all facets of the business for almost 35 years now. Everything from hiring and firing to equipment maintenance, purchasing, equipment disposal, financing, customer acquisitions, customer relations, debris disposal, government regulations, insurance, etc.
Biggest challenge facing the industry: Maintaining professionalism in the industry, especially during and after down turns in the economy when there always seems to be a slip in the industry. More of the customer base seems to only be concerned with price. We need to stay in contact with the customer and convince them that a good job and integrity at a fair price are worth more than just a low price. Governmental environmental mandates are both challenges and opportunities. The clean water and air acts should be used by us to promote the sweeping industry as a best management practice. The California engine mandates are a huge challenge that we are all going to be facing sooner or later.
For more information about joining NAPSA visit or contact our office at 269-383-6993.