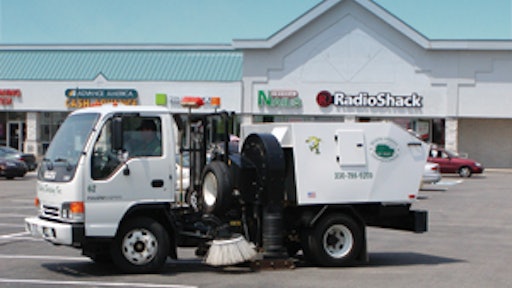 When Mitch Barkman sold his Texas parking lot sweeping business and moved back to Ohio to start up again, the decisions he had to make didn't seem that difficult.
"Seems like every business down in Texas was 'Longhorn Something' and I decided that if I ever got back to Ohio I was going to name my business after the buckeye," Barkman says today. "But after that, all we wanted to do was to sweep a little dirt and plow a little snow."
He soon realized, however, that if he was going to be successful in the Northeast Ohio market it was going to take more than having 'buckeye' in a company name. First of all Barkman had to decide what kind of sweeping business he actually wanted to run. And the business he came up with — he wanted a service-oriented business that was flexible and responsive — is well on its way to being the success Barkman envisioned.
"The whole purpose when we started parking lot sweeping was to grow the business to the point where we could handle anything sweeping-related, from anyone who called in, no matter how big or small or how little notice we were given," Barkman says. "It's taken us about 10 years to get to that point, but we're there now."
Barkman started in the sweeping business sweeping parking lots in Texas in 1985. Four years later he decided to move back to his home state of Ohio, sold his Texas sweeping business, and started sweeping parking lots as Buckeye Sweeping.
Barkman says that since he started Buckeye Sweeping he wanted the company to be the place property managers, general contractors, paving contractors, and municipalities can rely on to get help at virtually a moment's notice. So he has structured his company to be flexible and responsive to customers' needs. He says he realized early on that to become the kind of company he envisioned, he would have to have a variety of equipment and a fleet of significant size.
"We're definitely not a one-truck operation," Barkman says. "We couldn't be and still provide the service and responsiveness that is our key to our success in the market."
Today the 17-person company offers a broad variety of pavement-cleaning services for commercial, industrial, and construction industry clients. Barkman says 30% of sales are from commercial sweeping, and 33% are from industrial and construction sweeping (including construction site cleaning, scraping and flushing). The remaining 37% are from snow plowing and salt spreading, which he decided to add to their services because he wanted winter work to stabilize cash flow, keep some employees working, and provide an additional service to some clients.
"We worked hard and we grew," he says. "Then as we grew we added new services that fit with what we do and that we felt we could offer to help our customers. We pride ourselves on that, on being responsive and real flexible and on being able to satisfy a customer's needs on a moment's notice.
"We try to do everything first class," Barkman says. "We keep our equipment looking good, we make sure the work is done properly, and we follow every guideline we're given, whether it's a guideline from property managers, paving contractors, or the DOT."
A fleet for flexibility
A member of the North American Power Sweeping Association and the Snow & Ice Management Association, Buckeye Sweeping has assembled an equipment fleet that enables it to be responsive to a broad variety of pavement cleaning needs. Having used a variety of sweepers throughout its life, Buckeye now uses only two types of sweeping equipment: six reconditioned Athey/Mobil Top Gun mechanical brooms and six SK Sweepers single-engine vacuum machines. The Mobils, which are available only on the used sweeper market, are considered the company's daytime sweepers, handling everything from industrial parks, milling sweeping, and new construction cleanup, to general street sweeping for municipalities and private properties. All night sweeping, which includes almost entirely parking lot sweeping, is done by six SK Sweepers units the company has acquired in the last 18 months.
Other equipment includes two 2,000-gal. flush trucks, four single-axle dump trucks, nine wheel loaders, two sweeper scrubbers, two Bobcat skid steers with a variety of attachments, eight Pro-Tech plows (which attach to the loaders), numerous salt spreaders, one Vac-All machine, and a variety of other support equipment.
While the plows and salt spreaders obviously are relegated to winter snow removal work, the other equipment is devoted to specific types of work for specific types of clients. By owning equipment to meet specific customer needs, it is easier for Buckeye Sweeping to respond to last-minute or emergency customer requests. But the equipment also can be shifted as needed so the company can maintain a flexible operation to provide service where it's needed.
"We get a lot of calls at eight or nine or sometimes even later at night from paving contractors or general contractors and they need us someplace at six in the morning and they got so busy they forgot to call. 'Can we still do it?' Yes we can.
"We try to tell them it helps us if they can give us some notice but most of them already know that. But things come up, days get busy, and they forget. Or sometimes the job just pops up for them and they need us. Well, we're there. That's what we do."
Day and night at Buckeye Sweeping
Barkman says the fleet, employees, and service focus is divided into two operations, day and night. Night operations involve, almost exclusively, sweeping parking lots, and Buckeye Sweeping handles more than 300 parking lots each week with its six SK Sweeper units.
"We average five trucks out there a night and sometimes all six are out on the job," he says. The drivers get in the office by 10:00 p.m., pickup their route list, go out and sweep, and return between 6:00 and 8:00 in the morning.
In another effort at simplifying the business, each sweeper truck has only one person, the driver, who does all the work on each property. Each driver cleans sidewalks and blows litter and debris from corners and from beneath shopping carts and from other hard-to-reach areas.
"With only one person on each job the drivers feel more responsible for the work they do," Barkman says. "There's only one person to point the finger at if a job isn't done right."
Though Buckeye Sweeping doesn't have a formal training program, all new hires, whether experienced or not, spend two weeks in the cab of a sweeper with an experienced Buckeye driver, learning how Buckeye wants its work to be done.
"That's at a minimum," Barkman says. "If they're good and they pick it up then we put them in a unit by themselves after the second week. But some people need a little longer."
He says he offers competitive wages and medical benefits to keep good employees as long as possible, and 12 of his employees have been with the company for the long term.
Night supervisor Roger McCauley is a former nighttime driver whom Barkman promoted to schedule the sweeps and monitor the work to make sure it's done to the client's satisfaction.
"We never used to have a night supervisor but it got to the point where we were running so many trucks at night and sweeping so many properties that we just needed someone to be here to organize each night's work and solve problems throughout the shift," Barkman says.
And then there's the more-involved day shift. Work on this half of the schedule, which often requires significant juggling of equipment, can involve street sweeping, sweeping behind a milling machine, construction site cleanup, industrial park sweeping, scraping mud from pavement, flushing pavements with water after sweeping, and more.
The workhorse of the day jobs are the six Mobile sweepers Buckeye Sweeping seeks out on the used equipment market, buying them for both parts and to recondition and refurbish before putting them to work.
"We try to make everything as simple and as easy to operate and repair as possible, so we've tried to standardize our equipment as much as possible," Barkman says. "That's the main reason we rely on only two types of sweepers."
He says that not only are all the Mobile parts interchangeable and the equipment can be used on similar jobs, but once a mechanic learns how to repair one Mobile or SK machine, he knows how to repair all the others and that keeps our equipment on the street producing for us and our clients.
"We're deep enough in equipment so if something breaks down we can handle it without much trouble," Barkman says. "The backup equipment really pays off for us in the long run. It also helps when those last-minute jobs pop up."
He says the company's mechanics know the equipment "from front to back" and are able to order any needed parts on their own, which shortens the downtime.
"Our mechanics know the importance of keeping our equipment productive, so if they need something they know they have the 'OK' to buy it to get the equipment back on the road."
He says that the company has also been able to see a significant savings by switching from wire gutter brooms to polypropylene gutter brooms on the SK Sweepers.
"Because we're using polypropylene we can rebuild the gutter brooms ourselves," Barkman says. "The difference in rebuilding a poly broom and reordering a wire broom saves us about $50 a broom."
'Curb to Curb' marketing
Barkman says Buckeye Sweeping does not do much marketing and never has. They rely on a folder containing a six-page color brochure to introduce the company to new prospects from a list developed internally, and Barkman says that has been a good marketing piece for them.
In the last year, as a result of attending a National Pavement Expo seminar in Nashville, Buckeye Sweeping started its own two-page quarterly newsletter, "Curb to Curb," which it now also includes in the folder.
"We always knew we should have a newsletter but we never made producing one a priority," Barkman says. "The session I took at NPE motivated me to get one going."
The self-mailer newsletter goes out to 1,200 clients and prospects, and includes a variety of information, including a history of sweeping.
"It doesn't really have any hard content," Barkman says. "We use it just to keep our name in front of the customer."
And he says the new newsletter has been effective.
"We've had people tell us they got 'Curb to Curb' in the mail and called us for something. It's more than paid for itself, there's no question about it," he says.
But perhaps the most-effective piece of marketing Buckeye does, at the beginning of each season, is to send a price list of all its "industrial" sweeping and pavement cleaning services to paving contractors and general contractors "and everyone we've done work with in the past."
"That becomes work we don't have to bid," Barkman says. "These contractors know us, we've done work for all of them or almost all of them in the past, and they know what it will cost them for us to do each type of work. So we don't have to bid that much work."
He says this approach saves sales time and helps solidify Buckeye's relationships with the contractors it subcontracts work from.
"It also enables us to be more responsive to them, which is a major goal," he says. "We don't have to get a call, get information, make a bid, and wait for it to be accepted before we do the work. And the customer doesn't have to wait, either, and that's the key thing because our response time is one of the main things that's put us where we're at today.
"They know they can call us and we'll be there. And they know what it's going to cost to get that service done. We can just say 'Yes' when they call and go out and do the job because we both know what the price for that work is going to be. It also helps keep our equipment busy, which is important too."
Buckeye says that for past customers they will simply go out when asked, do the job, and send the bill. For new customers Buckeye doesn't take the time to prequalify them, largely because there often isn't time before a job needs to be done. So Buckeye handles new customers by charging a slightly higher fee for the work and by charging the job to the customer's credit card before the job is done.
"We've learned our lesson," Barkman says. "The only thing worse than no work is doing work without getting paid. We won't do that."