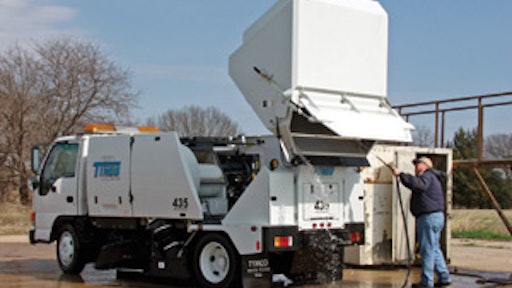 If you're a veteran sweeper operator, than these words from TYMCO's Tom Rokas ring loud and clear: "Cleaning out your sweeper at the end of your shift or at the end of the day is the most important service you can perform on it."
Located in Waco, Texas, TYMCO manufacturers a full line of regenerative air sweepers. Rokas, of the marketing department, notes that just rinsing out the hopper after a day's use prolongs the life of metal parts and helps to keep the sweeper running efficiently. Company training director David Zajicek agrees, noting that ideally the cleaning regimen should be thorough, taking about 30 minutes and should encompass a complete walk-around of the sweeper, cleaning out the screen and dust separator, cleaning out the suction hose, and overall giving the unit a good washing at the end of the day. Cleaning time, he adds, can be shortened with the hopper deluge option.
The cleanup has another purpose, says Zajicek, "Cleaning gives the operator the opportunity to inspect the sweeper. On an air sweeper that means paying special attention to make sure seals are tight, including seals around the hopper door and dust separator, and that the suction and pressure tubes are free of holes and debris."
Wear parts
Zajicek, who has been with TYMCO for 20 years, emphasizes that seals should be inspected routinely to maximize sweeper performance and changed every two or three years. To make sure doors seal properly, he advises operators to attempt to slip a piece of paper through the side of a closed door. If the paper passes through, then the seals need to be changed. "Leaving the doors open after the hopper has been washed and cleaned will allow seals to breathe and flex," he adds. "This will also speed up the drying process and help prevent corrosion."
Since rubber curtains are used to seal the air stream beneath the pickup head on TYMCO sweepers, they need to be routinely checked, too. The curtains are not adjustable and because they drag on the street to create a seal, they will require periodic replacement. "Curtain wear is affected by sweeper curb mileage speed," adds Rokas. "The faster you sweep, the faster the curtains wear. Optimum sweeping speeds are from 3 to 5 mph. Once curtains no longer seal, they must be replaced."
As Rokas and Zajicek explain, the pickup head is supported by skid plates. Adjusting the skid plates will raise or lower the pickup head and the blast orifice. Raising the skid plates will lower the head, decrease the area beneath the pickup head, and increase air speed. Conversely, lowering the plates will raise the head, increase volume, and decrease air speed. The skid plates should be adjusted for the application, i.e., when sweeping heavy weighted debris such as sand, dirt or gravel, keeping the skid plates at their higher adjustment will ensure plenty of air speed to facilitate pickup.
In addition to curtains, other obvious wear parts on both mechanical and air sweepers include the main and gutter brooms, along with the skid plates. On air sweepers, the impeller is also considered a wear part, just as the conveyor belt is considered a wear part on mechanical sweepers.
"Since air sweepers need air to operate, the blower wheel needs to be in good condition, too," says Zajicek. "If performance is down and air isn't leaking around the curtains or seals, then your air sweeper's impeller may be worn out."
Scott McArthur is service manager for Elgin Sweeper Company located in Elgin, Illinois. The company manufactures both air and mechanical sweepers. "A fan or impeller on an air sweeper can last anywhere from 1,500 to 3,000 hours, depending on the sweeping application." McArthur relates. "We recommend inspecting the impeller every couple hundred hours by opening a small inspection hatch. The vanes on an impeller will wear and shorten over time, and if they show too much wear, air speed will suffer." He says that using a water suppression system to keep dust down promotes impeller life.
Since the conveyor belt on a mechanical sweeper will stretch over time, it, too, should be checked every few hundred hours. "Our operators' manual has a list of service checks to be made after 50, 100, 200, and 500 hours of operation, not unlike a check list for an automobile," says McArthur. "Of course, it is crucial to keep the sweeper clean and obstruction free. Then, it's a matter of checking fluids, checking the air filters, and checking the bushings on the brooms to make sure they are tight. The side broom and side broom assembly will get especially dirty during a sweeping operation. Cleaning the broom and the broom assembly is imperative after every use."
Common sense approach
TYMCO's Zajicek emphasizes that maintaining a sweeper for optimum performance is mostly common sense. "I tell operators to never park a dirty sweeper and that cleaning it daily will keep it performing up to specs. I also advise them against being overly fastidious.
"For example, it is not uncommon for operators to over-service air filters. They will routinely remove a filter and either blow out the dirt and dust or bang it against something to jar loose debris. Neither is advised. Over cleaning can damage a filter and allow dust particles to enter the engine.
"There is an old adage that a new air filter doesn't clean as efficiently as an older one. The reason? Trapped dust particles actually help the filtering process," McArthur says. "Not to say that old filters shouldn't be checked and changed when needed. They should be. My advice is to put sweepers on a scheduled maintenance program. Our sweepers also have an air restriction indicator, and an illuminated indicator means that it is time to change the filter."
Based in Neenah, WI, Rod Dickens is a freelance writer specializing in the construction industry.
Companies in this article