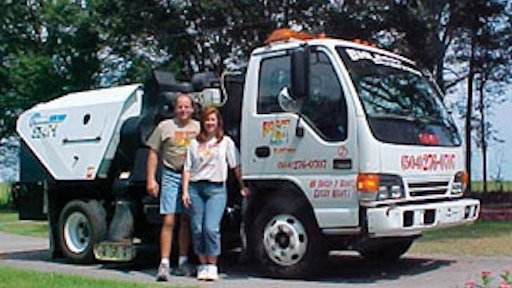 Five years ago, when Freddy and Lisa James took on their first parking lot as Big Easy Parking Lot Maintenance, the entire company nearly fell apart after 20 minutes. "It was a hot, hot, hot night," remembers Freddy James. "Lisa was pulling the Tow-Vac behind the truck and I had this little hand-held blower. I was about 20 minutes into blowing and I was pouring sweat and I flagged Lisa down and said, 'What in the world are we doing out here blowing trash in the middle of the night? Put me in the truck, we're going home!' And she said, 'Freddy, we've already committed to Wal-Mart, we've got to sweep this lot.' I said, 'I don't have to sweep anyone's lot, this is not the kind of job I want.' And she talked me into staying in that parking lot, and the rest is history."
Today Big Easy has moved up from the Tow-Vac Freddy and Lisa started the company with to four sweeper trucks and 10 employees. The Big Easy crews maintain close to 100 lots in the New Orleans metro area, and on average sweep about 75 lots any given night. Most of Big Easy's customers are commercial retailers.
The couple is deeply involved with the day-to-day affairs of the company. Lisa handles the "inside" work - taxes, payroll, and paperwork - while Freddy manages the crews, marketing, and covers the "outside" work. Their dedication has helped Big Easy grow to be the second-largest parking lot sweeper in New Orleans.
"To have a business like this, you really have to be a part of it," Lisa says. "I don't care how big you get, nobody will ever run your business the way you do."
Freddy credits much of the company's success to the organization of his sweeper operation - two men to a truck, a blower and a driver.
"Every parking lot we get to, the blower has a designated spot where he gets out and he'll blow around the sidewalk and the curb, and he'll go around any obstacles or cars and blow it out where the driver can just come through and sweep it up. And then he'll go to the perimeter curb that goes around the whole parking lot and he'll blow that out where the sweeper can sweep that up, and this process expedites the whole system," Freddy says.
Freddy also says having two men to a truck helps keep them honest and working hard, and is also helpful simply because of the large volume of trash in the New Orleans area.
"Wal-Mart down here is like a public landfill. That's where everyone goes to drop off their trash and household garbage, change their oil, drop off doors - you can find anything in a Wal-Mart parking lot in the New Orleans area," Freddy says. "It's really filthy down here."
The addition of GPS systems in his sweeper trucks eight months ago has also contributed to efficiency at Big Easy. Freddy says that although GPS is a hefty investment, it saves money in the long run because of increased worker efficiency and honesty.
"I've noticed a big improvement," he says. "Before, when I would sometimes follow the trucks on my nights off, occasionally I would run into one of them at their house or sweeping a parking lot that's not our parking lot. And that's really a liability issue more than anything, because if they're on someone else's parking lot and damage something, we're held liable for that."
Lisa says she and Freddy strive to offer their customers great service, and are on-call 24 hours a day for their clients, acting as their "eyes and ears." If they notice a light bulb that's burned out, a smashed curb, an abandoned car in a parking lot, or anything else that could be a liability for their customers, they let them know.
"You have to take pride in what you do. You have to enjoy doing it in order to do it well. If we didn't like what we were doing, I don't think our business would have the reputation it has," Lisa says.
Their reputation in the New Orleans metro area has helped the company grow considerably, and Freddy says he plans to add two more trucks within a year. Although the Jameses see expansion in Big Easy's future, they don't want to get too big. As Lisa puts it: "We don't want to be the biggest, just the best."