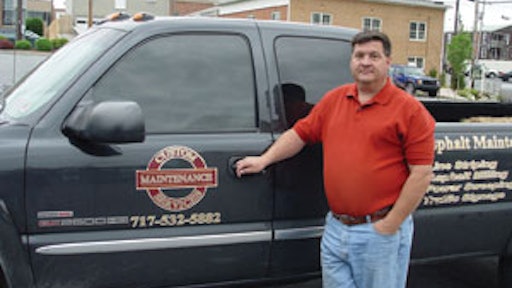 What happens when partners with two competing management styles bump heads? What happens when one is a blue sky visionary intent on profit and growth and the other is a micro manager intent on day-to-day details and protecting employees? What if one is the son and the other is the father? What if the son has been running the operation successfully for years and the father steps in, takes control, and redirects the company's efforts?
These were all questions Michael Nawa, owner and president of Custom Maintenance Services, Shippensburg, PA, never asked himself, yet they are all questions he came to learn the answers to over the years. And perhaps not surprisingly, Nawa learned that both approaches to running a business can work, but the businesses they result in are completely different from one another.
The story of Custom Maintenance Services is actually the story of two sweeping companies: Industrial Grounds Maintenance (IGM), which Nawa started and which his father, Andrew, assumed control of, and Custom Maintenance Services (CMS), which Michael Nawa started in 2000 after leaving Industrial Grounds Maintenance. It is the story of conflicting management styles and conflicting goals — both of which resulted in successful sweeping companies. But it becomes a question, Nawa says, of not only where you want to go, but how you want to get there.
Where he wants to be
Today Nawa is where he wants to be. His Custom Maintenance Services has grown from a contract sweeping-focused business that billed less than $500,000 in sales in 2000 to a broader pavement maintenance company that he expects will bill almost $1.5 million this year.
Today CMS operates nine Schwarze Supervac sweepers and maintains parking lots in 85 shopping centers, all of which are strip malls. Nawa says 10% of CMS's contracts are to provide broader maintenance services, including sweeping, snow removal, and pavement repair — the vision Nawa has had for years. Only 10 of the properties are sweeping-only clients. Nawa says 70% of sales are sweeping and 30% are all other pavement maintenance services combined.
CMS employs 25 people, all cross-trained to perform a variety of work from sweeping to line striping. CMS has 10 sweeper drivers, a four-person crew that fills cracks and repairs pavement, a two-person line striping crew, two landscaping crews, a night supervisor, two office workers, two estimators, and one sales person. CMS relies on screened subcontractors for sealcoating and large-scale paving work.
"All employees are trained on sweeping first. Even if you're coming in as a striper we train you as a sweeper driver first," he says.
Nawa says that first and foremost Custom Maintenance Services is a sweeping contractor — and all work flows from that.
"If you're not a sweeping customer, you're not a customer at all," he says. "We don't market our pavement maintenance services to customers who aren't our sweeping customers."
Nawa says CMS has turned down pavement maintenance jobs from companies that are not its sweeping customers because those companies are more interested in cherry-picking lowest-priced service and not in developing a working relationship.
"They want us to come in and repair their pavement or restripe their parking lot but then they'll give their sweeping work to someone else who is cheaper," Nawa says. "We just don't do business that way. If you want our service, if you want our help on all your property, then you have to hire us to sweep."
He is pursuing growth by mining a niche of small markets, and he's using small branch offices to do it. In addition to the Shippensburg headquarters and warehouse, the company has five branches: DuBoise, State College, Williamsport, Bloomsburg, and Carlisle. Each branch operates as an independent profit center and has one truck and two employees (except Carlisle, which has five sweepers, seven people, and houses much of the company's non-sweeping equipment).
"I'm making good inroads into the small markets. They might only have five or six shopping centers but there are no sweeping contractors so I can service all of that."
That's where Nawa's sweeping business is today. But how it got there is an interesting story that might help other contractors avoid some potential pitfalls as they grow.
Where he started
Nawa started his first company, Industrial Grounds Maintenance, in 1976 in Reading, PA, primarily as a landscape maintenance company focusing on industrial and retail properties. IGM hired a sweeping contractor with one sweeper to handle certain properties. Nawa got his first growth bump in 1978 when he bought out the subcontractor, including his sweeper, line striper, and truck.
"That's how I discovered hard surface work," Nawa says. "I went to school to study horticulture and applied that to the landscaping business. But when we bought out the subcontractor we also picked up his two small shopping center accounts and swept those with the old Schwarze round tank, no-dump unit."
Nawa ran IGM as a sole proprietorship until 1980 when it became a corporation. That was when Nawa decided to involve his father, Andrew, who at the time worked for the federal government in the Labor Department. Nawa's father, who died in 2004 at age 69, put in $50,000 and Michael put in $5,000. Andrew Nawa owned 90% of stock, Michael owned 10%.
"I brought my Dad in because I needed capital," Nawa says. "I was 23 years old and I had no real credit or collateral. The business was expanding and I needed access to credit. And my Dad had a great credit history. He always said that he didn't care if he had any money in is pocket as long as he had good credit because then he could get the money he needed."
Michael continued running the company, making the decisions, following his vision of what a sweeping company could be, and buying new equipment supported, at least in the early stages, on his father's credit history: IGM bought two new sweepers in 1982, two more in 1984, two more in 1986 (and four more from 1990 to 2000). But everything changed in 1989 when his father retired at age 55 and decided to come to work at IGM.
Struggling for control
"He literally showed up one day, unannounced, carrying a box of framed pictures and a house plant and he said 'I'm here to run my company.' Totally out of the blue. What could I say? So I said, OK."
His reaction, he says, was shock. "I spent probably the next two years in slack-jawed disbelief. He hadn't had any input at all until then. I had been running the company and making the decisions and he hadn't offered any input and he hardly asked any questions."
At that point IGM's annual sales were approaching $1 million, they decided to focus only on hard surface work, and sales approached $3 million by 2000. But very little was going smoothly within Industrial Grounds Maintenance.
"My Dad and I just had different visions," Michael says today. Where he concerns himself with "blue sky" business development, margins, profit, and growth, his father was a micro manager who was not interested in margins or the long term. Nawa says their differences were apparent throughout the operation from customer service, to supervision, to billing and profits.
"He was always very expense oriented and not profit oriented," Nawa says. "He wouldn't charge more than what he would have paid himself to get the job done. Say we send six guys on a job for two days and we should have charged $28 an hour for labor. That's 6 guys' times 16 hours at $28 an hour or a total labor charge of $2,688. My Dad's approach was, 'I wouldn't pay that much to get that work done' so he'd determine the amount of money it cost us to pay the crew, added a couple hundred bucks, and send the bill out. He robbed us of our profit margin when he did things like that and he did things like that all the time. He never figured in the overhead, the gas, and all the little things that can just kill a business. He just couldn't understand margin and profit and how that affected the long-term health of your business. It was very tight."
Eventually profit margins dropped into the low single digits. And every quarter Michael would look at the quarterly reports, get in his car, and drive up from the Harrisburg office, where he was based, to talk with his father.
"When people saw me pull in they'd all pull out," he says. "They'd just leave because they knew it wasn't going to be a pleasant meeting and because they knew it would get very loud."
To further complicate matters, Nawa attended a 1998 National Pavement Expo seminar that encouraged contractors to broaden the services they offer to clients.
"The idea was contractors can improve their profit margin and grow their business by broadening their services and narrowing their customer base. That seminar made sense to me," he says. "I was intrigued by the notion of not being just one thing. I wanted to offer more to the customer."
But again his father put up road blocks.
"I'm a sales guy," Nawa says. "I pulled the company into its growth through its sales value. My father was able to slow the growth based on his vision of profit and margin. He would say we don't want to expand into this area, we don't want to offer that service."
Working to regain control
Starting in 1995 Nawa and his father sought professional consulting help. Eventually IGM put in place a three-year fully funded succession plan that would give control of the company back to Michael in 1998 and ownership of the company by the time his father was 70.
"None of it ever got done," Nawa says. "He let the three-year plan pass without any action whatsoever. He never changed a thing."
Michael Nawa endured another bombshell in March 2000 when his father told him he intended to sell the business to the employees instead of Michael and that he was going to take even greater control until that happened. "Ten seconds after I heard that I felt my mouth open and I said 'I quit'."
Following three months of legal wrangling Michael received debt free the IGM Harrisburg, PA, office, its contracts, equipment, and employees. Nawa says his relationship with his father steadily improved to the point where it was back to normal.
"It was not a father-son problem but it was a problem complicated by the fact that we were father and son," Nawa says.
Nawa makes it clear that the problem was two different people trying to run a business with two different philosophies.
"Sometimes that can work but sometimes it can't," Nawa says. "I think it depends on the philosophies and how different they are.
"I am and remain a margin-oriented guy. My father at his core was not a margin-oriented guy. He wasn't concerned with making a profit, and it's very hard to reconcile those conflicting approaches to business."
Nawa's father eventually did sell Industrial Grounds Maintenance to its employees (see sidebar page 17); the sale was activated upon his death.
A strong foundation
But with Custom Maintenance Services, Michael Nawa now has the broad-based, sales-driven sweeping company he always envisioned.
"I went after everything I could find. I offered to do it all," he says. "We started out by saying 'Whatever you need done, we'll do it.'
"Of all the pavement maintenance services, sweeping provides a very strong foundation for what comes next. If you're sweeping a property three, five, or seven times a week, which is fairly common for a sweeping contractor, you're the company that sees that property every day or almost every day. Your sweeper driver is in the position to say, 'There's a light out' or 'A stop sign has been knocked down.' And if you see it first there's no reason you shouldn't be first in line to fix it.
"When I call the property manager and let him know and he manages seven, eight, 10 properties or more, his first question is going to be 'Can you take care of it for me or do I have to hang up and call someone else to take care of it?' We say, 'We'll handle it for you,' and then it's off his mind — and we have a little extra work."
And it's working. Nawa says his customers have told him they like the one-stop-shop approach Custom Maintenance Services now offers.
"Almost all of them are absolutely ecstatic to have a single source of work," he says. "I'm much more profitable with this company than I ever was with IGM, and my margins are great."
Industrial Grounds Maintenance Thrives
Management philosophies aren't necessarily good or bad, sometimes they're just different. And Industrial Grounds Maintenance, Reading, PA, owned and operated by employees Scott Seher, president; Jamie Myers, vice president; Robin Fletcher, head foreman; and Dale Moore, Philadelphia area manager, is thriving. Seher says the company's 40 employees service more than 260 accounts from locations in Reading, Philadelphia, and Delaware and have recently expanded successfully into New Jersey. The company's 22 sweepers generate 80% of sales with the remaining 20% from sealcoating, striping, and other shopping center-related work. "We have made some changes since acquiring the company from Andy Nawa, but we still maintain our employee focus," Seher says. "We want them to have something to come home to when they retire."