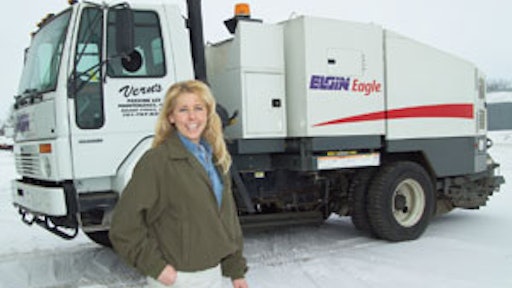 When I stated in the sweeping business I had no idea there were so many people out there that ran this specific type of business," says Rachel Gornowicz, owner of Vern's Parking Lot Maintenance, Inc. "That's one reason I joined the North American Power Sweeping Association (naPSa). I knew I had a lot to learn and I could learn it through them. I believe joining naPSa has greatly influenced the development of my business."
Gornowicz, who was named the new president of naPSa at the recent National Pavement Expo in Atlanta, says she has learned a lot through her membership in the organization, and hopes to help steer the association as it continues its growth toward 500 members. She laid the ground work for her role in naPSa years ago, working under her father, Vern, who started the business in Grand Forks, ND, as a waste hauler.
"His first garbage truck didn't even have a front windshield, and he started with three rural houses" she says. He built the business up until he eventually had 1,100 rural farmers as his clients.
Gornowicz joined her father's business in 1989, eventually designing, marketing, and implementing a recycling division that offered curbside recycling in Grand Forks, East Grand Forks, the local air force base, and eight small nearby communities.
"I didn't know it at the time, but setting up the curbside recycling would prove to be a big help in the development of my sweeping business. I got to learn the towns and the whole region. I surveyed the routes and got to know the communities and many business people in each area," she says.
She says her father was a firm believer in introducing themselves to business owners and their employees, so she had the opportunity to meet numerous people.
"I believe this established a comfortable rapport among us which enhanced my business growth both personally and professionally," Gornowicz says. "They liked the structure of our business."
She says that when her father chose to retire and decided to sell, she kept the parking lot sweeping division, which had one sweeper. She started with a couple of contracts with area shopping malls and after a major flood in 1997 her sweeping business took off. Gornowicz broadened the reach of her sweeping service into a variety of areas, including Fargo, 70 miles south, with the 2000 acquisition of Border City Sweeping.
"Business has been increasing every year," she says.
Today 50% of Vern's Parking Lot Maintenance business is parking lot sweeping and one-time cleanups. The remaining 50% is from a combination of spring and fall cleanups, milling sweeping, chip seal sweeping, and dust control.
"We do a lot of one time cleanup in the fall due to the leaves, and in the spring because of residual winter sand," Gornowicz says. "North Dakota is notorious for chip sealing streets, so we do a lot of that too."
She also uses water tankers to water unpaved roads and control dust at manufacturing facilities and onsite construction companies.
Rachel credits her naPSa membership with helping her grow her company. Among the things she learned from naPSa are:
Sizing equipment for the job. Three years ago Vern's Parking Lot Maintenance was regularly using large mechanical sweepers to pick up trash on parking lots. "Now we use smaller vacuum machines to do that," she says. "It's economical for us and for the client."
Add on additional services. "A good example is hand picking on parking lots," Rachel says. Vern's crews clean landscaped areas, clean trash from outer areas, and remove garbage bags from trash receptacles. It's another service we can offer, making each visit to each lot more profitable.
How to charge out certain types of equipment and jobs. Gornowicz says she used to price chip seal sweeping by the hour, but after talking with other naPSa members, she changed her approach. "Now we bid it by the square yard, at least on the larger jobs, but still charge by the hour on smaller jobs" she says.
Gornowicz says the key to her company's growth has been developing a sound company, which then attracts good employees.
"I found the better you get, the more stable people you are able to attract. The bottom line is your help," she says. "And when you find the right people, you have to train them. You can't just position people into a sweeper and say 'this is how you run it.' Sweeping doesn't just come with a couple of lessons. You need to know broom pressures, dump capacities, the water system, how the gauges work, and what's going on with your sweeper. It takes a tremendous amount of training. If you have the right people to run those sweepers it's a lot easier for the contractors to actually reduce their expenses and make life easier for them."
She says all new drivers go out on routes with an experienced operator.
"It depends on the person but each new person spends between one and two weeks riding with an experienced operator. They typically receive about 40-50 hours of training before they go out on their own," she says.
Vern's new drivers are analyzed and given constant feedback throughout the training period.
"We've seen that to get qualified people they have to spend many hours with an experienced operator before they feel comfortable behind the wheel and before we feel comfortable with them out there on their own, doing the work and representing the company," she says.
Gornowicz says there are a few companies in her area that offer parking lot sweeping and some of them are landscaping companies that offer sweeping only as an add on. She says some of the area's paving contractors have their own sweepers to support their own jobs, but they don't want to deal with routes and regular sweeping.
"It's a lot easier for contractors doing dirt work or chip seal or milling to call me rather than for them to run their own sweepers for a particular job, Gornowicz says. "Sweeping is an industry in itself and it's easier for someone specializing in it to make themselves valuable to others. The sweeping job they need done is a small issue for them but it's a big issue for me."