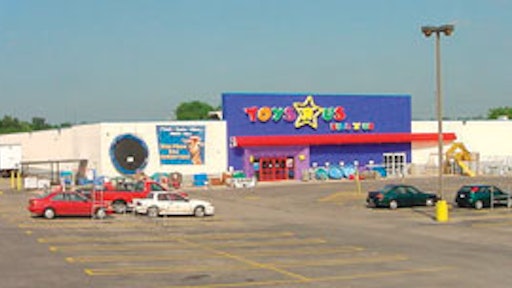 Depending on how you look at them, national service providers can be either a tack in the tire of your sweeping company, a constant threat that can undermine your position in the market and your profit margin, or they can be an avenue of growth and an opportunity to generate more business with little up-front costs.
But no matter how you view them, national service providers aren't going away. They offer their clients — the same clients sweeping contractors (and other independent contractors) rely on — one-stop shopping for a variety of property management services.
But in recent years, driven by property managers swamped with multiple locations throughout the country, the pressure to streamline internal operations, and the need to reduce management (and maintenance) costs, national service providers (NSPs) have become more of a factor in the contract sweeping market. As NSPs see it, they can be a competitor to independent contract sweepers — or they can be an ally. NSP spokespersons say independent sweeping contractors are essential to the success of their business, so valued that several NSPs refer to their independent contractors as "partners."
"If the contractor's got the right attitude and views us as a partner and as one of his customers, then there are generally no issues," says Bob Steinhagen, vice president of national accounts for U.S. Maintenance, an NSP based in Norristown, PA. "Our primary focus is in making the client happy and making money. We price our service so we can make money and the contractor can make money. No one is going to make an obscene amount of money from one client, but if you work hard and do a good job you can make a reasonable amount of money and, through the relationship with us, you can grow your business."
Kevin Dent, CEO of Dentco, DeWitt, MI, says many of the contractors associated with his NSP "wouldn't be where they are today if it wasn't for the work they do for us. They are contractors who grew their business and benefited tremendously by working with us," Dent says. "On the flip side are contractors who are working directly for the customer and they don't like involvement from companies like ours because if the customer ends up hiring us, the contractor may get paid less. We do not know this until we talk with the contractor. The customer's objective is often to save money."
What is a national service provider?
Essentially a national service provider is a single-source provider of a specified range of services to national clients that have multiple locations. NSPs rely on local sweeping contractors to get the work done. In some cases contract sweepers pay a fee to become part of the NSP's network of contractors. In other cases no fee is required. The NSP makes its money on the savings to the customer and on the difference between what it pays the contractor and what it charges the customer.
Here's a sampling of NSPs that offer sweeping services:
Dentco — Performing as an independent contractor since 1977; doing business as Dentco since 1996, starting with 400 SBC Ameritech properties in Michigan, Ohio, and Indiana. "Getting that work done for SBC was the basis for building the infrastructure for Dentco," Dent says. Dentco started as an NSP in 1997, self-performing all its jobs until last year. Today, with 22 clients and 500 contractors working with the company nationwide, Dentco provides exterior service management, including core services of parking lot maintenance, snow and ice control, and landscape maintenance.
Genesis Facility Management — Based in South Bend, IN, Genesis handles four national accounts with more than 300 sweeping contracts. Genesis offers "any service a facility might require."
Symbiot — Started in 1999 and based in Utah, Symbiot offers services nationwide in five "networks": Sweeping, snow removal, landscaping, pest management, and interior work. It relies on more than 600 contractors, who pay a fee to become business partners, to get the work done.
U.S. Maintenance — Started in 1990, U.S. Maintenance provides services including sweeping, parking lot maintenance, and snow removal to more than 20,500 retail locations using more than 3,500 contractors. The NSP handles a half dozen sweeping accounts nationwide.
Why property managers use NSP
NSPs say national commercial and property management companies seek their help for a variety of reasons ranging from saving money, to developing a better and more consistent image at each site, to improved resource management.
"Our sales staff is out there looking for companies with multiple locations in multiple states who are struggling with the pain of trying to manage independent properties and hundreds of contractors," Dent says. "Those are the companies where we can offer value."
NSPs can save customers money by reducing fees for each sweep, by streamlining the customer's operation, and by centralizing decision-making.
"Through centralizing and consolidating services there is a massive reduction in the soft costs such as invoicing and payables," Dent says.
Steinhagen says a national approach to sweeping helps control costs, and that standardized rates across the country allow for better corporate budgeting.
"The truth is that if a national company is handling its sweeping locally it's usually going great in some places and going terrible in other places," Steinhagen says. "If it's going great all over the country the property managers are probably paying too much."
NSPs also promise their customers they will monitor each location regularly to make sure the work is getting done and to make sure the facility meets whatever appearance guidelines the client wants.
"We feel we're the eyes and ears of our customers who don't have the resources to manage the exterior of every property," Dent says. "Our people are on the site at least once a month. We take digital pictures, and we're able through those pictures to assure management in Philadelphia that properties in California are looking like they are supposed to."
How does an NSP work?
Each NSP operates on its own business model, with goals of providing service and savings for the customer, work and growth opportunities for the contractor, and profit for the NSP.
Some NSPs have developed their own formula that enables them to bid work based almost entirely on measurements and other numbers, without visiting the job site. Other NSPs rely on their sweeping contractors to bid the job for them. Some NSPs do both. The NSPs make their bottom line through management fees for each account and by charging its customers more than it's paying its sweeping contractors on each job. In some cases that does mean contractors end up sweeping for less than they had the account for on their own.
U.S. Maintenance, for example, relies on a formula that includes parking lot size, the services provided, what the market will require to get the job done, plus overhead, intangibles, and profit. Clients provide the sales people with a site plan and measurements, which allows the staff to establish its national pricing. In markets or in situations new to U.S. Maintenance, the NSP asks approved contractors to assess and bid on a percentage of the sites to make sure its assumptions are correct.
"If we have a significant amount of experience in a market we might only ask a few contractors to bid a few jobs," Steinhagen says. "If we have little experience we will likely ask them to bid more. Truthfully, at this point we have a pretty good idea of what's required in most situations, so we have the experience that supports the bidding assumptions we make."
Dentco has its Quality Assurance Managers conduct an "exterior assets inspection" of each property, then builds the bid based on the inspection and its formula, only going to the contractor after it has secured the business. Genesis generally does its own estimating and bidding for each job.
"We'll bid it at what we think the market will demand and then increase it to make our margins," says Bryan Wynen, president of Genesis. "That enables the sweeping contractor in the market to do the job for what the market will bear."
Symbiot, on the other hand, relies on its contractor partners to visit each property, assess and measure the job, then present a bid for the work to Symbiot.
"The contractors give us their numbers and we put it all together and present it to the client as one bid," says Greta Bright, director of marketing for Symbiot.
Springwood Nurseries, Evans, GA, does work for Dentco. Owner James Cartledge prices his sweeping according to what his normal rates would be.
"If I can't make any money on it then I'm not going to do it," he says. "I learned a long time ago that if you try to cut your margins too close those unexpected costs are going to sink your ship."
If an NSP can't find one of its contractors to do the job for the fee quoted to the customer, they look outside their network for new contractors.
"We don't bid the job out to other contractors unless a Dentco contractor doesn't want it," Dent says. "We offer it to our current contractor partners first to try to help them grow their business."
How NSPs find contractors
While contractors sign an agreement to comply with each NSP's specific expectations, contractors remain completely independent. The U.S. Maintenance subcontractor agreement, for example, contains a non-compete clause, expectations of compliance, equipment specifications, a requirement of $1 million in general liability insurance, and workers' compensation requirements.
Many NSPs rely on customer referrals to find sweeping contractors.
"The customer very frequently tells us who he would like us to talk with to do the job. He also often gives us lists of contractors they do not want working for them," Dent says. "If the customer has a good relationship with a contractor and wants to continue that relationship he will provide us with the information we need to contact him."
Steinhagen says that between 70% and 80% of U.S. Maintenance contractors have been referred by customers.
"It's a very high retention rate," he says. "When we sell new accounts we look to retain the vendors (contractors) the client currently is happy with who meet our requirements," Steinhagen says. "We look to maintain the current relationships."
He says those contractors typically don't want to lose business and are willing to renegotiate a fair rate so they can do business with U.S. Maintenance and continue to service the local account. It's only in instances where the customer doesn't have a preferred contractor that the NSPs begin shopping around.
Bright says Symbiot looks for contractor partners among "the top tier" of independent contractors.
"That's who we want, and we want them to stay independent," Bright says. "They shouldn't look at us as competitors. They should look at us as a way for them to stay independent and compete on a national level."
Bright says Symbiot relies on two levels of contractor "partners." A standard partnership, enabling contractors to do work for Symbiot and to be included in a referral list, costs $750 annually. A more exclusive group is "sales partners," who have the first right of refusal for any work that becomes available in their area.
"To get that first right of refusal they pay a higher fee than the partners," Bright says.
She says the cost of a sales partnership varies depending on the territory the contractor services and if the contractor wants to "own" a specific territory.
Wynen says Genesis Facility Management also relies on local contractors.
"We have moved trucks into an area to get the job done but that's not our preferred approach," he says. "We want to rely on the local contractor who knows the area and who can respond quickly and who might already be driving by the site several times a week. Plus, then it's their truck on the lot so they will want to make sure it looks good for people to see because any work a contractor does affects his reputation."
Growth opportunities for sweepers
"The opportunity for new business is the number one reason a contractor should consider aligning himself with a national service provider," Dent says. "It's not only retaining the current business they have but business potential for the future."
Bright says NSPs can actually help independent contractors get work because many local contractors can't as easily reach the decision makers, who more and more are based in another state or city.
"This approach actually helps protect the contractor," Bright says.
Here's how: A contractor already sweeping the local Wal-Mart, for example, is vulnerable to low-ball bidding from another local contractor.
"If someone comes in and underbids to the local property manager, the sweeper has the choice of losing the work or matching the low bid," Bright says. "But working that account through Symbiot protects him from losing the job to another local independent contractor who might not have his overhead, his equipment, or even his insurance."
She says working through a national service provider also helps contractors extend their reach because suddenly they are part of a national organization.
"Symbiot has contacts with contractors throughout the country, so if a current customer wants a contractor to bid outside their local area, they can say 'Yes' where in the past they would have said 'No.'"
Bright says belonging to an NSP that offers a broad range of services also offers more work from other industries.
"There's a good deal of cross-industry growth where a landscaper who doesn't handle sweeping, for example, can get the work for another Symbiot partner," Bright says.
Areas of Concern
NSP representatives know there is concern among sweeping contractors about getting involved with NSPs, but they say contract sweepers shouldn't be concerned as the NSPs rely on the contractors.
Contractor Profit. Because NSPs make at least some of their profit by reducing sweeping costs for customers, contract sweepers often wonder how that affects their own profit margin. NSPs say contractors need to recognize that their customers are already trying to reduce their sweeping costs. One approach property managers are using to reduce costs is a "reverse auction bid," in which the customer sets a ceiling for the scope and amount of work to be done, whether on 50 or 500 sites, and solicits contractors to bid the jobs — often live via the Internet.
"All you can see as a bidding contractor is what the current low bid is and you have to make a determination of whether you want to stay in at that rate or lose the job," Dent says. "We see this approach as a threat to us and to the contractor and it's also not a good way to get quality work done. This affects everything all the way down the supply chain."
But the NSPs point out that they try to let the market pricing dictate their bids. Wynen says that for most sweeping jobs Genesis has been able to find a sweeping contractor to perform the service for less then the bid to the customer.
"In most sweeping jobs we have to be able to get a contractor to do it for less than that and our margins are made on the difference," Wynen says. "Overall it works pretty well."
Steinhagen says the system isn't perfect and sometimes an NSP will run into situations where specific issues cause a job to be underbid, where something requires the contractor to be more expensive.
"Sometimes in those instances we do pay the contractor more than we bill the client. It doesn't happen often because it can't, but it does happen," Steinhagen says. "We might do it for the benefit of the overall account but it can't be an issue with every location, otherwise the account doesn't work for us.
"The relationship needs to work for the contractor as well as work for us," he says. "It's got to be profitable for both of us and trust me, neither of us is getting fat and fuzzy on a single parking lot sweeping contract."
And while it might seem the key to NSPs is in the bidding process and shaving enough margin on each job to ensure a profit, NSPs want to assure sweeping contractors that is not the case.
Steinhagen adds that the bottom line is that all parties involved have to be successful for any national service provider to be successful.
"We're not successful if the contractor isn't making money," Steinhagen says. "A happy contractor for U.S. Maintenance is one that will strive to perform and not cut corners and will work to keep our customer happy."
Insurance costs. NSPs require a specific level of insurance, and if the sweeping contractor's insurance doesn't meet the requirement, it might cost them more money to make the NSP an "additional insured."
"They don't like it but more often than not it's the customer's requirement, not ours, that the contractors carry a certain amount of insurance," Dent says. "Frequently the contractor is able to do the work because Dentco's policy does meet the customer's requirement — where the contractor might not be able to afford to insure himself to the customer's required level."
Contact and communication. Some contractors say because there is less contact with a local property manager, additional work (work not in the original contract) is done less efficiently under an NSP. When working for the local property manager the contract sweeper can handle the work quickly. But often when working for an NSP the contract sweeper reports possible new work to the NSP, who contacts the customer with a bid. The NSP then waits for a response from the customer and eventually passes it along to the contractor.
One method NSPs are using to avoid this type of problem is including a "Not To Exceed" (NTE) clause in its contracts.
"On some accounts sweeping contractors are allowed to perform certain services at NTEs," Steinhagen says. "They are fairly small dollar NTEs so we don't have to go through six hoops to approve a $20 job. You need those six hoops on a $20,000 job, but not on the little stuff that you know the client is going to want taken care of."
Documentation. Cartledge says Springwood Nurseries must fax in a form every Monday indicating which days it provided sweeping service for accounts, and paperwork is a concern among contract sweepers.
"It's not even really a trust factor as far as making sure the work is being done. It relates more to liability protection than anything else," Dent says. "Contractors need to be aware that even if they are working directly with the customer they will have these same requirements. It's right in many of the customer agreements and many customers have their own paperwork forms that we have to use, so it's not just Dentco or other management companies."
Wynen says Genesis representatives contact the local property manager after each sweeping event. Other NSPs have a representative visit each property monthly
"It not only keeps us in touch with the customer but it helps identify contractors who aren't doing good work, who aren't blowing the corners, or who aren't going through drive throughs, things like that. We knew because we talked with the property manager the next day and that allows us to weed out contractors or alert them to drivers who aren't doing the best."
Receivables. NSPs say that for the most part they pay their bills in about 30 days.
"If the contractor doesn't comply with the paperwork requirements and we have to send it back or wait for additional information, then there is a good chance they will be paid late," Wynen says.
The reason is that because the NSPs are dealing with contractors throughout the country they have established a system in which they bill customers and pay contractor invoices from groups of states on specific days, then move on to a different group.
"We can only bill within one window and the contractors know when that billing is scheduled," Wynen says. "If they miss that schedule even by a day their invoice is going to sit until the next scheduled time for that state to bill."
Cartledge says he does not consider Dentco a slow-paying customer because like most of his other commercial accounts, Dentco pays in 30 days-plus.
"Of course, if you don't have the proper documentation or if you don't turn it in on time that will slow things down. But that's no different than any other client," Cartledge says.
Wynen says contractors are made aware of the billing schedule and need to adjust their invoicing to accommodate it.
"It's really just a learning process that contractors have to go through in some cases," Wynen says. "Once they get the hang of it and understand the process it's really not a problem."
If NSPs are in your future...
Remain positive. "I understand that the immediate reaction can be negative toward the management company and/or the larger provider that's picking up the service," says Dentco's Kevin Dent. "It's important contractors recognize that their customer is the one who made the decision to centralize the process. Contractors need to see our great potential to them and continue to provide the best service because they will grow through us if they are meeting the specs regarding the service and scope."
Know what you expect from the relationship, communicate your expectations to the NSP, and be satisfied when those expectations are met.
Be realistic about the work you can and can't do. Don't over-commit as far as a geographic area goes.
Be aware of all reporting requirements. Manage your business well enough to handle the paperwork NSPs require.
Be aware of all licensing and insurance requirements; make sure to comply with them. Don't balk if you need to add an NSP to your policy.
Operate and maintain professional equipment. Have backups.
Respond in a timely fashion to your NSP contact. "View us as a customer," says one NSP. "Respond to us like you would your other customers."
See a potential for growth. "Don't just see us as taking away some margin on an individual account," says Bob Steinhagen, U.S. Maintenance.
Do your research. Check with naPSa, the Better Business Bureau, obtain a "reverse reference list" of sweeping contractors — and use it.
Learn the billing schedule. If you are following procedures and there is a change in the payment process find out why.
Provide quality service at a fair price. "We can never have enough good contractors," Dent says.
Know the contract on each job; do the work the contract demands.
Follow the contract. If the NSP says to do work different than the contract reads, find out the reason for the change. Get the directive in writing.
Get to know the local property manager. Though you aren't bidding to him you are working for him and he might have to approve your work.