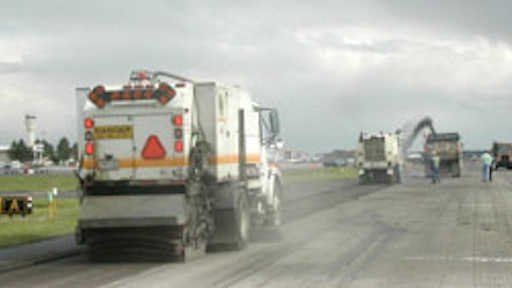 Some contract sweepers take to new markets gingerly, easing themselves in, testing the waters tentatively before making a full-fledged commitment.
Great American Sweeping takes its markets by storm.
"So many sweeping companies just talk price, complaining that the other guy is cutting his prices and cutting your throat," says Mike Sanborn, president of the fast-growing sweeping contractor. "Well, in every market we've gone into we've become the price setter, not the price breaker. We're 20% to 30% higher than all our competition in all our locations."
That's not an "extra" level of profit for the Henderson, CO-based sweeping contractor. It's just what the company needs to charge — and what the market should be paying — so a sweeping contractor can make a reasonable profit. The figures are based on the research Great American Sweeping does before deciding to enter into a market. Sanborn says he thinks the contract sweeping industry needs to work together as a team, selling quality work and customer service at a per-hour rate that enables sweeping companies to grow and become better, more profitable businesses. And that's how Great American Sweeping approaches the business.
"Contractors need to analyze the market and go where the price needs to be — not where the price is," he says.
Sanborn cites one market where the going price for broom sweeping on construction sites was $75 an hour. "Before we went into that market we analyzed it and we took a close look at that price and we found we couldn't do business for $75 an hour," he says. "We figured the sweepers already doing business in that market couldn't be profitable at that rate either."
So Great American Sweeping entered the market, boldly, at $95 an hour. "It took us a while to gain a foothold, but we are now firmly entrenched in that market," he says. "Within two years we have gotten 50% of the business and we're getting it at $95 to $100 and hour."
Sanborn says the same thing happened in another market where in 2000 broom sweeping was being bid at between $75 and $85 and hour.
"We didn't have a broom operation in that market at that point but we wanted to start one," Sanborn says. "We looked at it and decided we did want to get into that business, but we realized we couldn't be profitable at that rate. Now we're doing broom sweeping in that market at $95 an hour — and so is everyone else.
"We feel that the myth 'go cheap' is just that, a myth. It's not the way to go. It's not the way to develop a market and it certainly isn't a way to grow a business. Because when it comes right down to it the customers don't want the cheapest sweeping service. They want to have the best out there; they want the quality."
Sanborn emphasizes that every contractor is tempted to reduce prices to get business, but he says his company's experience shows that's not the way to be successful.
He says contractors need to pay attention to their toughest customers, particularly the customers who are always looking to drive the price down — while expecting the sweeping contractor to maintain the level of service.
"When you've got a customer who is beating you up so badly, telling you he wants to give you the business but he needs you to help him out by coming down in price, that customer will typically continue to beat you up on price once you give in the first time," Sanborn says. "He will become your worst customer, putting the most pressure on you and becoming the worst customer to do work for. It's a customer you probably don't need."
Place value on sweeping
He says much of the market's difficulties with pricing of sweeping services results from contractors and their customers not placing enough value on the service or analyzing its actual costs. He says a good example is construction site sweeping — sweeping pavement after milling and prior to overlays — which many sweeping contractors and even paving contractors want to get into.
"People think that construction sweeping provides steady, regular dollars — and it does. But what people often don't realize is the big costs of staying in that business while still doing good work," Sanborn says. "That's where sweepers and, frankly, paving contractors, fall down."
He estimates that 80% of milling or paving contractors have, at some point in their lives, owned and operated a broom to clean the pavement before paving. He says it's not cost-effective for pavers to have a sweeper because they use it for only two hours on a job and then it sits there for six hours while the crew is paving.
"There are a lot of contractors out there who like to horde equipment because they like to own it, they like to have big fleets, and they like to have complete control over everything. They don't want to have to depend on anyone else — but they still only use it for two hours. Plus, they can't take the time to maintain the sweepers like they should be maintained so they break down more often."
Great American Sweeping maintains its construction sweeping machines every eight hours, pulling them out of service. "It's just like a pit crew at a race," he says. "Then we put them back out in the ready lines. Paving and milling crews can't do that."
Planning drives expansion
Started in October 1998, Great American Sweeping now bids work from five locations. "In most of the areas in which we bid work we are the largest sweeping contractor in that area," he says.
Sanborn says Great American Sweeping believes strongly in long-term planning and has followed its plan since opening its doors. He says long-term planning has enabled the company to continually buy new equipment, upgrading its fleet.
"We believe in planning our growth and not growing by the seat of our pants," he says. "Since 2000 we've averaged buying two or three sweepers a month, and by end of May this year we already will have purchased 11 units."
Including truck-mounted attenuators and pickup trucks, Great American Sweeping currently has more than 75 pieces of rolling stock. The company started numbering and tracking its equipment in 1998 and is now in the high 110s.
"All equipment numbered 30 or lower has been rotated out of use and only a few in the 30s are still active," Sanborn says. "So in five years we've turned over at least 35 pieces of equipment."
He says that while such quick growth and fast-paced equipment purchasing is out of the reach of many contract sweepers, Great American Sweeping has developed a variety of capital resources including institutional financial partners.
But Sanborn acknowledges that growth takes more than planning and money, and he spent a good deal of time determining what those other factors might be.
"I stepped back and decided that if we were going to grow and be successful we were going to have to hire specialists in every major area," he says. "I realized we needed a financial side, a sales side, a corporate development side. When we partnered with venture capitalists we had the financial side, and I had the operations side covered."
So the company hired Jeff Lovill as corporate development director, and "he is becoming a partner through sweat equity."
Training, higher pay for employees
Great American Sweeping gets all its work done by its employees — no subcontractors are used.
"We try to pay them the best we can, which is substantially above the going rate in the market," he says. "We want quality employees, dependable employees that we can count on to provide the level of quality and service we expect — and charge for. So if the market is paying $10 and hour, we're at $12.
"That's the only way to have dependable growth. If you retain your employees you can get them to buy into the concept that you're marketing. If you believe in a revolving door employment policy you simply can't expect employees to develop and provide the level of service you want them to."
Great American Sweeping has an extensive and long-term training program to keep its drivers up to date on the latest technology and techniques. New employees receive two weeks of training, which is followed by a battery of tests. Another test is administered at 30 days, and another test is administered each quarter.
Among the training topics are proper dumping procedures for each vehicle, acceptable dumping locations, water hook up locations and procedures, and defensive driving.
"We also have in place a drug plan that involves mandatory initial testing upon hiring and then random drug testing," Sanborn says. "Since random testing was introduced we have experienced a reduction of accident claims by between 35% and 40%."
A system for "reliability"
Sanborn says Great American Sweeping spent $400,000 over the last 18 months on technology development within the company, including tying a global positioning system (GPS) to a tracking and billing system complete with electronic signatures that is capable of sending a complete bill via fax or e-mail from every truck on any jobsite.
"We try to be the best in the industry and we try to use the best available technology, including GPS and other electronics, to enhance our business to become more efficient.
"We stepped back and asked ourselves 'What types of things are going to trip up a sweeping company?' When we had the answers to that question we used those problems as the basis for the technology we developed," Sanborn says.
One of the things they decided was that clients like to be assured the sweeper is on the job, sweeping the entire area. They also decided that regular on-time billing was essential to keep cash flowing in.
"We tried to figure out how we can be the most honest, ethical, and most reputable sweeping company out there," he says. "The system we developed goes a long way toward helping us be that."
Sanborn says there are many elements to the system, but part of it functions like this: When a driver pulls onto a site he presses a button and the system time-stamps the location. He does the same thing, stamping the location again, when he drives off the site.
"Because it's married with GPS we can actually see the route the sweeper took and the areas he worked in," Sanborn says. "This is all standard operating procedure for us now."
To enhance its billing efforts the new system enables Great American Sweeping to send bills for construction site sweeping jobs immediately — from the truck as it pulls off the job. On route work the bill still goes out monthly but the work order is immediately e-mailed to the customer from each site, indicating when the sweeper drove onto the site and when he drove off.
"It's pretty impressive," Sanborn says. "A lot of people who have come in to see it have been pretty amazed, not to mention the satisfied customers in the field who benefit from its value."