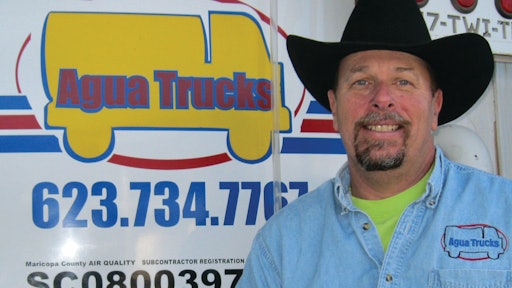 Each season can bring a different task to manage in the sweeping industry. In some parts of the country contractors will experience the cleanup of salt, sand and excess gravel in the spring, leaves in the fall and snow management in the winter. In the Southwest, contractors are faced with a list of other unique environmental occurrences. Agua Trucks Inc., of Wickenburg, AZ, serves the greater Phoenix metropolitan area and is one company that handles the variety of sweeping tasks that are presented with the change of seasons.
Scott Duscher, owner of Agua Trucks, initially began the company in 2006 operating water trucks used for dust control on construction sites. Dust control is a primary concern in Maricopa County, and part of that dust control is cleaning up track out, the muddy tire marks left by trucks. It is essential for track out to be managed because it can't exceed 25 feet or companies can be fined as much as $10,000.
Experiencing some struggles due to the economy, Duscher added his first sweeper in 2009. "The sweeper is what saved us…We would get a bad day with the mud, and we would see a competitor sweeper there," Duscher says. "It just killed me watching a competitor sweeper on the site. Once we added the sweeper it was like having an instant customer base. We established good rapport and service with them on the water trucks so we stepped right into it with the sweepers."   
After completing construction sweeping for one client, the client approached Agua Trucks about parking lot sweeping for their parking tower. So, in 2011 Duscher purchased his first parking lot sweeper. "The two dovetail each other well," he says. "When it rains in Arizona, the water trucks stop working and sweepers instantly clean up the mess. When one is busy the other is not, and when construction sites are dry the construction sweeper doesn't work as much as the water trucks do." Yet the non-construction parking lot sweeping has a consistency. This keeps Agua Trucks busy regardless of the weather
Currently, 35% of Agua Trucks revenue comes from sweeping while 75% comes from the construction work. With five employees, Duscher runs one Sweeprite Husky mechanical broom unit, one Nite-Hawk NH200 regenerative air unit and three 2,000 gallon water trucks.
Palo Verde blossoms in the spring
Although the Arizona climate doesn't change drastically, Duscher does encounter a few unique situations each season. While the blossoming of desert plants may look picturesque in the spring, it creates quite a mess for parking lot sweepers. Depending upon the amount of rain, the sweeper season of blossoms typically lasts a month.
One plant that is often the major creator of blossoms on the pavement is Arizona's state tree — the Palo Verde. "You can get out to a jobsite, sweep a lot and make it look pretty," Duscher says. "Then, you get a little breeze and the whole lot is covered in yellow again."
Duscher compares the yellow blossoms to falling leaves in the fall. "I would imagine it's the same problem that people have in the fall with leaves," he says. "You have to get them no matter what, even though they fall right back on the lot, because you need to clean the gutters and that is where the other trash will accumulate."
Despite the small size of the blossoms, contractors will find their hoppers filling quicker than during the regular season of sweeping adding more bulk without adding weight. For example, one of Duscher's larger lots has 1,300 spaces. On a standard sweeping, Duscher is able to sweep that lot as well as three to four other smaller lots before dumping. When sweeping the blossoms, Duscher will have to dump after sweeping the large lot.
Communication with clients is essential during the spring time. "You have to make the customer aware that they [blossoms] are falling continuously," he says. "You need to make them aware that it can't look perfect."
Summer dust storms
Dust is one issue sweeping contractors can face in the Southwest. During July and August, Arizona is faced with dust storms and monsoons. Duscher refers to these cleanups as the Arizona version of storm damage. As a result, sweepers encounter several challenges cleaning up sites after the dust storms roll through.
Last summer, July 2011, one dust cloud was 10,000 feet high and 50 miles wide, it was so large that it made national news. "It was a dust that was like talcum powder on everything," Duscher says. "We ran water trucks and sweepers nonstop for several weeks to pick that up. I don't care what kind you had, they would not pick up the powder left behind by those dust storms. The sweeper would go 20 feet and there was so much powder that the sweeper was just a cloud of dust driving off."
In such situations, Duscher will run a water truck and the sweeper together to control the cleanup of the fine dust. If the client really wants the parking lot to sparkle, he will charge his clients an hourly rate and bring in a water truck.
The monsoons that normally occur in July and August also create added situations for cleanup. "The monsoons make muddy messes everywhere," he says. "When the mud stains the asphalt you get back to, 'That looks horrible.' Sometimes we have to use a mixture of both sweeper and water truck to make it look good."
Tumbleweeds in the winter
A standard prop in old Western movies, the tumbleweed provides a few challenges for sweeping in the Phoenix area. While the plants grow in the spring, come fall and winter they die beginning their roll through the area.
"Our biggest hassle is tumbleweeds because sweepers don't pick them up," Duscher says. "They're large, round, 2 to 4 feet high, covered with stickers and they clog the vacuum sweepers up in nothing flat. If the sweepers do start picking them up, they take up so much volume that our Husky is filled up fast. The broom sweeper can do it, because it just beats them to death until it is a bunch of sticks."
Tumbleweeds are a huge mess to sweeping contractors. In some situations, they can pile up as high as a car or become caught in fences.
The most likely area to find tumbleweeds is on lots near open desert. "We had one parking lot that we insisted the client put up a barrier because it was impossible to sweep the lot with the tumbleweeds blowing," Duscher says.
While Duscher states his company is small, growth is in his future plans. "We are very surprised and pleased how fast we have gained business with the parking lot sweeper," he says. "We are putting a lot of focus on sales just to that one unit. Because its not construction related the beauty is it's not covered in phone calls of how fast can you be here. We really like that, so we want to expand that end of our business."It is much easier to make a business decision when you know how much work is in front of you. With water trucks, construction sweeping and parking lot sweeping we can be in at the beginning of a new building, raw dirt, and take it all the way to maintaining the finished product."