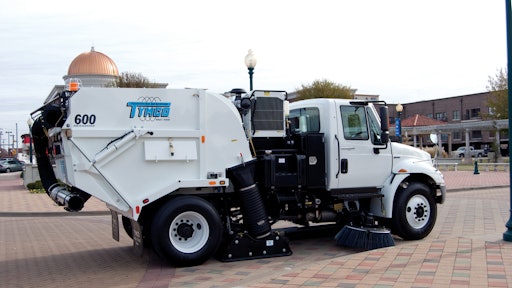 Susan Szeszulski has worked in the sweeping industry since she was 15 years old watching her mother's company grow over the years. Now, as the owner of BT Sweeping, LLC located in Kawkawlin, MI, she continues to offer several of the same services since the company began in 1970 with one key service being spring cleanup.
While several businesses have made adjustments to their companies, spring cleaning continues to be a significant portion of work for BT Sweeping. "We have a lot of clients that call only for spring and fall cleanup," Szeszulski says. "Due to the economy, they can't afford parking lot sweeping all season long so they call in the spring for a complete cleanup."
Currently, BT Sweeping operates a 210 Tymco sweeper with 80% of revenue coming from power vacuum sweeping of parking lots and 20% coming from lawn services. Customers include shopping centers, apartment complexes, trailer parks and factories.
The basics of spring cleanup
Due to varying weather conditions each winter, Szeszulski says she begins the spring cleanup as soon as the snow is just about melted from parking lots. The spring cleanup season typically lasts between two and three weeks with several of Szeszulski's clients preferring to have their lots cleaned before Easter.
"If we are working on a parking lot, we clean out all of the corners and all of the snow pile mess. Usually after snow plowing there is a lot of gravel and dirt on the pavement so we try to clean that up," she says. "We have a blower operator that cleans the sidewalks in the front and goes all the way around the building to remove other material. If we have the client's lawn services we will also blow the grass area where other debris has accumulated because of the snow."
In some instances, the crews might encounter areas still frozen with snow and ice. In those instances, crews will clean as much of the area returning once the snow and ice melts.
Another important area for sweepers to clean is around handicap signs and islands because the snow often piles around those parking lot areas. Szeszulski will have an operator blow the material out so that the sweeping unit can pick it up. "It is a two-person operation, and we do most of our work at night," she says.
She says that unlike standard sweeping, spring cleanup requires more time and effort. "Spring cleanup takes longer, depending upon the amount of dirt and gravel left on the pavement from the snow piles," Szeszulski says. "It also depends upon how bad the snow season was."
So far this season, Szeszulski has been able to clean as winter progressed. "This year has been great because it snows and then warms up to 40 degrees — melting the snow, so we are cleaning up as we go," she says. "Spring cleanup shouldn't be too bad this year."