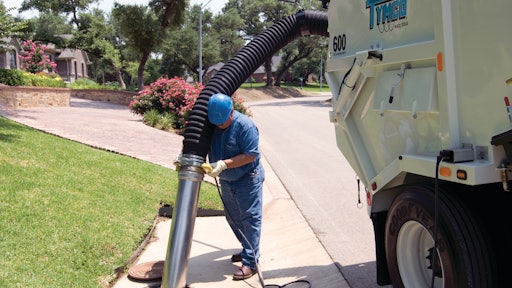 Sometimes manufacturers create options that only a few buyers want; sometimes options become so popular they become standard features; and sometimes there are just options that for whatever reason find increasing demand in the market.
In many cases those options are the result of a combination of available technology, the ability to incorporate the technology into the equipment, and usually interest expressed by customers.
Here are just a few of the features that buyers of street sweepers in recent years have increasingly found essential. While manufacturers in this article discuss features specific to their equipment, most other equipment manufacturers offer similar features – rear view cameras are a good example – or even other options not outlined here.
Rear View Camera
This is a perfect example of an option that was made available as technology improved and that has now become a standard feature for manufacturers such as Elgin, which began installing its rear-view camera as a standard feature in 2008. Elgin's Mobile Camera System features a high-resolution Sony camera, a 5.6-inch TFT-LCD dash-mounted monitor, infrared LEDs for night work, and a 150-degree viewing angle.
Brian Giles, Elgin sweeper products manager, says rear view cameras have become "the Number One feature" buyers want on their street sweepers. "That's why Elgin's Mobile Camera has become standard on our units," Giles says.
"Sweepers are out and about and turning around continually," Giles says. "Because they're turning around continually and because so many buyers were adding the rear-view camera, we made the decision to make the rear view cameras standard. "If people want us to take it off we can take it off but generally we don't," Giles says. "It's become an important safety feature so most people leave it on."
He says the rear-view camera gives a much better panoramic view than can be obtained from just the rear view mirror or the side mirrors. "It's just like being in a car and having a complete view of what's going on behind you," Giles says. "Operators realize it's for more than just backing up. Because it's a better view there's more safety."
Giles says the camera and on-dash monitor are easy to learn to use and most operators adjust to them quickly. "It takes even less time for an operator to realize he can see all the traffic behind him including any traffic in his blind spots."
Hydraulic Boom-assist Hand Hose
An option clearly designed to enable a unit to multi-task, Tymco Inc. offers a hydraulic boom-assist hand hose, according to Tymco's Tom Rokas. Used primarily on the Model 600, the 10-foot long, 8-inch diameter hand hose enables users to clean out catch basins and to reach places the unit can't. The hose features a 42-inch aluminum nozzle with two extensions that enable cleaning storm drains as deep as 126 inches.
"The fact that the boom is hydraulically controlled makes it easier for the operator to handle the hose. He can control it better," Rokas says. "It also enables Tymco to use a heavier duty hose made of thicker, sturdier material so it can last longer."
Rokas says the boom is "pendant controlled," which is similar to a remote control on a TV. The remote is available both in a wired and wireless version and can control the boom up and down. It also can control the engine RPMs. "Engine RPMs are important because as you rev up the RPMS you increase the airflow and create more suction," Rokas says. "But some jobs need more suction than others so this puts that control in the operator's hands. He can increase suction when he needs to and reduce it when he doesn't need it."
Leaf Bleeder Indicator
Joe Hendrickson, Schwarze Industries' national sales manager, says increased sales of regenerative air sweepers have led the company to develop a Leaf Bleeder Indicator to help operators not only sweep as efficiently as possible but to help the equipment operate as effortlessly as possible.
"Regenerative air units all can exhaust some air through the fan housing exhaust door bleeder, anywhere from zero percent to 75 percent of the air the fan is producing," he says. "The amount of air you exhaust determines the performance of the sweeper in various sweeping environments, but in the past the operator couldn't tell how open that door was."
So a standard Schwarze option for it's A7000 Series of regenerative air sweepers includes an in-cab gauge that lets the operator know how open the door is. "Using the gauge the operator can not only see the position of the door but he adjusts the door using a simple toggle switch to get the maximum out of the unit. It enables the operator to react better and more quickly to sweeping conditions as they change."
Gutter Broom Improvements
Because street sweepers routinely sweep pavement of different ages, conditions and design more and more units are being ordered with a tilt-adjuster option on the gutter brooms, and most manufacturers offer some type of options designed to improve the performance of gutter brooms. "Tilt-adjustment on gutter brooms has been available on all our units since the 1990s but we're seeing this option ordered more and more, especially on our bigger units," Rokas says.
"On street sweepers where you're sweeping a curb line and going from street to street you might need to adjust the pitch of the gutter broom because curb lines likely differ street to street," Rokas says.
Rokas says the operator can adjust the broom to the pitch of the surface from inside the cab using a toggle switch, providing a cleaner sweep and reducing the handwork needed outside the truck.
"This feature allows the operator to adjust the gutter broom to help dig out debris better and to fit each particular street," Rokas says. "All he has to do is pressure the toggle switch. You pressure it and release and the broom remains in that position until you toggle it to another position. "Normally the operator just bumps it and puts it down into a tilted position."
Rokas says the operator uses his visual skills and the units parabolic mirror to determine when to tilt the broom, how much to tilt it and when to remove the tilt from the gutter broom.
"The operator can tell by looking at the broom," Rokas says. "If the positioning is not good, he knows. It's either leaving debris behind or he can see the broom isn't rotating well."
Elgin also offer a tilt adjustment standard on its Broom Badger (which Elgin is now marketing in North America for Challenger manufacturing), and the tilt adjustment is available as an option for both the left and right gutter brooms on other Elgin sweepers. "A control on the dash allows the operator to change the in/out angle, which can be very helpful when dealing with varying gutter conditions," Giles says.
Another gutter broom option increasing in popularity is Schwarze Industries' pneumatic down-pressure option. Joe Hendrickson, national sales manager, says the option has been available since 2011 and seems to have become a favorite of operators.
"This option gives the in-cab operator control to pneumatically increase or decrease the gutter broom pressure," Hendrickson says. "It provides more intensive digging capabilities for those situations where the operator needs a little extra."
Hendrickson says that pressure from gutter brooms typically is created by a spring, but the Schwarze system features pneumatic cylinders to provide added pressure. He says the operator controls the pressure using a knob that operates as a relief valve.
"It's a great system that has been available on our mechanical sweepers for some time and now is available on our regenerative air units," he says. "The operator now has greater control when he needs it and gauges inside the cab let him know the psi he's using so he can better control it."
Sweeper Standby System
One problem encountered during street sweeping that's not a problem with parking lot sweeping is the need to sometimes stop and sit while attempting to sweep a street. Whether it's stopping for a red light or for pedestrians crossing the street, Hendrickson says sweeper operators are increasingly interested in Schwarze's sweeper standby system.
"Quite simply, the option enables the operator to engage standby if they have to immediately stop the sweeping functions while sweeping their route," Hendrickson says. "We initially made it available for just the gutter brooms but we've now incorporated the rest of the machine into the system."
He says that with one switch the operator can raise the broom, raise the sweeper head, and lower the RPMs of the unit while he's waiting to start sweeping again. When the operator is ready to begin moving again he simply reengages the standby option and the brooms are lowered and RPMs increase.
Operator Gauge Package
Giles says Elgin Sweeper is continually upgrading the amount of information available to the operator – and a recent option has made it easier for the operator to access it. "There's so much going on in a sweeper that if we were to put it all on dials and gauges across the dashboard it would fill the whole dash," Giles says. "So the current gauge package we offer collects and displays just a huge variety of information from the broom tilt angle to the amount of water in the tank and much more."
Giles says the operator can scroll through information screens that provide the varied information and select the screens he wants to view and the information he wants to track—without there being too many gauges in front of him all the time.
"The ability to get information is becoming more and more important to the operator and now we're able to provide more information in a smaller package," he says.
Features and options, developed through manufacturer research and development and conversations with end users are designed to enable the street sweeper buyer to better match the equipment to the job. As is true when making any buying decision it's important to investigate a broad variety of options before deciding which piece of equipment best fits your needs.