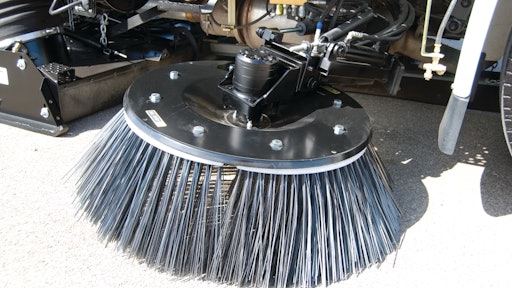 Because street sweepers routinely sweep pavement of different ages, conditions and design, more and more units are being ordered with a tilt-adjuster option on the gutter brooms, and most manufacturers offer some type of option designed to improve the performance of gutter brooms.
"Tilt-adjustment on gutter brooms has been available on all our units since the 1990s but we're seeing this option ordered more and more, especially on our bigger units," says Tymco's Tom Rokas. "On street sweepers where you're sweeping a curb line and going from street to street you might need to adjust the pitch of the gutter broom because curb lines likely differ street to street."
Rokas says the operator can adjust the broom to the pitch of the surface from inside the cab using a toggle switch, providing a cleaner sweep and reducing the handwork needed outside the truck.
"This feature allows the operator to adjust the gutter broom to help dig out debris better and to fit each particular street," Rokas says. "All he has to do is pressure the toggle switch. You press it and release and the broom remains in that position until you toggle it to another position. "
Rokas says the operator uses his visual skills and the unit's parabolic mirror to determine when to tilt the broom, how much to tilt it and when to remove the tilt from the gutter broom. "The operator can tell by looking at the broom," Rokas says. "If the positioning is not good, he knows. It's either leaving debris behind or he can see the broom isn't rotating well."
Elgin also offer a tilt adjustment standard on its Broom Badger (which Elgin is now marketing in North America for Challenger Manufacturing), and the tilt adjustment is available as an option for both the left and right gutter brooms on other Elgin sweepers. "A control on the dash allows the operator to change the in/out angle, which can be very helpful when dealing with varying gutter conditions," says Brian Giles, sweeper products manager.
Another gutter broom option increasing in popularity is Schwarze Industries' pneumatic down-pressure option. Joe Hendrickson, national sales manager, says the option has been available since 2011 and seems to have become a favorite of operators.
"This option gives the in-cab operator control to pneumatically increase or decrease the gutter broom pressure," Hendrickson says. "It provides more intensive digging capabilities for those situations where the operator needs a little extra."
Hendrickson says that pressure from gutter brooms typically is created by a spring, but the Schwarze system features pneumatic cylinders to provide added pressure. He says the operator controls the pressure using a knob that operates as a relief valve.
"It's a great system that has been available on our mechanical sweepers for some time and now is available on our regenerative air units," he says. "The operator now has greater control when he needs it and gauges inside the cab let him know the psi he's using so he can better control it."
Features and options, developed through conversations with end users and manufacturer R&D, are designed to enable the street sweeper buyer to better match the equipment to the job. As is true when making any buying decision it's important to investigate a broad variety of options before deciding which piece of equipment best fits your needs. For more features attracting buyer's interest read "Contractors' Choice: Street Sweeper Features Attracting Attention" in the August/September issue of Pavement Maintenance & Reconstruction.