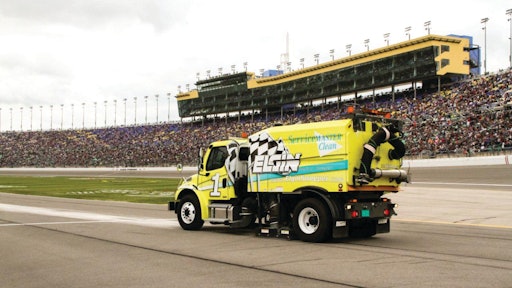 Beginning with NASCAR's Daytona 500 in February, a modified Crosswind Specialty Track Sweeper from Elgin Sweeper will be playing a supporting role in a new racetrack drying initiative that combines air power and vacuum suction to dry rain-soaked racetracks
The regenerative air Track Sweeper adapts features from Elgin Sweeper's Crosswind GRS (glycol recovery sweeper), a special-purpose sweeper used to vacuum liquid glycol from airport runways. Elgin reports that during track testing conducted in conjunction with NASCAR last November in Daytona, this same vacuum technology proved to efficiently vacuum water from the pores of the racetrack, and worked even better with the new track-drying technology designed by the NASCAR Research and Development Center. Working together to remove moisture from the track surface, both technologies dramatically accelerated the drying time.
ServiceMaster Clean is the official sponsor of the caution periods at the 19 International Speedway Corp. and Speedway Motorsports, Inc. tracks, as well as Dover International Speedway. All cleaning and drying vehicles and equipment – including the Crosswind Track Sweeper – used at these races during a ServiceMaster Clean Caution period feature the bright yellow ServiceMaster Clean colors.
"Elgin Sweeper's Crosswind Track Sweeper has the potential to dramatically reduce the number of NASCAR races postponed or shortened due to wet weather conditions," says James Crockett, air sweeper products manager at Elgin Sweeper. "Built to tackle the most demanding racetrack sweeping jobs, this sweeper delivers unmatched operator efficiency and productivity on the racetrack during rain delays and ServiceMaster Clean Caution periods."
The specialty sweeper was modified with input from racetrack officials in the NASCAR circuit. Elgin Sweeper representatives – along with Jeff Miles, Key Equipment & Supply Company, an Elgin Sweeper dealer based in Kansas City, KS – worked with NASCAR to address track maintenance issues, as well as fire, safety, medical and security concerns.
A lifelong racing enthusiast, Miles is also a lead driver for the Richard Petty Driving Experience and has logged more than 350,000 miles in NASCAR-style stock cars. Traveling to tracks across the country has given Miles an added appreciation for clean track conditions.
In 2001, Miles had the opportunity to sweep the second layer of race surface at the new Kansas Speedway to help prevent airborne dust during a locally televised test session. "My racing experience gave me the chance to see first-hand the different tracks and their sweeping programs and challenges. It also led to several design ideas for a sweeper that not only excelled on a racetrack surface but also worked efficiently around a racetrack complex," Miles said. "We wanted the Crosswind Track Sweeper to be a multi-purpose sweeper that could vacuum water, blow oil-dry off the track and sweep. The Track Sweeper is definitely not a smaller parking lot sweeper."
Among the modifications on the racetrack sweeper are:
Side air nozzle. The new design allows the operator to adjust nozzle tilt and includes in-cab control to further maximize productivity and safety, eliminating the need for the operator to exit the cab during a ServiceMaster Clean Caution period. The powerful, 20,000 CFM-rated blower is designed for locations where jet dryers can't be used, such as grass on the inside field, pit areas and weepers (cracks on a racetrack where water seeps through).
Safety. Elgin Sweeper integrated its standard back-up camera feature with a reverse sweep system, allowing the operator to safely use sweeper functions while moving in reverse. This system includes additional safety lighting, an increased decibel rated back-up alarm and a rear object-detection sensor that can see through dust, rain, daylight and darkness to detect any objects or pedestrians behind the sweeper.
"This system greatly improves the operator's awareness of the surroundings while sweeping on the racetrack and in the heavily populated pit areas," Crockett said.
Soft wall-cleaning attachment. Using the same 20,000 CFM system, the soft wall-cleaning attachment features a 20-ft. lightweight hose for easy operator control, an aluminum vacuum end tube for increased durability and a quick-disconnect for fast and easy installation and storage. For general cleaning, a larger rear-door heavy-duty 8-in. diameter hose is available.
Side broom. Featuring a polyethylene bristle broom construction developed for airport and runway use, the hydraulically-driven, high-torque side broom can be controlled pneumatically by the operator inside the cab. The side broom extension allows track cleaning right up to the wall, while keeping ample sweeper distance from the wall for track safety light clearance.
Rear-door decant system. A rear-door decant system allows the machine to drain liquids without opening the door. A large decant valve allows the discharge to be controlled using a hose. A debris filter cage installed on the door prevents clogging.
Dust-suppression system. During a ServiceMaster Clean Caution period, high-efficiency oil dry is applied to the racing surface. An internal dust-suppression system injects water on the suction side of the regenerative system to prevent the airborne dust commonly associated with jet dryers and air-blast systems.
High bank sweeping. Design changes to fluid tanks and sweep gear enable the sweeper to operate on the high bank turns common to most NASCAR racetracks.
Information for this article was provided by
Elgin Sweeper.

Professional stock car racing fans can follow along with the Crosswind Track Sweeper throughout the 2013 racing season by visiting

Elgin Sweeper's

Facebook page.