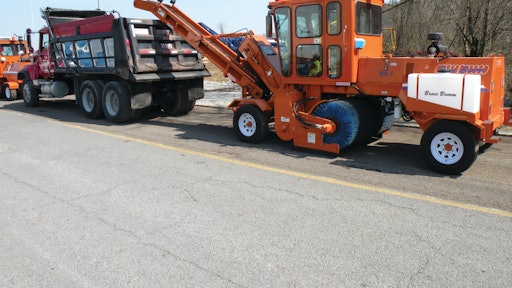 Late penalties and time bonuses drove Silver Star Construction to invest in a transfer sweeper to replace skid steers with brooms cleaning up millings on teh company's mill-and-fill road repair projects. 
"On mill-and-fill jobs, we often can't close a lane until 7 p.m. and need it open for traffic by 6 a.m.," says Jack Shannon, Silver Star superintendent. "Late penalties for interstate highway work can be as high as $10,000 an hour, so expediting the milling clean up process — our bottleneck — was vital.
"We found a transfer sweeper can fill a 10 cubic yard truck with milling debris in under 15 minutes," says Shannon. "It's up to three times as fast at sweeping up milling debris and loading it into the truck as our previous skid steers and boxblade."
Transfer sweeper saves time
Silver Star had been using two skid loaders with attached brooms and a boxblade front-end loader with a back loader bucket to load road millings into a 10-cu.-yd. truck. According to Shannon, the operators of the three vehicles took 30 to 45 minutes to fill a truck.
"The vehicles took over a minute each maneuvering to dump debris in the truck before returning to clean the road surface and got in each other's way," explains Shannon. "Some jobsites only have about 10 feet of roadway, but a skid steer or boxblade may require at least 14 feet of space to load the truck from the side."
Searching for a faster, more efficient process to clean up milling debris, Shannon found an MK-1 Transfer Sweeper. The transfer sweeper has a large brush that continually sweeps debris to its conveyor. It is driven behind a dump truck, and the conveyor transfers millings into the truck bed.
According to Shannon, the transfer sweeper can keep up with the milling machine, stopping only to swap a loaded truck for an empty one. 
"Since using the transfer sweeper, we typically finish mill and fill jobs early, and often pave another 1,500 to 2,000 ft. overnight," says Shannon.  "We win incentives for early completion. Compared to our previous cleaning method, we're able to mill and fill the same mile stretch of highway about two hours faster, while eliminating the cost of two extra operators and pieces of equipment."
Longer life saves money
The company had replaced the skid steers and box blade it used to clean milling debris about every three years. The transfer sweeper has lasted about six years, and Shannon expects at least another six years of use before replacing it.
"With the transfer sweeper, we've saved several thousand dollars a week in equipment purchase, maintenance, operation, and labor costs, and achieved ROI in under a year," says Shannon.  "It has paid for itself many times since we've had it."
More thorough cleaning for better adhesion
Shannon says the transfer sweeper cleans the base surface more thoroughly than skid steers and box blade, so tack sticks better. 
The need to maximize mill and fill productivity has even some of the longest established road construction companies looking for a way to keep up with the milling machine, such as Haskell Lemon Construction Co., a third-generation family road paving business.
"A lot of our mill and fill work needs to be performed in the same shift," says Jay Lemon, president of Haskell Lemon.  "This puts a premium on our ability to cut, clean, and fill the road surface to meet deadlines and avoid late penalties."
Lemon sought to improve the efficiency of milling clean up. "The minimal storage capacity of street sweepers and skid steers with broom attachments had limited the efficiency of our mill and fill work," says Lemon.
Lemon chose a Broce transfer sweeper, enabling the cleaning process to keep up with the milling machine and eliminating stops. The company modified a 14 cubic yard dump truck bed to accept debris, which provided significantly more storage capacity.
"The transfer sweeper has eliminated clean-up from being the bottleneck of our operations, and is about 50 percent faster than our previous clean up process using street sweepers and skid steers," says Lemon. "It has made sweeping debris from the road and loading it into a dump truck a two-man operation, increased our production, lowered our labor costs, and helped our competitive edge."