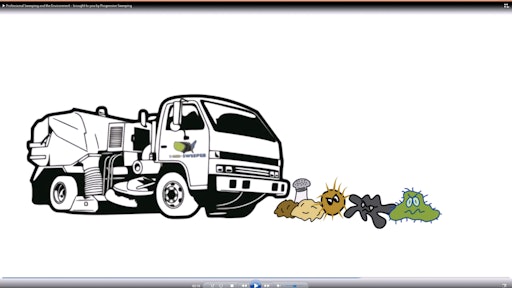 1-800-SWEEPER Video Markets Value of Sweeping
To increase awareness of sweeping and to provide a better understanding of why sweeping is important – especially for keeping bodies of water clean -- 1-800-SWEEPER has created a video that is available to all contractors through either YouTube or the 1-800-SWEEPER website (1800sweeper.com).
According to Kerry Porter, marketing manager for 1-800-SWEEPER, the idea for the video resulted from a conversation about a U.S. Geological Survey abstract that validated the effectiveness of street sweeping in Cambridge, MA. Titled "Potential reduction of Street Solids and Phosphorous in Urban Watersheds from Street Cleaning, Cambridge, MA 2009-2011," the study demonstrated that increased street sweeping from either vacuum, broom or regenerative air sweepers significantly reduced the amount of fines and contaminants that remained on the pavement. The end result, in addition to cleaner streets, is cleaner runoff that is deposited into lakes and streams.
"The report confirmed what the sweeping industry has known for some time, that street sweeping reduces chemicals and other contaminants in runoff," Porter said. "But like most reports it's very dry and very complicated to read. So the companies in 1-800-SWEEPER wanted to find a way to make the report results more accessible to public agencies, property managers and even other contractors."
Put into development in April, the video was made available online May 1 through YouTube and at the 1-800-SWEEPER website. The 3-minute video uses "live" cartoon drawing and voice over to highlight various aspects of the study, emphasizing the value of sweeping as a way to improve bodies of water by reducing the amount of contaminants that flow into them during storms.
"A lot of places only do street sweeping once or twice a year, in the spring and when the leaves fall. But sweeping is the unsung hero of water treatment. The USGS study confirms that and the video is a clever and entertaining way of showing it," Porter said. "Street sweeping is the unsung hero regarding what it can do not just for a specific sweeping job but for the environment as a whole."
She said another advantage of sweeping is it is much less costly than construction of a water treatment facility.
"Most people deal with cleaning water at treatment plants, but those are very expensive and in many cities there isn't even land available on which to build them. But street sweeping is the first line of defense, reducing the contaminants on the pavement before the rain even gets a chance to wash them into a river or lake. Sweeping is more economical because it's so much less costly than building a water treatment plant."
Porter said initial reaction to the video is positive, with a number environmental networks sharing the link and making it available to the public. She said reception in the construction industry has been slow but she expects interest and awareness to increase.
"It's really all about raising awareness, which is why 1-800-SWEEPER decided to produce this video and make it available to everyone," she said. "As a general rule people don't pay attention to sweeping and this video shows why it should get more attention than it does."
To view the video visit www.Youtube.com and search 1-800-SWEEPER-Overview or view it at the 1-800-Sweeper website at http://www.1800sweeper.com/partner-news/understanding-fugitive-dust-a-video-all-your-customers-should-see.
Mike Dyck Leaves Masco Sweepers
After 35 years with the company Mike Dyck, general manager, has announced he is leaving Masco Sweepers, San Jose, CA.
            Lisa Magobet, who had worked with Dyck for 10 years, will be the inside salesperson in Santa Clara, CA. George Davis, who's been with Masco for five years, handles outside sales in Southern California. Wayne Schmidt, a 20-year Masco veteran, is outside salesperson in Atlanta, GA, and he also manages sales and service in the South and East.