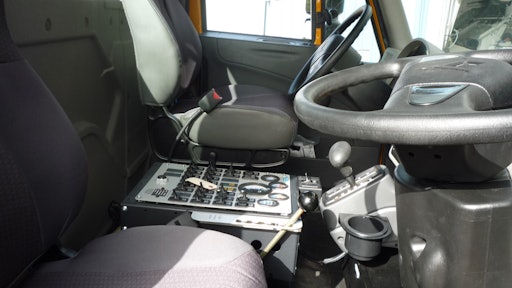 Sweeper manufacturers say there's little question what drives the add-ons they make available on their units: Safety. But customer demands fuel a lot of option development, too. If there's something a customer wants on the sweeper, and the manufacturer can make it available, the customer can buy it. And if enough customers want that add-on it can become part of a regular option package. And if it gets to the point where enough customers are buying a certain option, sweeper manufacturers make that add-on a standard part of the unit.
Tymco's Tom Rokas, inside sales, says a good example is Tymco's inclusion of its double-wide Duo-Skid as a standard feature on all its sweepers. The Duo-Skids are manufactured using a foundry process in which molten steel is poured around preformed Kennametal carbide inserts. Rokas says the double-width of the Duo-Skids makes them reversible, saving customers money on this wear part. "If there is uneven wear from poor skid adjustment or if they just wear down along one edge the Duo-Skid can be reversed and adjusted for 100% wear on each side," he says.
But there's still room for plenty of customizing whether it's safety add-ons, mechanical tweaks, technology improvements or operator comfort upgrades. Here's just a sampling of what you can get on your next sweeper.
Auto-Lube System. Proper maintenance is critical to good performance and low operating costs. John Paraschak, vice president, sales and marketing, Stewart-Amos Sweeper Co., says this is particularly true for street sweepers that routinely operate in dust, dirt and other abrasive materials.  Main broom and elevator/conveyor bearings require daily attention.  "If sweeper owners are confident their people will maintain a proper lubrication program then everything is fine," Paraschak says.  "If not, they should strongly consider installing an auto-lube system to ensure things are done right and on time."    
An auto-lube system involves a small pressurized container filled with a pre-selected lubricating grease.  The container can be set at different time intervals to discharge a selected amount of pressurized grease into a series of lines leading to various lubrication points. The cost of the system is based on the number of lubrication points.  "Most contractors opt to cover only the most critical bearings requiring daily greasing.  The beauty of the system is the bearings are greased when they should be – during operation." Paraschak says. "It's all to assure the machine is operating properly, that work is done on schedule, and there are no costly surprises."
Camera Systems. Camera systems have a come a long way but at least for Tymco customers they still warrant being an option. Tymco offers three camera options: Rear view for backing up, gutter broom view for operators who want improved visibility over the parabola side mirror, and a camera beneath the unit looking at the pickup head. Rokas says customers can add any combination of the three cameras, with the rear-view camera being the most popular. The view of each camera is shown on a 7-inch, color monitor inside the cab. The monitor displays only one camera view at a time and the operator can change views with the push of a button.
"The side and rear-view cameras are very much safety related," Rokas says. "They're an extra set of eyes on areas that aren't as easy for the operator to see. But they can be good for the side broom because the operator can make sure it's operating properly and effectively." He says the camera on the pickup head gives the operator an opportunity to see that everything is okay beneath the unit as debris is going through it.
Paraschak says all Stewart-Amos sweepers are equipped to handle three cameras. The backup and right gutter broom camera are standard.  A third camera can be added as an option.  For many contractors, the right gutter broom camera eliminates the need for an expensive dual steering option. 
Paraschak says that in many instances mechanical broom buyers mount the third camera outside the debris hopper looking in to monitor the loading process.  They can tell not only how full it is and when they need to dump but also if the hopper is filling evenly. Other buyers elect to mount the camera on the rear view mirror to view the hopper as its dumping.
Paraschak says that many regenerative air unit customers often place the third camera beneath the sweeper facing the right corner of the sweeping hood and right gutter broom.  This provides the operator with a real-time view of the cleaning process.  "If the operator spots a possible performance issue such as the occasional build-up of large, bulky material in front of the sweeping hood, the operator can quickly activate the Stewart-Amos "Hoods-up litter gulper" feature.  This tilts the front of the sweeping hood up effectively quickly sucking in the bulky debris. Effective system monitoring means better performance and productivity."
Cameras on Stewart-Amos units are viewed on a 7-inch color monitor mounted on the dashboard. The monitor, which is adjustable for contract, brightness and color, can show one, two or three camera views simultaneously.
Jim Adair, director of product management for Schwarze Industries, says Schwarze also offers multi-camera options, up to four cameras, which can be viewed as a single or as multiple camera view. He says the cameras can be placed in multiple locations and all cameras have a built in infrared array for low-light situations. "When that happens anything that reflects the light really pops," he says. "It's a feature contractors really appreciate."
Elgin Sweeper has standardized rear-view camera systems on its sweepers since 2008, enhancing the operator's field of vision while increasing the safety of operation in all applications. According to James Crockett, sweeper products manager at Elgin Sweeper, the camera system can receive inputs for up to four cameras to increase operator visibility on both left- and right-hand sides of the sweeper, along with the potential for a top-mounted "peripheral vision" camera. "This decision wasn't based on option take-rates, but was a strategic decision to make it a standard on all Elgin Sweeper products to increase operator awareness of the adjacent surroundings," Crockett said. "As a subsidiary of Federal Signal Corporation, Elgin Sweeper added safety equipment that Federal Signal uses on first responder vehicles to provide additional value to both our contractor and municipal customers."
Conveyor options. Crockett says Elgin Sweeper offers two conveyor options: the No-jam belt conveyor option and the Elevator squeegee conveyor option.
According to Crockett, Elgin Sweeper introduced flexibility in conveyor options as part of the consolidated mechanical sweeper platform, starting with the Road Wizard sweeper in 2008, and again with the Eagle sweeper earlier this year. "After years of extensive customer input, engineering and field testing, Elgin Sweeper developed a common platform that includes the best features of the four-wheel mechanical sweeper line – along with some additional configuration options not previously available on any of the three models," Crockett says.
The no-jam belt conveyor, which is standard on the Elgin Pelican and Eagle mechanical sweepers, uses molded-in, full-width cleats to quickly move large debris to the hopper without jamming for maximum productivity.
"The conveyor belt option is ideal for picking up large debris – such as branches, plastic bottles and cans – and large amounts of wet/matted leaves," Crockett says. "This versatile option is very effective at 'digging into' and removing packed dirt from the roadway." The conveyor is controlled from in-cab, including reverse. And a built-in wash-down prevents debris build-up and makes cleanup quick and easy.
The elevator squeegee conveyor option relies on a steel roller chain to drive an 11-flight, squeegee-type conveyor to load debris into the hopper. The chain operates on polyurethane sprockets, which Crockett says last longer. Conveyor speed is proportional to engine throttle, allowing the squeegee loading rate to adjust to sweeping conditions. He says that to avoid larger debris and other obstacles in the sweeping path, the operating height of the conveyor can be raised from the cab up to 3 inches. To ensure longer life, conveyor bearings are sealed and self-aligning.
The squeegee-type conveyor, standard on the Elgin Broom Bear, Road Wizard and Broom Badger mechanical sweepers, is ideal for applications such as aggregate and granular material pick-up of gravel and millings, making it a perfect fit for road construction contractors. Conveyor rotation direction is controlled in-cab and conveyor speed is variable with auxiliary engine RPM providing maximum on-the-go productivity and ease of cleaning.
"Sweeper contractors really appreciate the flexibility of the two conveyor options," Crockett says. "Most contractors like the belt conveyor for its versatility, but there are some sweeping jobs – such as road construction applications – where a squeegee conveyor performs better.
"We've noticed a trend in configuration of conveyor systems on our Road Wizard and Broom Bear sweepers equipped with the conveyor belt in lieu of the squeegee-type conveyor," Crockett says. "We attribute this to the fact that our customers want more application versatility on their sweepers."
He adds that since the launch of the new consolidated platform on the Elgin Eagle earlier this year, Elgin Sweeper is seeing the same interest with customers specifying the squeegee-type conveyor in lieu of the belt conveyor for road construction applications.
Gutter broom Extension Override (GEO). Schwarze offers a feature, used with the gutter brooms, to control their lateral position. This allows the brooms to extend to their full width as normal or be retracted inward to create a scrubbing effect directly in front of the sweeping head or main broom. This is very effective with construction clean up or where the material has become compacted and needs the aggressive power of the steel vertical digger style brooms to break it loose.
Hydraulic Gutter Broom Tilt. Rokas says that hydraulically operated gutter broom tilt is available on all Tymco units and customers who sweep streets are the first to take advantage of it. "Contractors sweeping parking lots don't add it as often but contractors sweeping streets really like it because as they move from street to street there are different pitches on the curb line. So instead of having to climb out of the cab and adjust the broom by hand every time the curb line changes, he can do it from the cab.
"In some cases the operator might fit the pitch of the broom where's he's comfortable and if the curb line doesn't change then he might be okay," Rokas says. "But especially on bigger units where the focus is street sweeping it's valuable because curbs change from street to street."
Lighting. Adair says that Schwarze has seen a huge uptick in custom lighting orders, both from contractors and municipalities. He says all units come standard with either a cab- or rear-mounted LED strobe light, whichever the customer prefers. The Schwarze supplier of preference is Whelen, though lighting from any manufacturer can be specified. He says all lighting is LED unless otherwise specified ("And I can't recall the last time someone wanted a halogen light," he says).
He says that other than the required standard configuration, all lighting is optional and buyers are increasingly opting for more and more lighting.
"It can get elaborate and a lot depends on where the unit is going to be used," Adair says. He says split arrow boards, tilting arrow boards with as many as 25 lights, strobes and even mirror-mounted strobes with more than 50 different flash patterns are options buyers specify regularly.
"We've also started to see requests for warning lights mounted lower on the body of the sweeper so approaching traffic can see them easily at eye level," he says. "Lights on top of the machine are very visible from a distance but when you get right up close to the machine they're not as noticeable."
Adair says that while those types of lighting options are intended to improve safety for both the operator and surrounding traffic especially in high traffic areas. Contractors working in parking lots or other off-highway areas have been specifying extra lighting to light their work area. "They ask for it around the sweeping head, the brooms, the front and rear of the machine. The LED flood lights really light up the work area, while consuming very little power," Adair says. "We've had contractors add as many as 12 different work lights to light up the machine, its components and the surrounding area. It makes the machine more visible and makes the work area more visible to the operator. It really helps the operator to see objects, curb lines and assists in dumping into dump trucks at night."
Adair says their M6 Avalanche comes with a light inside the hopper. "There's a window in the back of the cab that looks right into the hopper so adding a light in there makes it easy for the operator to see if it's loading properly and if the conveyor is operating correctly," Adair says.
On-Board Pressure Washing System. Introduced by Stewart-Amos in 2013, this option is available on all six mechanical broom and three regenerative air models. An hydraulic pump runs off the sweeper's auxiliary engine, pulling water from the sweeper's water tank through a 50-ft. hose and spray wand.
Paraschak says that on mechanical broom units you need to pay particular attention to cleaning elevator and/or conveyor systems.  Abrasive materials can cause premature chain wear.  Debris can build up on conveyor shafts and slow/stop the belt. 
He says that on regenerative air units contractors find this option particularly useful – especially when they dump their debris in remote locations.  "After discharging debris it is critical that that the debris screens are cleaned. Debris screens prevent vacuumed debris such as paper, grass, leaves and mud from being sucked into and through the impeller fan.  A clogged screen reduces air flow which reduces sweeping effectiveness. Pressure washing is a fast, effective way to get the truck back into operation. Back flushing the screens using the on-board pressure washing system helps maintain sweeper effectiveness."
Paraschak says having the ability to clean your equipment anytime/anywhere can also be a powerful business consideration. "Your sweeper is your mobile business card.  You never know what prospective client might see it driving down the road," he says. "You also want to minimize possible traffic hazards and insurance risks by ensuring loose debris has been washed away prior to returning to the highway."
Heated, Remote-Control Mirrors. Available in Tymco's models 600 and 500X, this option is a popular add-on in cold climates. "They don't steam up and ice up and they adjust easily from inside the cab so the operator doesn't have to roll down the window or get out of the truck in 20 degree temperatures to fix his mirrors," Rokas says.
Reflective Tape. Just as customers are adding lighting to make a sweeper more visible, some are opting for a 2-in. to 6-in.-wide reflective or conspicuity striping that runs all around the body of the unit. Adair says this reflective tape makes it easier for drivers and pedestrians to see the machine even in low light because the prismatic striping is generally only 3-4 feet off the ground
But the word from sweeper manufacturers is, check out all the options available and determine which of them will make your sweeping job easier, better or more profitable. And if you don't see what you're looking for, don't be afraid to ask. In an effort to keep sweeper costs down sweeper manufacturers don't include everything available on their units – but manufacturers offer a huge variety of options to enable them to meet just about every customer need.